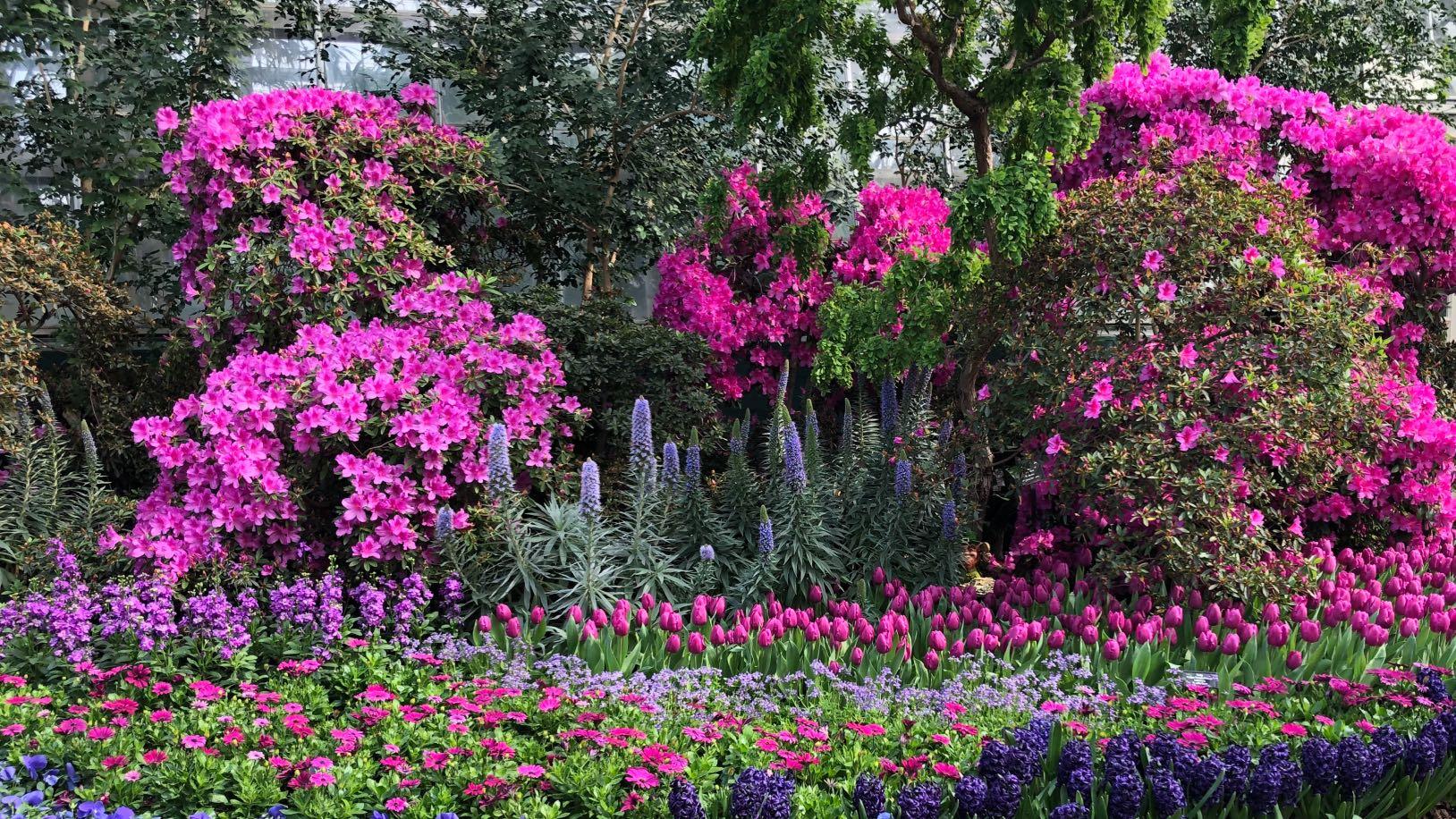 Garfield Park Conservatory's "Saturation" exhibit. (Patty Wetli / WTTW News)
Walking into Garfield Park Conservatory's spring flower show, "Saturation," is a bit like landing in Oz. 
After months of staring at Chicago's bleak and barren winter landscape, the eyes need a moment to adjust to the shock of color on display — deep purples, rich reds, bright yellows, exuberant pinks and fiery oranges.
"We're able to take all the joys of spring flowering and put it right in your lap," said Matt Barrett, deputy director of conservatories for the Chicago Park District.
For "Saturation," now running through May 9, each bed in the conservatory's show house has been planted to display the nuance and range within a given hue.
"All those flowers over there would be labeled as 'white' in a catalog," Barrett said, pointing to a bed of cream, butter-colored, ivory and alabaster blooms.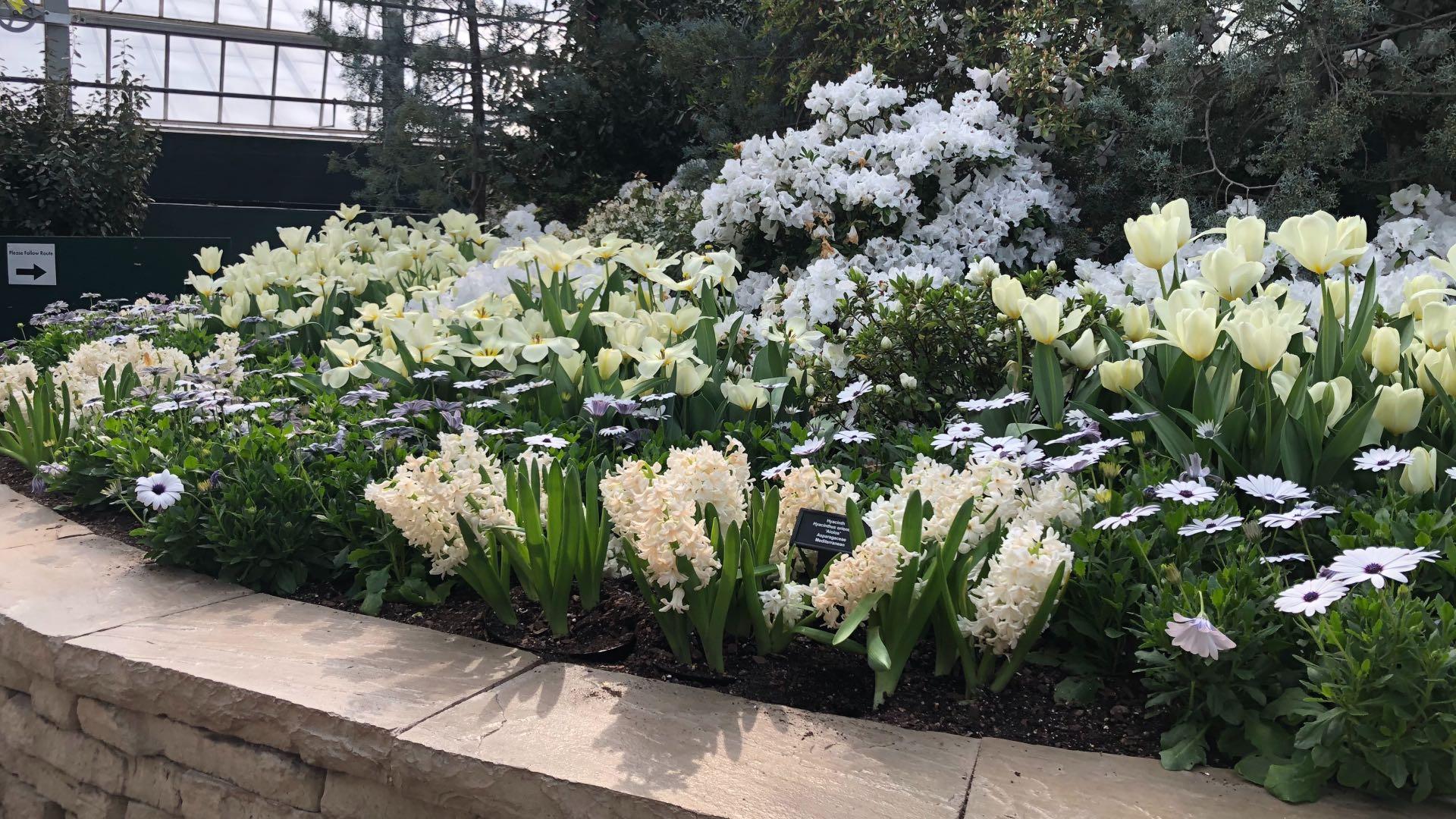 Garfield Park Conservatory's "Saturation" exhibit. (Patty Wetli / WTTW News)
This veritable thesaurus of shades was achieved through a mix of bulbs, perennials and annuals, some started from seed on-site and others purchased as "plugs" (those tiny seedlings that come in trays), the latter of which are booked as far as a year in advance for a grower to cultivate on the conservatory's behalf.
Such preparation is usually undertaken to minimize risk; planning is what you do to avoid uncertainty. But the coronavirus pandemic has turned planning into a liability. 
The conservatory's 2020 spring show, "Golden Hour," closed within weeks of its debut when Gov. J.B. Pritzker issued a stay-at-home order a year ago. The winter show never opened to the public at all after a second surge in COVID-19 infections sent everyone back into lockdown in late November, just as the conservatory was preparing to allow visitors indoors for the first time in months.
Poinsettias for the winter show had been ordered back in January 2020, and conservatory staff optimistically went "full steam ahead with planting" before in-person guests were banned, Barrett said. As a consolation, live virtual tours of the show were offered.
Bearing those last-minute changes in mind, Barrett said he all but eliminated extraneous production elements such as props and lighting from "Saturation" in order to limit costs should the show get scrapped.
That means the blooms and plantings are the sole focus of the exhibit, so it's fortunate "Saturation" was conceived as a showcase for flowers' natural star power.
Barrett confided that the show's name and theme are in part a wink to the visual tricks he's noticed people playing with images of conservatory shows on social media.
"I can see that they've 'saturated' or manipulated the colors," he said. "People are attracted to bright colors. So why not give them more of what they want?"
The conservatory's spring show has always been designed to boost flagging spirits, to serve as harbinger of what's about to bloom in parks and people's yards, weeks ahead of nature's actual cycle. This year's exhibit carried the added weight of embracing guests emerging not just from winter but an even deeper darkness and isolation brought on by the coronavirus pandemic. 
The show, Barrett said, feels like the embodiment of spring's promise of renewal and rebirth, and the light at the end of a tunnel, not just for visitors but for conservatory staff.
"Everyone's so happy and enthusiastic," he said.
It's been a long road back for the conservatory, which was able to open its outdoor garden areas to the public last summer and fall, but not its indoor plant houses.
Because plants require tending even during pandemics, conservatory staff continued reporting to work in an eerily quiet city, Barrett said.
"Early on, people would say, 'It took me seven minutes to get to work.' It was like a ghost town," he recalled.
In the absence of patrons, Barrett found comfort in the company of the conservatory's resident plants.
Between the warmth and humidity of the greenhouses and exhibit areas, and the oxygen being given off by their occupants, "It felt like a safe place," he said. "It felt like a giant security blanket."
There's a certain otherworldliness to an empty conservatory, Barrett said. "Like you're on another planet. That feeling is really cool at first, but that feeling also gets old."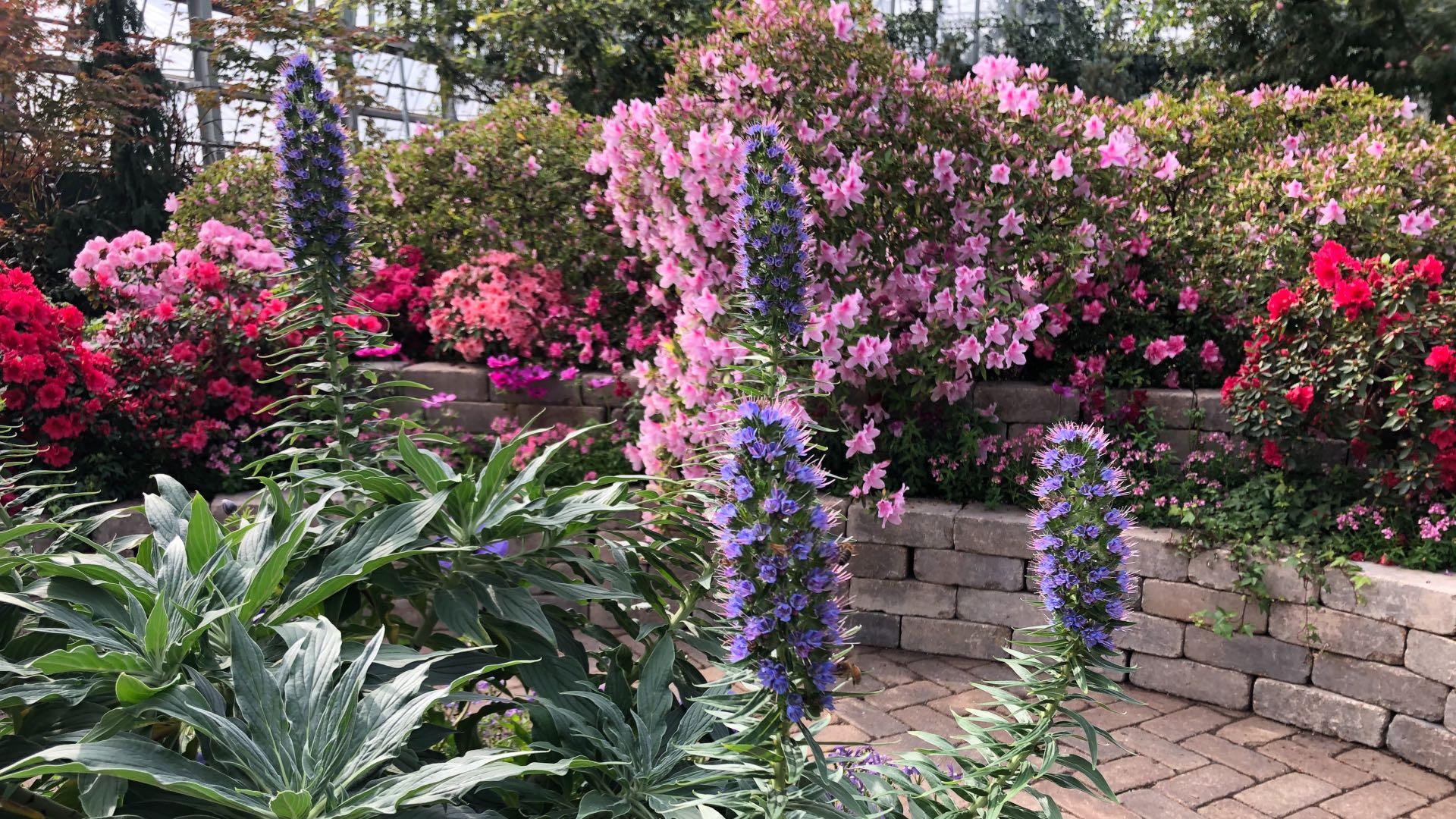 Garfield Park Conservatory's "Saturation" exhibit. (Patty Wetli / WTTW News)
With the opening of "Saturation" at the end of February, the conservatory is once again admitting patrons indoors. A number of restrictions are in place, including timed-entry tickets and reduced hours of operation to allow staff to perform tasks without bumping into guests. A handful of areas remain off-limits because their small size makes proper social distancing impossible.
The conservatory was clearly missed. When registration opened for ticket reservations, the first two weeks sold out in an hour, Barrett said.  
It's been gratifying, he said, to watch people's reactions to the exhibit, mouths hanging open and exhalations of "Wow" being the most common responses. 
"It feels great," Barrett said. "People are so excited to be here and our staff is loving it too."
Contact Patty Wetli: @pattywetli | (773) 509-5623 |  [email protected]