Gov. J.B. Pritzker announced Thursday that the state could soon begin easing restrictions on businesses as more and more people get vaccinated — a sign of hope for struggling businesses that a return to normalcy may not be too far off.
Once at least 50% of people ages 16 and over are vaccinated — and other health metrics are met — Illinois will reach phase 5 and fully reopen, although the mask requirement will remain in place until the Centers for Disease Control and Prevention recommends otherwise, Pritzker said.
Before the state enters phase 5, there will be a "bridge phase" of easing restrictions once 70% of Illinoisans ages 65 and over have had at least one vaccine shot.
"We want to make sure that hotels can operate with events … restaurants to have more people indoors and serve bars the same way," Pritzker said. "We're really headed on a very good trajectory to get to phase 5."
Many Chicago businesses have not survived the pandemic and many more are barely hanging on. News that a full reopening is on the horizon is offering hope.
"I'm excited to see my business grow," said Racquel Fields, owner of the 14 Parish restaurant and rum bar in Hyde Park. But she says that without assistance from the city and being able to access a Payroll Protection Program loan through the coronavirus relief bill, her business would have gone under.
"It has helped tremendously," said Fields. "I would be out of business without it."
Fields said that because of lockdowns the restaurant was closed for six months in 2020 and that indoor dining was down 90%.
"They usually happen with two days' notice, so telling my team I don't have work for them (so suddenly) has been the toughest thing," said Fields. "And trying to do the work to maintain enough revenue — or at least try to — so that I can maintain my team."
Chicago's hotel sector has been devastated by the pandemic, with downtown hotel occupancy down some 80%, says Nabil Moubayed, general manager of the Kimpton Gray Hotel and director of Midwest operations for the Kimpton hotel brand.
"Most hotels would normally run between 70% and 80% occupancy in downtown Chicago," said Moubayed. "Last year, most of them ran at 20%, if that. This year we are hoping to reach 50% if we are lucky. And that will only happen if the second half of the year really takes off."
Moubayed said that in a good year the hotel employs up to 150 staff members, but they have been forced to lay off most of them. He said they now have 20 employees, up from seven at the "low-point" of the pandemic.
Managing the hotel and its staff through the crisis has been tough.
"First and foremost we try to be very conscious of how we treat each other as employees. Treating each other well and with respect and patience," said Moubayed. "It's really, honestly day-by-day, shift-by-shift. People go through ups and downs … It hasn't been easy. There have been some real low points, especially this past year — it's been very rough."
Spring Capers, owner of Spring's Place salon in the South Loop, says her business has taken a huge financial hit because of the forced closures and social distancing that are now required.
While Capers was able to get a Paycheck Protection Program loan, she now worries that the loan will not be forgiven as she first thought and is reluctant to take on more debt. She says if the loan is not forgiven it would set her business back. The salon has recovered some, but not enough.
"It's tricky. We are busy, but we are not busy like we were," said Capers. "The COVID restrictions make you have to do a different type of business. So if you look at the numbers, we are probably at around half (pre-pandemic levels), but we are working harder doing less. It's exhausting."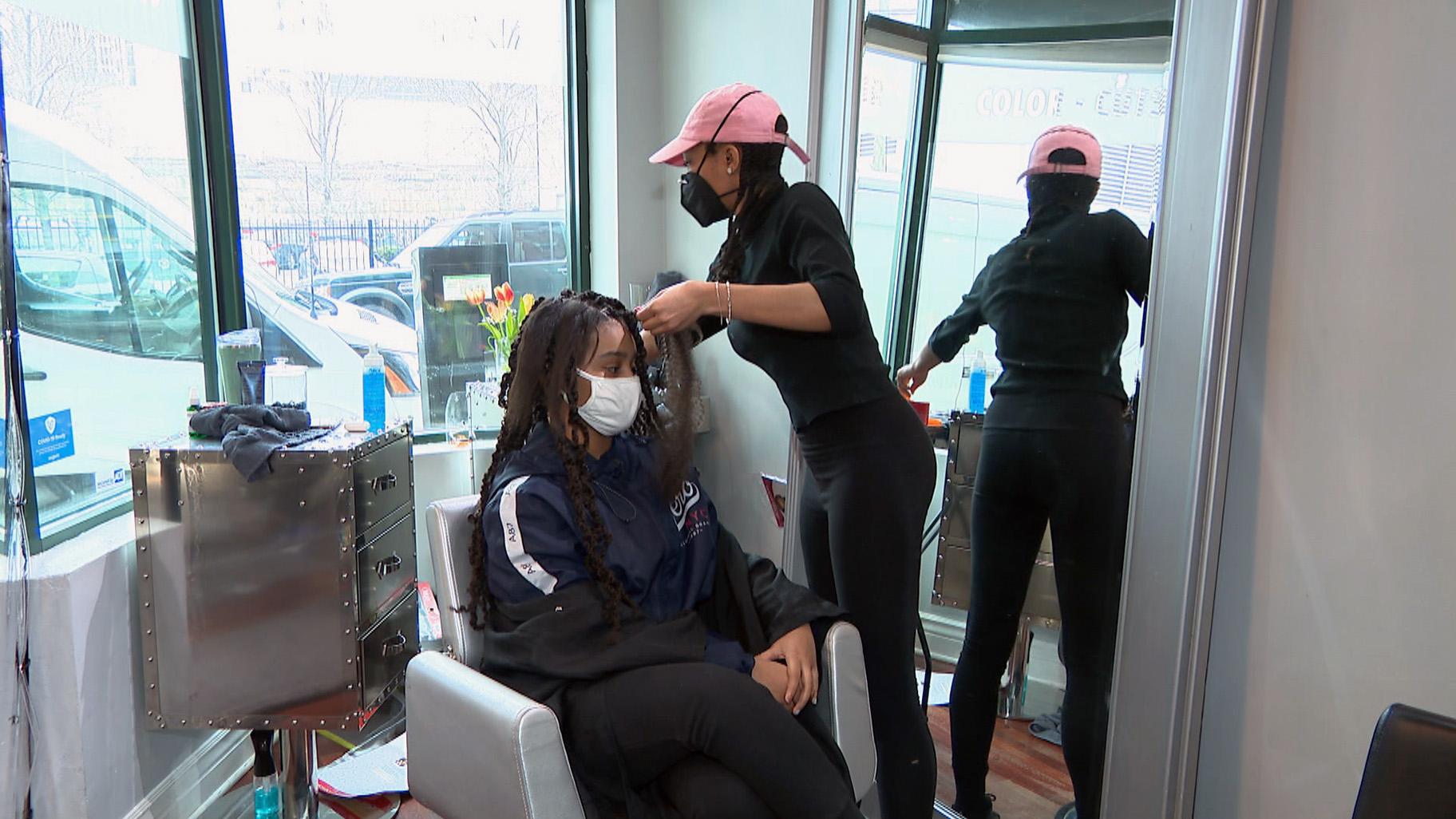 Many Chicago businesses have not survived the pandemic and many more are only just hanging on. News that a full reopening is on the horizon is offering hope for struggling businesses. (WTTW News)
She also notes the mental strain of caring for customers for whom a trip to the salon may be their only social interaction — especially her older customers.
"So then they get all their social in," said Capers. "So you're there for them for that. It's not the same world. It's a new world. And we still have to give our service and we have to adjust to whatever comes our way. When I come home at the weekend I do not talk to another person for at least a day and a half."
But not all businesses have been negatively impacted by the pandemic — at least not in terms of revenue.
"Sales wise — you don't want to say it — but grocery stores have increased their sales," said John Mourikes, co-owner of Foodsmart grocery store in Logan Square. "Of course, it has come at a cost, but you don't get to pick and choose in life what is thrown on your plate."
Mourikes said that supply chain issues persist.
"Meat prices have gone up. Supplies are generally good, but some items have spotty availability. In the meat sector it is due to labor shortages. The produce department is pretty much back to normal," said Mourikes. "As far as regular grocery items, everything is pretty much available, but a lot of things are on allocation (meaning limited supply)."
While business has been generally good, if not without challenges, Mourikes said the safety of his staff and customers has been a constant worry. At the beginning of the pandemic, Mourike's wife and daughter sewed masks for all the staff.
"You know you think of it every day. On top of everything else it's one more thing. And you realize that for the customers too, it's on their minds every day," said Mourikes. "You have customers come in, they are looking around, is everyone wearing a mask? Is this guy's nose covered? They come with their elbows and push the door open. They figure out ways to pay with a credit card and not touch the machine. It just puts you on edge a little bit."
Last week Mourikes dined in a restaurant with his family for the first time in a year. He's looking forward to a return to something like normal.
"Now that my employees are vaccinated and they are saying by May everybody is going to be eligible for vaccinations, it's going to be a big step toward normalcy," said Mourikes. "I want to go back to times when customers came in our store relaxed. When they sampled wine we were selling. When they didn't have to look around to make sure everyone was wearing a mask. And they can stop opening doors with their elbows."
---