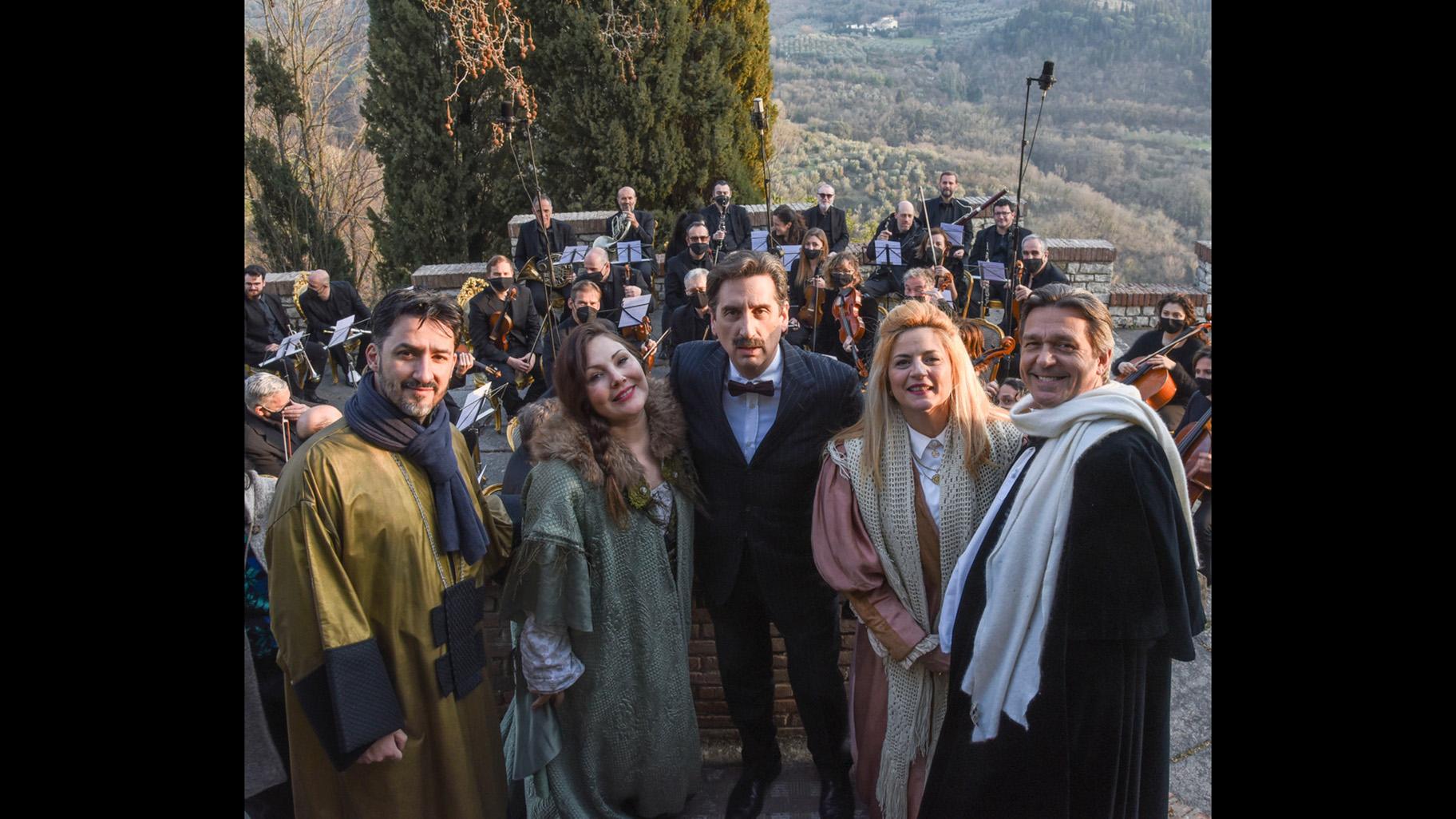 (Courtesy of Marco Badiani and The Florentine)
How do you tell the story of a musical genius like Giacomo Puccini whose operas — from "La Boheme," to "Madame Butterfly," "Tosca" and "Manon Lescaut"  — are among the most familiar and beloved works in the Italian opera canon? If you are Hershey Felder, the one-of-a-kind artist of countless talents (actor, pianist, writer, director, designer, producer, and the list goes on) you create something unabashedly in the grand opera style that also manages to be hugely accessible for audiences still distanced from live performance by COVID-19.
While many artists have scaled down as they've been forced to adjust to virtual performance, Felder (who grew up in Montreal and now makes his home in Florence, Italy) has scaled up. And it is worth noting that by the time "Puccini," his richly evocative, exquisitely produced new work, received its world premiere (livestreamed directly from Florence on Sunday), he had already demonstrated his ability to outwit the virus's constraints — reworking a version of his solo show about George Gershwin, as well as realizing the world premieres of a deeply personal portrait of Claude Debussy and a rip-roaring, klezmer-infused tale about the Yiddish writer Sholem Aleichem. (A work about Russian composer Sergei Rachmaninoff will debut on May 16.)
With "Puccini," Felder has matched grand opera with grand-scale musical and theatrical ambition, declaring in his own uniquely creative way that despite the pandemic, the show would and could go on. (It should be noted that barely a day after the premiere, Italy announced a new period of lockdown through at least April 6.) But perhaps it is only fitting that Puccini (1858-1924) is his current subject, for the composer led a life of continual trials and tribulations — challenged by the death of his father when he was only 5, his chafing at having to write music for the church, his frequently unfortunate pairing with weak librettists, a slew of initially poor reviews from critics (despite enthusiastic audiences), an ill-considered political decision, a serious car accident, and involvement in complex and finally tragic (truly operatic) relationship with women.
The production begins as Felder (who first "discovered" Puccini when, as a 17-year-old music school student at Montreal's McGill University, he became instantly entranced by the sound of an 18-year-old soprano singing "O Mio Babbino Coro," the famous aria from the composer's one-act opera, "Gianni Schicchi"), pays a visit to the Puccini House Museum in Lucca.
In a seamless bit of theatrical time travel, Felder assumes the role of Puccini, a dashing man with a dark mustache. And for the next two hours (with on-location stops in Pisa and Florence, as well as the interior of an elegant opera house), we follow him as he narrates his life story. Along the way we also learn of the invaluable support Puccini received from master conductor Arturo Toscanini (who in many ways is the offstage hero of this story), and a great deal more.
But this is by no means a solo show. Richly laced throughout the story are handsomely staged performances by four superb singers (expertly accompanied on the piano by Felder) who bring all the familiar operas to vivid life, singing crucial arias and scenes in Italian (with English subtitles). They include a Chicago favorite, baritone Nathan Gunn; American tenor Charles Castronovo; and sopranos Ekaterina Siurina (Castronovo's wife), and Gianna Corbisiero (the latter the very singer who so entranced Felder three decades earlier at McGill).
Gathered for the finale, on the steps of an exquisite Italian villa, is a full (and subtly masked) chamber orchestra conducted by Felder. The sheer technical complexity of this production (staffed primarily by a vast Italian team) is astonishing given all the restrictions and last-minute changes.
Along the way, Puccini frankly confesses that from early on in his life he was more interested in "the profane" than "the religious" — a servant of music more than of God. And he explained it, his characters "must sound as they feel," with "the holy trinity" of all his music in the form of "rhythm, notes and the color of sound." And though often accused of focusing on female characters who are emotionally abused and cheated on, and who suffer greatly and die, Puccini explains: "Women are better than I am. We men are just ghosts who need power over our women. But it is our women who shape us, and tell us who we are."
One final note: Beyond all else, if you have spent the past year yearning to travel to Italy, Felder's "Puccini," which will stream through March 21, can serve as a richly satisfying temporary substitute for the real thing. In addition, a portion of the proceeds for ticket sales to Felder's productions help support many regional theaters and other arts organizations during the pandemic crisis. In Chicago, Hershey Felder Presents has a partnership with Porchlight Music Theatre that enables that company to retain 50% of the tickets sold through this link: https://porchlightmusictheatre.org/events/puccini.
Follow Hedy Weiss on Twitter: @HedyWeissCritic
---