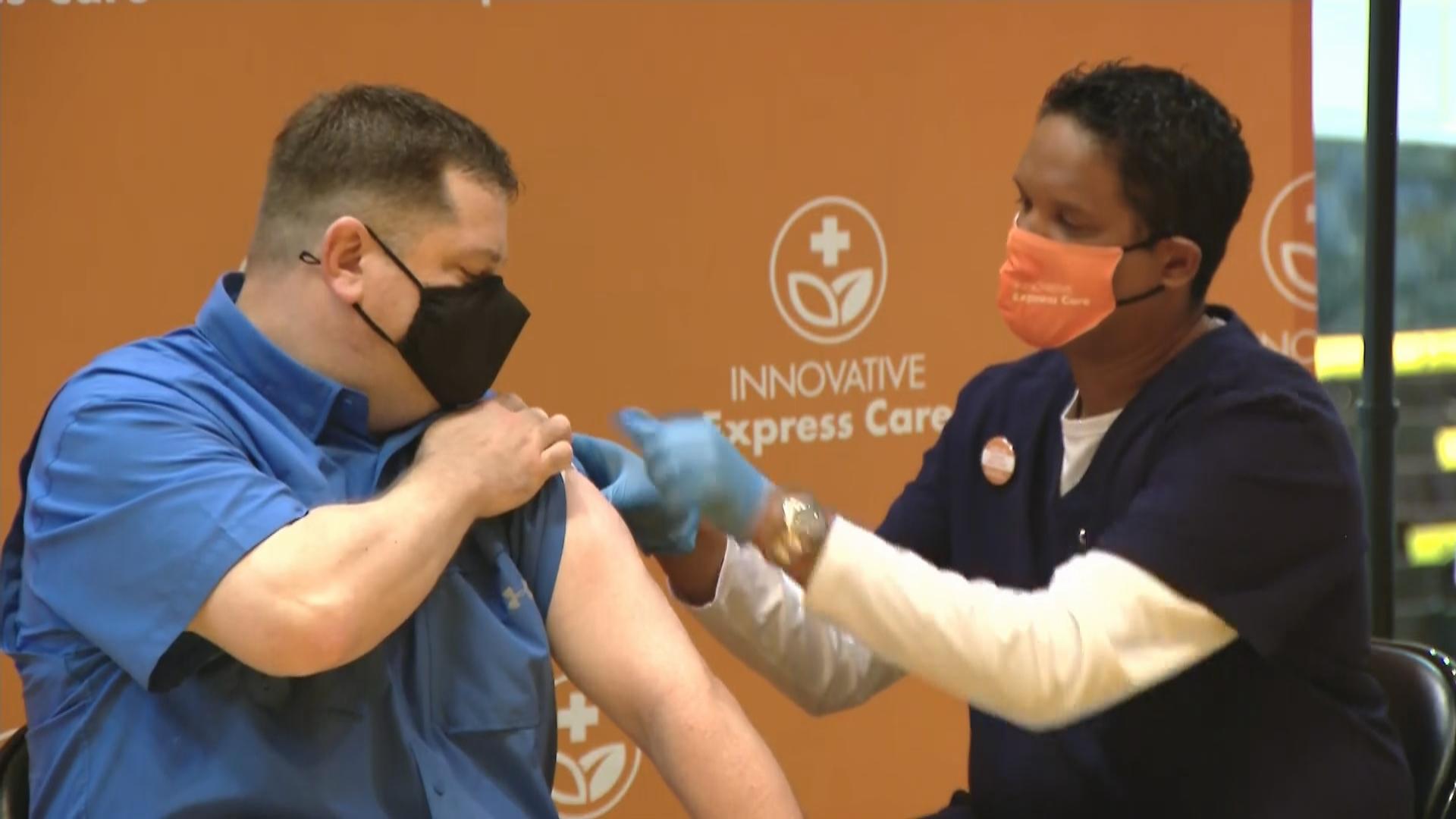 Jeff Lorenz, a teacher at Roosevelt High School, receives a COVID-19 vaccination at his school on March 17, 2021. (WTTW News)
Chicago Public Schools officials say they have now offered COVID-19 vaccine opportunities to each of their employees and hope to get everyone vaccinated by the end of the month.
Wednesday was a "solemn anniversary," district CEO Janice Jackson said, marking one year since schools shut down across Illinois due to the coronavirus outbreak. Thousands of K-8 students have since returned to their classrooms and Jackson hopes CPS can vaccinate all district employees ahead of a possible return for high schoolers in April.
"Our goal is to have each individual staff member vaccinated by the end of March," Jackson said during a news conference Wednesday at Roosevelt High School, which serves as one CPS-run vaccination site. "In order to do that, I believe that we have to work together. Our schools will do their part by hosting sign-up drives and really encouraging colleagues to sign up to get the vaccine."
CPS on Wednesday announced it has offered COVID-19 sign-up opportunities to more than 52,000 people, including all employees and vendors who regularly work in schools, at those district-run sites.
At least 14,000 employees have gotten at least their first dose of the COVID-19 vaccine, according to CPS data released Wednesday. That includes about 7,500 teachers (out of nearly 22,000) and 706 school administrators (out of 1,263).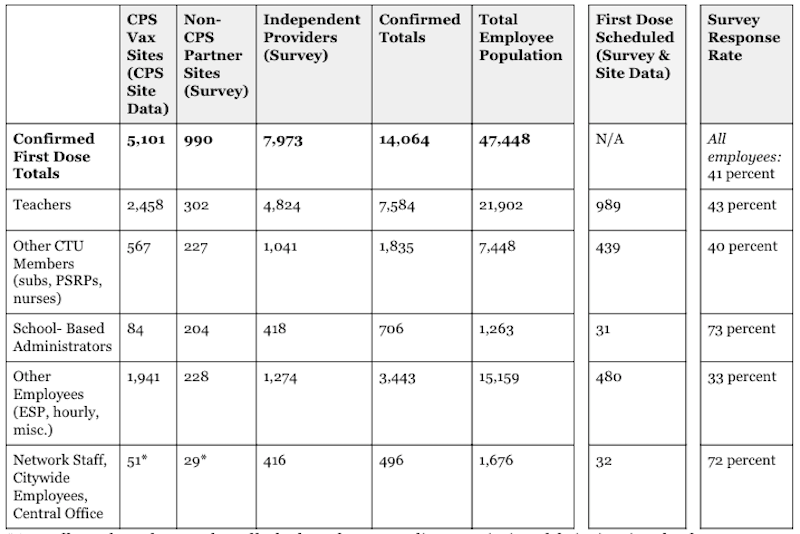 (Chicago Public Schools)
But those totals in reality may be much higher, as fewer than half of all CPS employees have so far responded to a district survey about their vaccination progress. Part of the reason that turnout has been low is because CTU President Jesse Sharkey has reportedly instructed union members not to respond to the survey because he wants that issue to be bargained.
Jackson on Wednesday said she has been "disappointed" with some of the "tactics" the CTU has used, saying that once schools are all reopened, "it's going to be critically important that we provide publicly the percent of people that are vaccinated in the schools."
Following tumultuous elementary school reopening negotiations that nearly led to a teachers strike last month, CPS and union officials have been bargaining for two weeks over a potential high school reopening plan.
The sides have sounded much more optimistic this time around, though some issues arose Tuesday after CPS sent a letter to families indicating that it is targeting April 19 — the first day of the fourth quarter of the academic year — as the date to bring back high school students who opt for in-person learning.
Sharkey called that letter "more unilateralism" from Mayor Lori Lightfoot's appointed Board of Education. But CPS released emails that appear to show Sharkey was made aware of the content of that letter before it was sent out, and made no objections to the inclusion of that April 19 date.
"One thing that I heard from parents throughout this process that I am taking heed to, is that people don't want to hear the back and forth and the antics and the theatrics," Jackson said. "They want us to get the job done and this team has gotten the job done with regard to vaccinations. We've offered a vaccine to every single employee in Chicago Public Schools and now we're in this second cycle where those who haven't been vaccinated, we really want to provide more education and encouragement to get them vaccinated, so that's my focus."
Though CPS had said it expected about 60,000 students to resume in-person learning last month, the district has not yet released attendance data indicating how many kids have actually shown up.
Parents have until Friday to complete a district intent-to-return questionnaire indicating if they plan to send their children back to in-person learning at the beginning of the fourth quarter.
Contact Matt Masterson: @ByMattMasterson | [email protected] | (773) 509-5431
---