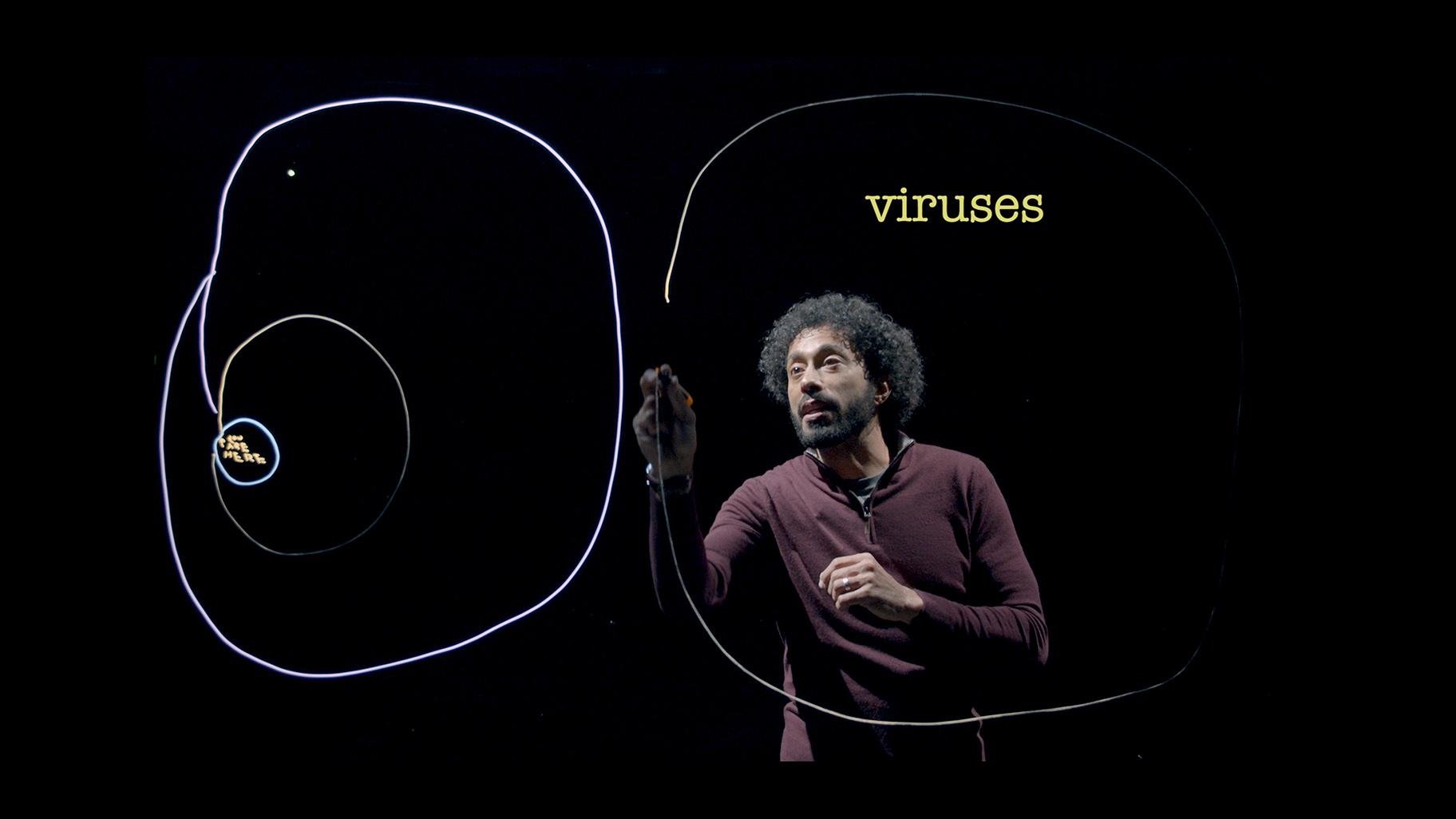 William DeMeritt in "The Catastrophist." (Photo courtesy of Marin Theatre Company and Round House Theatre)
To cut to the chase: "The Catastrophist," Lauren Gunderson's new 75-minute play — now being streamed by Northlight Theatre — is a riveting one-man meditation about life and death and the nature of viruses. And its magic lies not only in the fact that it is intrinsically linked to this pandemic-plagued moment, but that it evokes the very essence of human existence in the far grander scheme of our imponderable universe while simultaneously homing in on a wonderfully intimate portrait of a family and a marriage.
As it happens, the play is about Gunderson's real-life husband, Nathan Daniel Wolfe, an acclaimed virologist who, in 2011, Time magazine named one of the 100 most influential people in the world for his work tracking pandemics. And it takes the form of a monologue spoken by Wolfe, who is captured in such an absolutely brilliant, ideally nuanced performance by William DeMerritt that you come away thinking he is, in fact, Gunderson's real life husband. Riveting. (In a disarming bit of byplay, Gunderson also has Wolfe praise the talent of his wife, who just happens to be one of this country's most widely produced playwrights who deals with science ("Ada and The Memory Engine"), and whose two enchanting riffs on Jane Austen's novel (written with Margot Melcon) were hits at Northlight).
It all begins with the sound of a heartbeat. It then homes in on Wolfe, who playfully recounts his Jewish upbringing in Michigan and his youthful theater experiences. Along the way he reminds us that theater is the opposite of science in that it constructs the desired ending. (And without giving too much away here, this play in many ways has the best of all possible endings.)
William DeMeritt in "The Catastrophist." (Photo courtesy of Marin Theatre Company and Round House Theatre)
Wolfe also tells us of the way heart disease has plagued his father's side of the family, with many of the men dying while in their 40s. Wolfe's own father had a serious heart attack when Nathan was just 10 years old — an event that truly shook him. And although he remains true to his vow never to become a doctor, he goes on to earn a doctorate in virology and infectious diseases at Harvard. He also is very aware of the Jewish principle of "tikkun olam" or the aspiration "to heal the world."
From this introductory section of the play it is on to the matter of science, which Wolfe explains as finding "a convincing result (though) probably not a definitive one." In addition, he makes it very clear that we humans are NOT the center of the universe, and that it's a good bet that life did not originate solely on Earth and evolve in a single way.
Beginning in 2000, Wolfe did research in Cameroon and other African and Southeast Asian countries, and studied how the viruses found in people also existed in their food. Germs were transmitted from animals to humans. And of course there are millions of other life forms besides humans, including what we call viruses — things "we can't link to our own tree of life" but that are able to make serious use our human cells.
And, as Wolfe warns long before COVID-19, the next deadly virus — is just "waiting for a moment of human weakness" — and might already have started, whether HIV or Ebola or countless others. "Will we be ready for it?" he asks. "Probably not." Yet we should be prepared for a catastrophe he tells us with what now seems like eerie prescience. And even proposes a plan that would create pandemic insurance.
And then the play gets more personal as Wolfe's beloved father dies, as he is confronted with a slanderous charge attacking his science, as the first of his own two sons is born, and as he laments his failure to say all that he wished he had said to his father. A further dramatic life crisis unfolds, but I will not divulge that here. Suffice it to say that life and death stare each other in the mirror, and that a catastrophist is not always capable of being a futurist. We have all learned that lesson in the past year.
"The Catastrophist" — which should not be missed — is a co-production of California's Marin Theatre Company and Maryland's Round House Theatre and is being co-presented by Northlight Theatre through March 31. For tickets visit northlight.org/events/catastrophist.
Follow Hedy Weiss on Twitter: @HedyWeissCritic
---