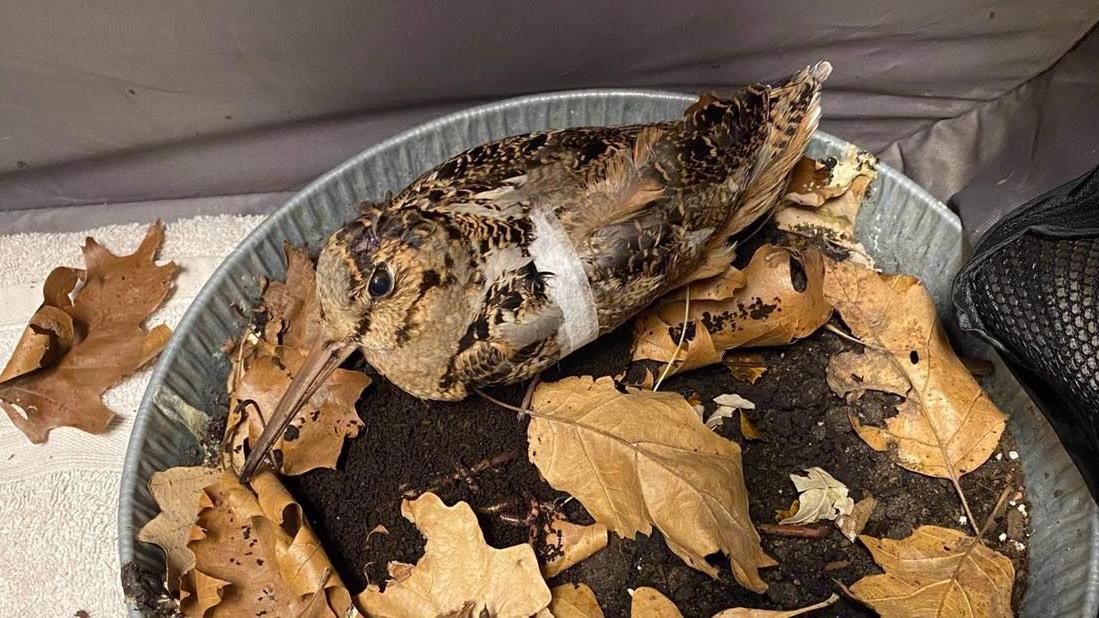 An American woodcock is being treated for injuries after colliding with a building in Chicago. (Courtesy Willowbrook Wildlife Center)
The spring migratory season for birds has only just begun and the Chicago Bird Collision Monitors are already rescuing victims that have crashed into the city's buildings.
Staff at Willowbrook Wildlife Center shared an update on an American woodcock brought in for treatment by the monitors, having suffered a head wound, corneal ulcers and a broken clavicle. Following a surgical repair of the wound and a tape wrap for the fracture, the bird is recovering at the center in a comfy home of leaves and soil, where it will remain for the next couple of weeks.
"As a prey species, woodcocks are notoriously high-strung birds, making it challenging for them to thrive in captivity. Thankfully, this guy started eating almost immediately after intake — a diet almost entirely of live worms!" the Willowbrook team shared on social media.
According to the Cornell Lab of Ornithology, Chicago is the most dangerous city for migratory birds in the U.S., due to its density, tall buildings and position in the heart of North America's most trafficked migratory corridor.
Building a bird-safe city, including steps that can be taken beyond downtown's skyscrapers, will be the topic of a virtual discussion hosted by the Chicago Ornithological Society on March 18 from 6-7 p.m. The event is free, but an RSVP is required.   
---
Contact Patty Wetli: @pattywetli | (773) 509-5623 |  [email protected]