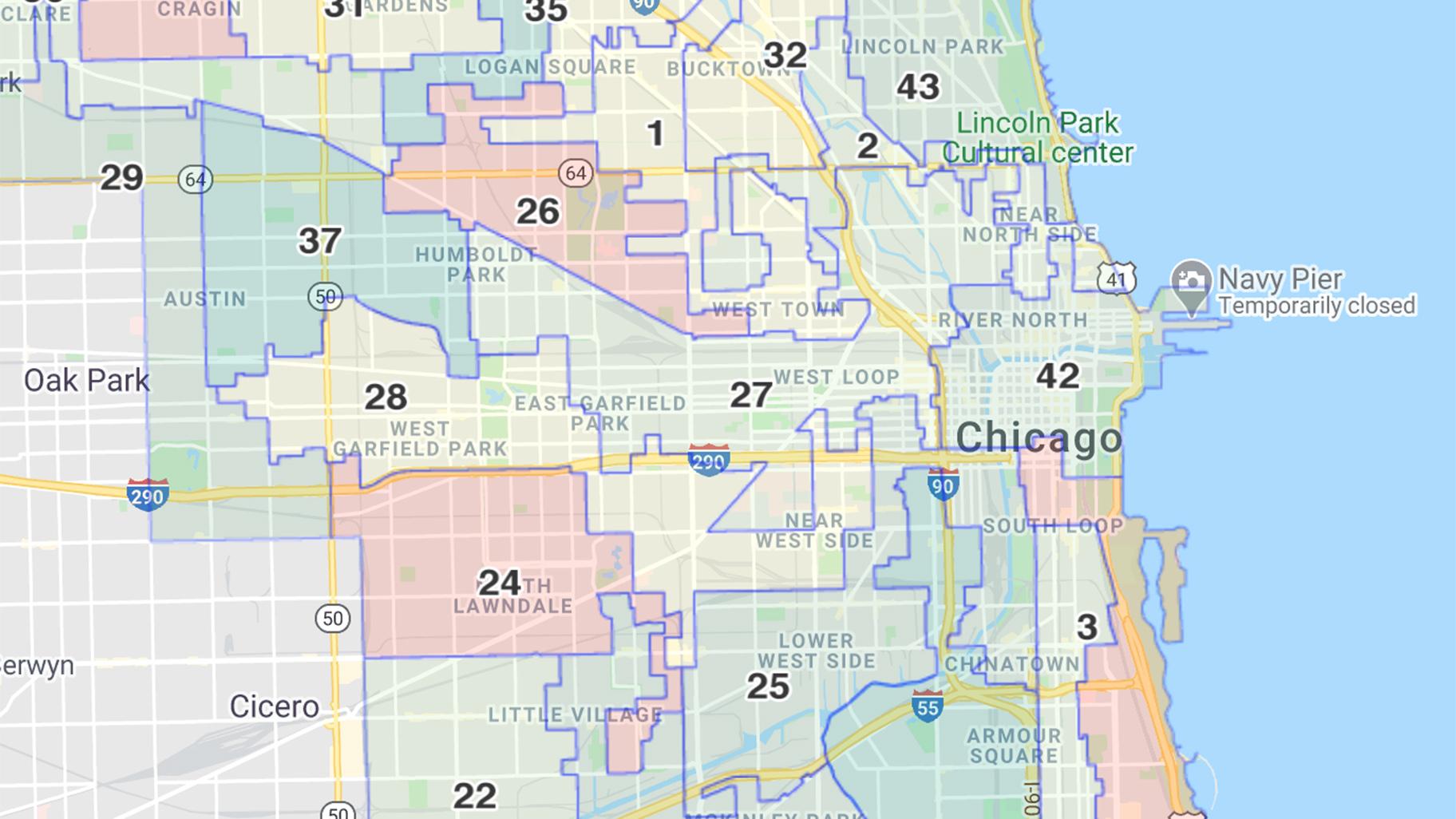 A map of Chicago includes boundaries for some of the city's 50 wards. (WTTW News via Google Maps)
Frustrated that the Chicago City Council and Mayor Lori Lightfoot have yet to back a plan to create an independent commission to redraw the boundaries of Chicago's 50 wards, a coalition of groups determined to change the way Illinois' legislative boundaries are drawn announced Tuesday they would take matters into their own hands.
Led by Change Illinois, the group is now accepting applications from those who are interested in serving on the 13-member Chicago Ward Advisory Redistricting Commission, which will host public meetings and craft "a people-powered and community-centered ward map for the city."
"The days of deals over backroom maps are over," said Madeleine Doubek, a former journalist and executive director of Change Illinois.
Joining the push to block aldermen from choosing their own voters are some of Chicago's most prominent civic organizations, including Common Cause Illinois, the League of Women Voters of Chicago, the Latino Policy Forum, the Metropolitan Planning Council, Rainbow PUSH and Asian Americans Advancing Justice-Chicago.
Doubek said the Chicago effort could serve as a model for the looming statewide remap.
For decades, Chicago's ward map has been redrawn behind closed doors every 10 years by the most powerful aldermen and the mayor in an effort to consolidate their power — while ensuring that it can pass muster with courts charged with ensuring Black and Latino Chicagoans are adequately represented among the 50 wards, which are designed to each have 54,000 residents.
Commissioners who reflect Chicago's diversity will be selected, with those who have no connection to Chicago's political elite given preference, Doubek said. They will get training, work with Jowei Chen, an associate professor at the University of Michigan, and will be eligible for a $5,000 stipend once their work is completed, officials said.
The goal is to convince at least 10 aldermen to back the commission's map and trigger a referendum that would put the competing maps up to a vote, Doubek said.
Those interested in serving on the commission have until April 9 to apply at chicagoswards.org. 
The commission will have to work on an accelerated timeline, since the results of the 2020 Census — delayed by the COVID-19 pandemic and legal challenges brought by former President Donald Trump — will not be available until September, months later than scheduled.
The deadline to trigger a special election on ward maps is Dec. 1.
The City Council's Latino Caucus in January rejected a call to charge an independent commission with redrawing the boundaries of Chicago's 50 wards, saying aldermen are best equipped to ensure that the new map is equitable.
State law requires Chicago wards to be "nearly equal as practicable" while being as "contiguous" and "compact" as possible.
The remapping effort is expected to be especially fraught this year, since indicted Ald. Ed Burke (14th Ward) — who led the remap during the tenures of former Mayors Richard M. Daley and Rahm Emanuel — has been sidelined since being charged in a sweeping corruption indictment. He has pleaded not guilty and is awaiting trial.
In addition, many close observers of the census are concerned that attempts by Trump to use it to identify and deport undocumented immigrants means that the results will severely underrepresent Latino Chicagoans.
While Chicago's Latino population has been growing, the city's Black population has been declining, which could reduce the number of wards in which the majority of the population is Black and reduce African American political power in the city. Black aldermen now represent 18 wards, while the Latino Caucus has 23 members. Ald. Raymond Lopez (15th Ward) left the caucus in 2019.
During the 2019 campaign for mayor, and after she took office, Lightfoot said an independent commission should redraw the map.
However, Lightfoot has declined to endorse plans to craft an independent commission since taking office. At the same time, she has criticized the way the ward boundaries had been drawn for decades as "a relic of the past" and saying that the city can draw a better map.
"If you look at the ward boundaries, they don't make any sense and they don't respect neighborhood boundaries," Lightfoot said in January. "Aldermen have a very specific role to play, and they should, but this can't be a back room, closed-door deal that the public has no insights into."
Contact Heather Cherone: @HeatherCherone | (773) 569-1863 | [email protected]
---