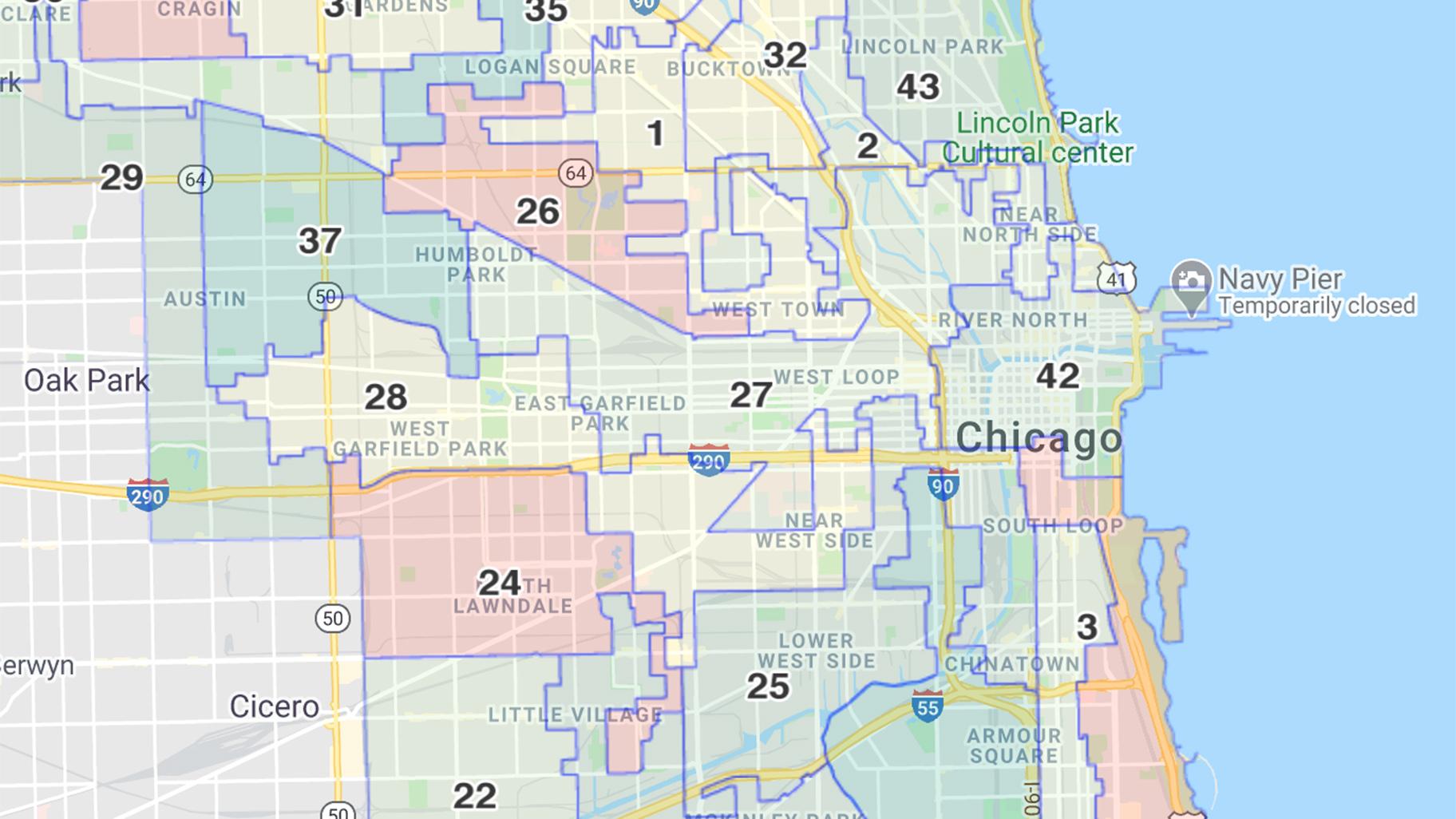 A map of Chicago includes boundaries for some of the city's 50 wards. (WTTW News via Google Maps)
The Chicago City Council's Latino Caucus on Wednesday rejected a call to charge an independent commission with redrawing the boundaries of Chicago's 50 wards, saying aldermen are best equipped to ensure that the new map is equitable. 
Ald. Roberto Maldonado (26th Ward), the chair of the Latino Caucus, said he sought to "dismiss the myth that an independent commission would truly represent" the interests of Latino Chicagoans, which became the city's largest ethnic group in 2017, according to U.S. Census data.
Maldonado said he was moved to speak out after Alds. Brian Hopkins (2nd Ward) and Andre Vasquez (40th Ward) introduced a resolution on Wednesday calling for a hearing to determine how those maps will be drawn, criticizing past maps drawn by aldermen as having "lacked appropriate transparency and community input."
However, Maldonado said aldermen — working with community groups — were best equipped to draw maps that fairly represent Chicago residents for the next decade.
"We should be the ones in control of creating our future boundaries of our future Latino wards," Maldonado said.
Ald. Gilbert Villegas (36th Ward) — the mayor's floor leader — said the ward boundaries are "not just lines on a paper map."
"We need a map that ensures parity, that ensures equity," Villegas said.
For decades, Chicago's ward map has been redrawn behind closed doors every 10 years by the most powerful aldermen and the mayor in an effort to consolidate their power — while ensuring that it can pass muster with courts charged with ensuring Black and Latino Chicagoans are adequately represented among the 50 wards, which are designed to each have 54,000 residents.
State law requires Chicago wards to be "nearly equal as practicable" while being as "contiguous" and "compact" as possible.
Maldonado said the remap after the 2010 census did not accurately reflect Chicago's Latino population, and too few wards with a majority of Latino residents were created.
"We were played," Maldonado said. "This time around we cannot let that happen."
That effort is expected to be especially fraught this year, since indicted Ald. Ed Burke (14th Ward) — who led the remap during the tenures of former Mayors Richard M. Daley and Rahm Emanuel — has been sidelined since being charged in a sweeping corruption indictment. He has pleaded not guilty and is awaiting trial.
In addition, many close observers of the census are concerned that attempts by former President Donald Trump to use it to identify and deport undocumented immigrants means that the final results will severely underrepresent Latino Chicagoans.
While Mayor Lori Lightfoot worked to get 75% of all Chicagoans to respond directly to the census, only 60.9% did so, raising those concerns about the accuracy of the count. The results will not be known for several more months.
Because of delays caused by the Trump administration as well as the coronavirus pandemic, it is not clear when the census data will be available to start the remap effort.
While Chicago's Latino population has been growing, the city's Black population has been declining, which could reduce the number of wards in which the majority of the population is Black and reduce African American political power in the city. Black aldermen now represent 18 wards, while the Latino Caucus has 23 members. Ald. Raymond Lopez (15th Ward) left the caucus in 2019.
During the 2019 campaign for mayor, and after she took office, Lightfoot said an independent commission should redraw the map.
After Wednesday's City Council meeting, Lightfoot declined to endorse plans to craft an independent commission, but said the way the ward boundaries had been drawn for decades was "a relic of the past."
"If you look at the ward boundaries, they don't make any sense and they don't respect neighborhood boundaries," Lightfoot said. "Aldermen have a very specific role to play, and they should, but this can't be a back room, closed-door deal that the public has no insights into."
Any map that comes out of a process like that would lack "legitimacy," Lightfoot said, promising to come up with a process that strikes the right balance. 
"I think we can do better than what the current map looks like," Lightfoot said.
Contact Heather Cherone: @HeatherCherone | (773) 569-1863 | [email protected]
---