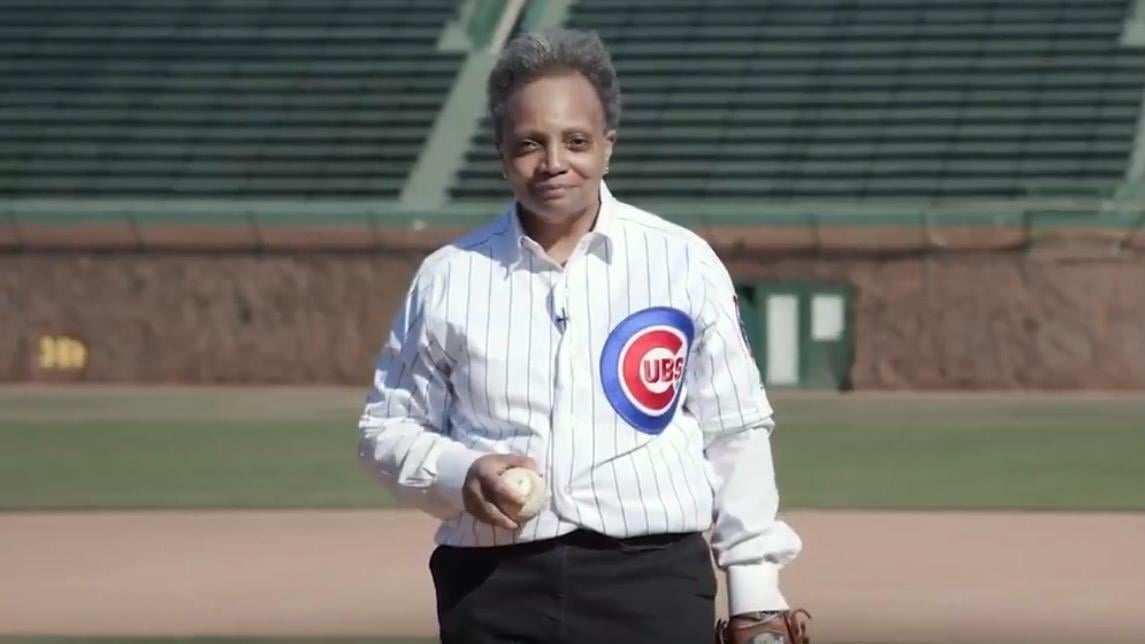 Mayor Lori Lightfoot announced the return of fans to baseball stadiums with a video posted Monday, March 8, 2021 on social media that showed her playing catch with Cubs mascot Clark and Sox mascot Southpaw. (Credit: Chicago's Mayor's Office)
As the spread of COVID-19 slows, Mayor Lori Lightfoot announced Monday that fans would be allowed back in the stands at Wrigley Field and Guaranteed Rate Field starting on opening day.
It will be safe for a limited number of fans to cheer on Chicago's home teams in person because of the city's "remarkable progress in recent months" in stopping the spread of the coronavirus, Lightfoot said.
Both baseball stadiums will be limited to no more than 20% of their normal capacity.
"As a diehard sports fan myself, I'm personally excited to have Chicago take its first, cautious steps toward safely reopening our beloved baseball stadiums to fans this season," Lightfoot said in a statement.
For the White Sox's Guaranteed Rate Field, which can seat 40,000 fans, no more than 8,122 fans can root for the South Side team starting April 8 with the home opener against the Kansas City Royals.
For the Cubs' Wrigley Field, which can seat 41,374 fans, no more than 8,274 fans will be allowed to cheer on the North Side team starting April 1 with the home opener against the Pittsburgh Pirates.
There must be at least 6 feet between parties under the city's rules and the ballpark experience will be significantly different with cashless concessions, additional bathrooms and shorter lines, officials said. Everyone must wear masks.
Lightfoot announced the news with a video posted on social media that showed her playing catch with Cubs mascot Clark and Sox mascot Southpaw.
"We believe this is a moment when baseball can indeed serve our fans and our communities again as we all hope for a gradual return to normal," said Jerry Reinsdorf, chairman of the White Sox, praising Lightfoot and Gov. J.B. Pritzker for their leadership during the pandemic.
Cubs Executive Chairman Tom Ricketts said the team was eager to welcome fans back to Wrigley Field.
"The return of fans is incredibly meaningful to our players, our city and the game we all love," Ricketts said. 
While Lightfoot said the number of fans allowed in the stands could increase as more Chicagoans get vaccinated and the number of cases drops, "an increase in [COVID-19] cases could result in ballparks, bars, restaurants and businesses closing to reduce outbreaks."
Wrigley rooftops will also be allowed to open and will be required to follow latest guidelines for bars and restaurants, officials said.
An average of 276 Chicagoans have been diagnosed each day with the coronavirus during the past week, a 6% increase from the previous week, according to Chicago Department of Public Health data. The city's average test positivity rate is 2.8%, according to the data.
Contact Heather Cherone: @HeatherCherone | (773) 569-1863 | [email protected]
---