This story is part of WTTW's Firsthand initiative exploring poverty in Chicago.
---
The latest COVID-19 relief bill could come up for a vote in Congress as early as next week, but a key Democratic priority might be on the chopping block. 
President Joe Biden and progressive Democrats had initially pushed for a proposal in the bill that would raise the federal minimum wage to $15 an hour by 2025.
But after opposition was voiced by two Democratic senators, the provision's fate is now in doubt.
"His bill that he proposed, that included a $15 minimum wage increase, [that] included many other key components, may not look exactly the same on the other end when it comes out of the sausage-making machine," White House press secretary Jen Psaki said last week. 
The development comes as activists and politicians pushing for the measure have been joined in their efforts by some of the world's largest companies, like Amazon. 
The wage hike, meanwhile, has garnered criticism from business groups and Republicans, many of whom say it should be debated separately from the stimulus package. 
From one angle, the debate is already moot in Illinois. 
In 2019, the Illinois General Assembly voted to raise the state's hourly minimum wage gradually to $15 over the course of several years.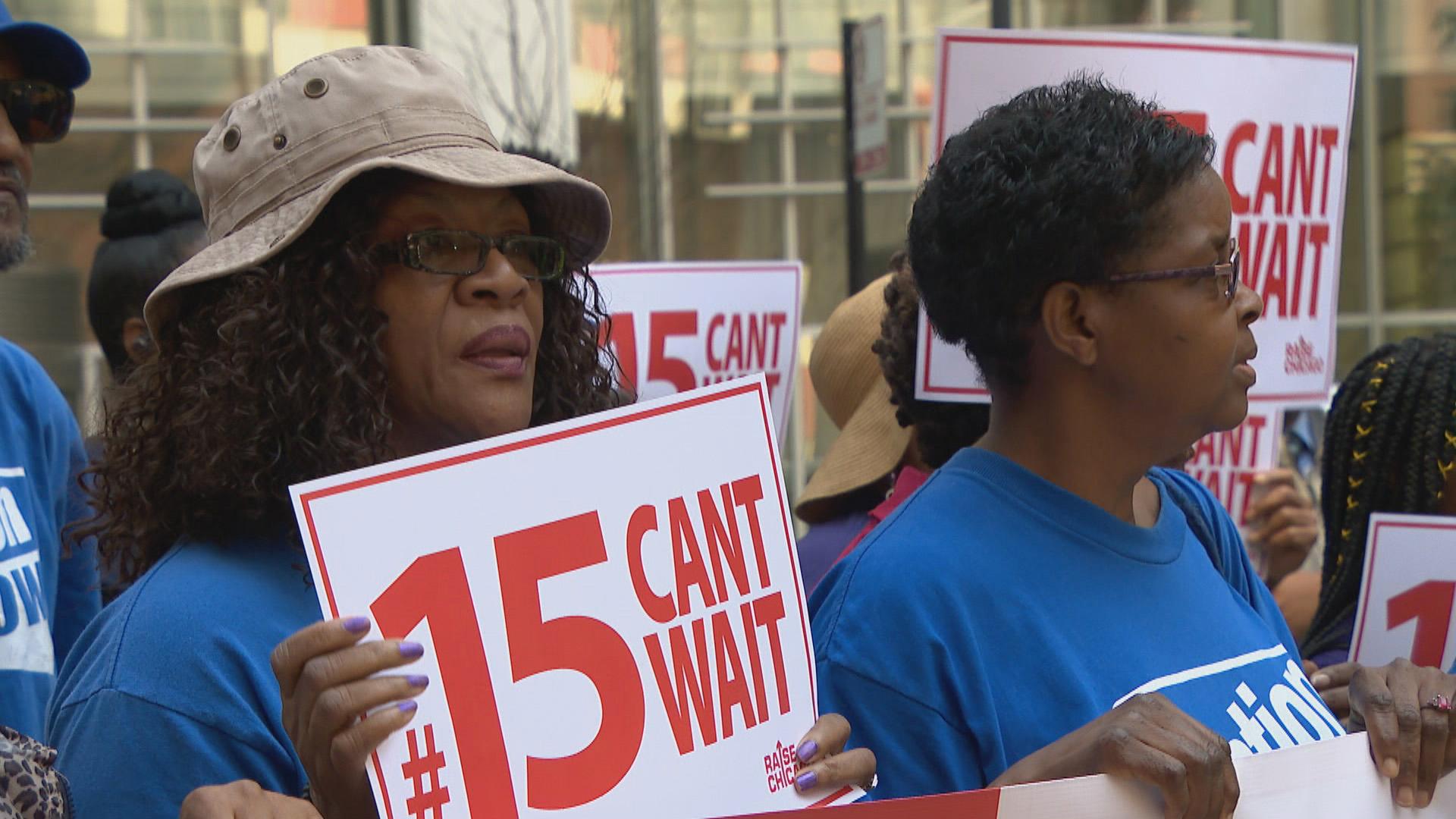 Labor activists join some public officials downtown for a rally in support of raising the minimum wage in August 2019. (WTTW News)
The threshold was raised to $11 an hour in January of this year, and will rise one dollar for the next four years, until 2025. There are different rates for tipped employees and workers under the age of 18. 
But local activists say they're continuing to lobby for $15 an hour, nationwide. 
"This is everyone's fight. I'm not the only one struggling here in Illinois. There's a bunch of people out there struggling, so I believe the federal wage should go up to a livable wage," said Adriana Alvarez, a McDonald's employee and a leader in the Chicago chapter of Fight for $15, a group pushing for a national minimum wage of $15 an hour. 
Throughout the pandemic, local business groups have argued any increase to the minimum wage should be delayed in order to reduce the burden on already strained business owners. So far, their pleas have fallen on deaf ears.
"For Washington, Illinois is a cautionary tale in that you want to think twice about doing this at all, but certainly in the middle of a pandemic," said Rob Karr, president of the Illinois Retail Merchants Association. "It makes reemployment and growth a lot harder." 
Earlier this month, the nonpartisan Congressional Budget Office released a report on the potential impact of raising the national minimum wage to $15 an hour by 2025. 
It found the measure could lift 900,000 people out of poverty, but also that "employment would be reduced by 1.4 million workers, or 0.9 percent, according to CBO's average estimate," the report said.
---