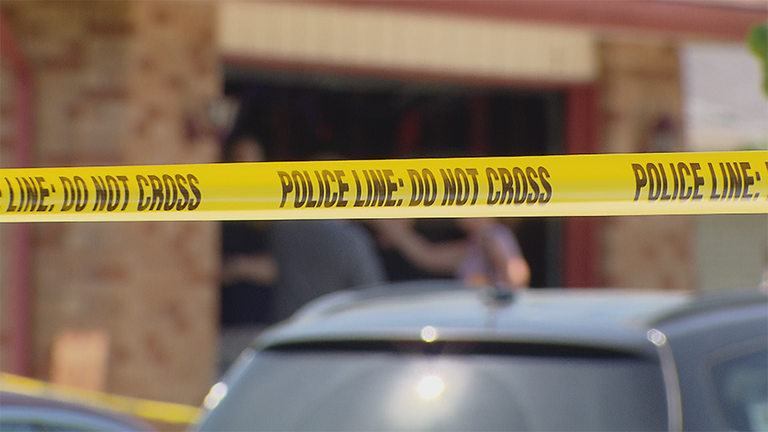 (WTTW News)
A Chicago teen is facing multiple felonies after he allegedly fired more than a dozen rounds toward an occupied vehicle he had attempted to carjack just before he successfully carjacked a second vehicle on the city's West Side in November.
Anthony Blackburn, 18, was ordered held without bail Wednesday during his initial appearance on charges of vehicular hijacking, attempted vehicular hijacking and aggravated discharge of a firearm.
According to Cook County prosecutors, Blackburn was riding in a vehicle with others near the 4700 block of West Polk Street in the Lawndale neighborhood last November. That vehicle pulled over and prosecutors said Blackburn hopped out of a passenger seat and pointed a gun at a nearby car.
He ordered the occupants out of that vehicle, but the driver instead sped off as Blackburn allegedly fired 14 rounds at the car. Nobody was struck, and prosecutors said Blackburn quickly turned his attention to another nearby vehicle which was occupied and parked.
Blackburn allegedly ordered the occupants of that vehicle to get out, and they complied, allowing the defendant to enter the car and drive off.
That vehicle was recovered four days later at a motel in Cicero, along with a 9 mm handgun, prosecutors said, which was tested and connected to the attempted carjacking.
"An 18-year-old kid with a handgun pointed it at a victim and fired multiple shots — not one, not two, not three, not four, but at least 14 shots — at a moving vehicle," Assistant Cook County State's Attorney Franka D'Antignac said during Wednesday's hearing. "This defendant is clearly a danger to the community."
Prosecutors said the entire incident was captured on security video, though Blackburn's attorney on Wednesday noted that the victims only identified her client from a photo array — not the video — and the prosecutors did not say if Blackburn's fingerprints were found on the firearm they recovered.
Still, Cook County Judge Arthur Willis said he agreed with prosecutors that Blackburn's release would "pose a real and present threat," and denied bail.
Blackburn is due back in court on Feb. 19.
Contact Matt Masterson: @ByMattMasterson | [email protected] | (773) 509-5431
---