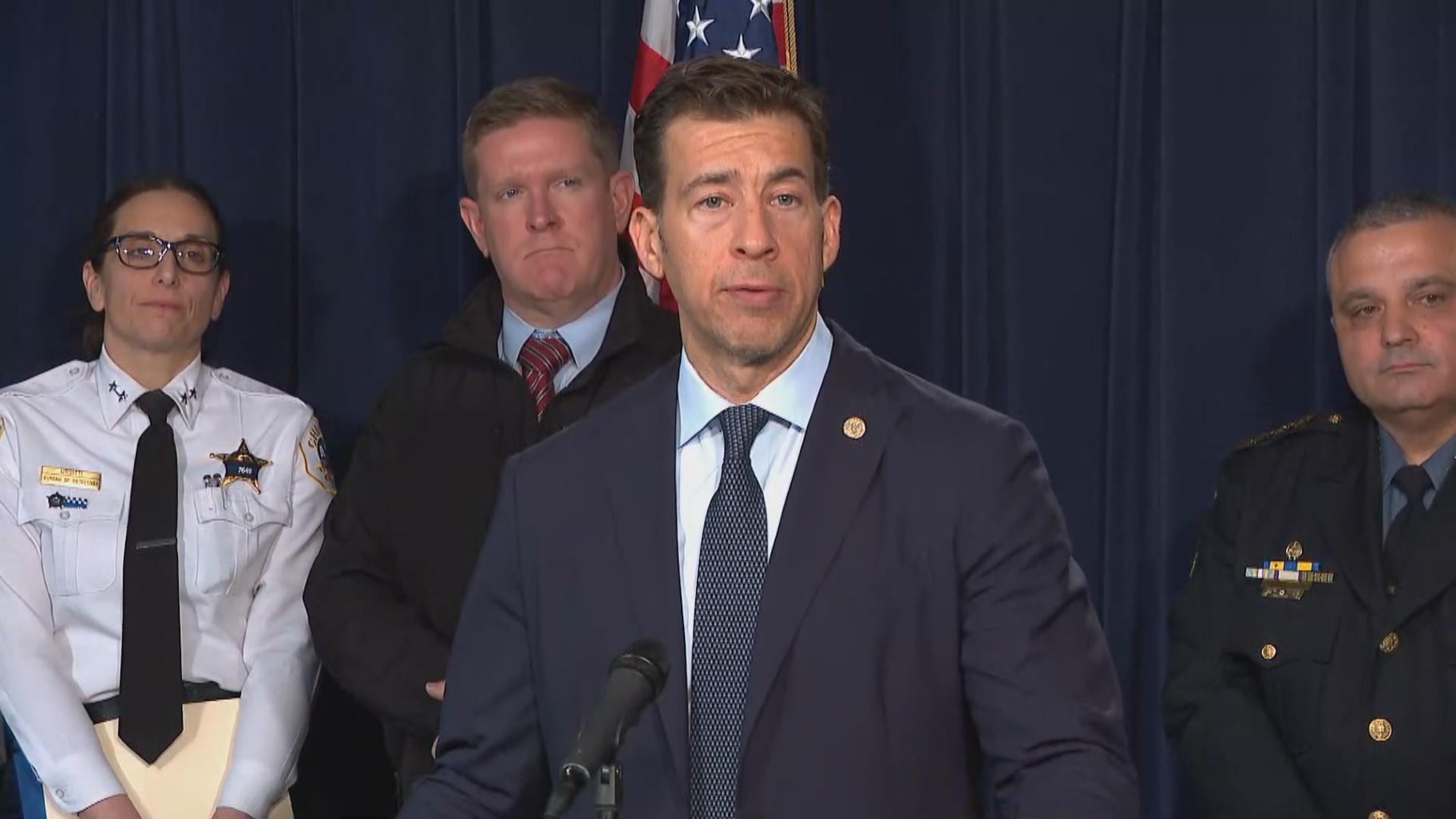 Illinois Secretary of State Alexi Giannoulias speaks at a news conference March 23, 2023. His office announced $21 million in grants for law enforcement to target carjackings and auto thefts. (WTTW News)
Police say technology — in the form of social media — is often a factor behind carjackings carried out by young people.
"A common phenomena that we're seeing is that it's often by juveniles," Illinois State Police Director Brendan Kelly said. "And I think that's a phenomena that's occurring not just in Chicago or the state of Illinois — it's nationwide. We see gang activity sometimes, but it's often looser than that. It's just a social dynamic where it's like a rite of passage. It's not even necessarily that they're making a lot of profit on it, in some of these circumstances. It is just a social phenomena, and sometimes it's even driven by social media. They're filming themselves on social media, they're putting it out on social media."
Technology is also helping to catch the culprits, Kelly said, in the form of automated license plate readers and data extraction tools.
Secretary of State Police Lieutenant Adam Broshous, director of the Illinois Statewide Auto Theft Task Force (ISATT), said modern cars are like roving computers.
"Vehicles are not the cars they were years ago," Broshous said. "The information that we can get from them that can help solidify and prosecute a crime, it can put offenders at the scene of a crime after the fact."
License plate readers are used to identify and locate stolen automobiles.
"It's amazing how quickly we can get a report of a vehicle having been stolen or a vehicle having been carjacked," Kelly said. "That license plate is put into the system, and then we get a hit minutes later sometimes on the expressway. We're able to have our troopers, our special agents, or other officers that may be in the neighborhoods or may be out on the expressways, they can immediately identify where that hit was, be near that location, get eyes on that vehicle, and then if they're able to conduct a safe traffic stop, they will."
If law enforcement can't stop the fleeing driver — for instance, if a car is going more than 100 miles per hour or lives would be at risk — then air operations take flight.
"Because you have that air asset and because you're coordinating that with license plate readers and other technology that we have, that is allowing us to apprehend and arrest more individuals," Kelly said.
The Illinois Secretary of State's office on Thursday announced various police organizations will receive $21 million — funded through a dollar assessment charged annually on Illinois auto insurance policies — to combat carjackings and the stealing of cars and car parts.
Roughly half of the grant money is set to go to the Expressway Safety Enforcement Group, which largely operates in the Chicago area, and more than $3 million will go to ISATT.
Kelly said ISP will use the money to buy more license plate readers and replace planes; the funding will also be used for forensic services and equipment like microscopes that will speed up DNA analysis and canine teams that are used to help apprehend an uncooperative alleged criminal.
The Chicago Police Department is set to receive $1.45 million, and the Tri-County Auto Theft Task Force (which covers Will, Grundy and Kankakee counties) will get $1.84 million.
The remaining funds will be spread between the Metro East and Peoria areas.
CPD's chief of detectives, Antoinette Ursitti, said Chicago's efforts, such as giving away motor vehicle clubs and offering free etchings on catalytic converters that allow police to trace them when stolen, are also contributing to a decrease in vehicle thefts.
In announcing the funding, Illinois Secretary of State Alexi Giannoulias said he was a victim of a carjacking when he was in high school.
Giannoulias said it was a "horrendously scary experience" that a quarter century later still keeps him on guard while driving, especially now that he has three daughters and imagines that if it were to happen again, it would be "my kids' lives at stake."
"People shouldn't have to fear that they'll be robbed of their vehicle at gunpoint when they get in to their car each day," Giannoulias said. "There is no single solution, but ensuring that police officials have the funding and tools they need to combat violent crime in these instances is crucial."
Kelly said he wants perpetrators to know that police have and will use tools to catch them.
"We want people to know that license plate readers are out there; we're going to find you," Kelly said. "We want people to know that we have air ops out there; they're going to get eyes on you. They're going to find you. We want young juveniles that are considering getting involved in this type of criminal activity [to know] that we're looking at their social media. That's open-source stuff — this is not secret information. We're correlating all those things to build a case and sometimes very quickly."
Kelly said police would like to see quicker responses from social media networks, and although manufacturers have become more cooperative, receiving information from cars' onboard computer systems can be "uneven."
The International Association of Auto Theft Investigators is working with car makers on manufacturer-specific issues and to share with them the methods criminals are using so that manufacturers can help avoid those issues in future auto models, Broshous said.
To protect yourself from becoming a victim of a carjacking or theft, Broshous recommends:
avoiding dark parking lots;
traveling with multiple passengers, if possible, because there is "safety in numbers;"
and when in traffic, always having an "exit."
Giannoulias said he's mindful to keep a car's length whenever he's stopped at a red light or stop sign.
The secretary of state also applauded the Illinois House's passage on Wednesday of a measure (HB2789) he promoted that would not allow libraries to be eligible for state grants if they ban books. Giannoulias, a Democrat, said the proposal will help to protect libraries and librarians.
"We want to protect free speech," Giannoulias said. "I think the book banning that's going on across the country is dangerous to our democracy. It's dangerous to our children. And it flies in the face of what education has always been about — teaching children to learn how to learn for themselves."
Another Giannoulias-backed concept, the creation of a digital driver's license (HB1110), has yet to pass ahead of a Friday deadline for House passage of bills.
Giannoulias said digital licenses and IDs were one of the reasons he ran last year for the secretary of state job and that they're an important part of his "modernization plan" for the office.
"We're going to continue to talk about it," Giannoulias said. "The technology isn't black and white yet, but we know over the long term, every state will end up having digital IDs, digital license plates. I don't think anyone expects us to be the first here in Illinois, but we cannot afford to be the last."
Follow Amanda Vinicky on Twitter: @AmandaVinicky
---