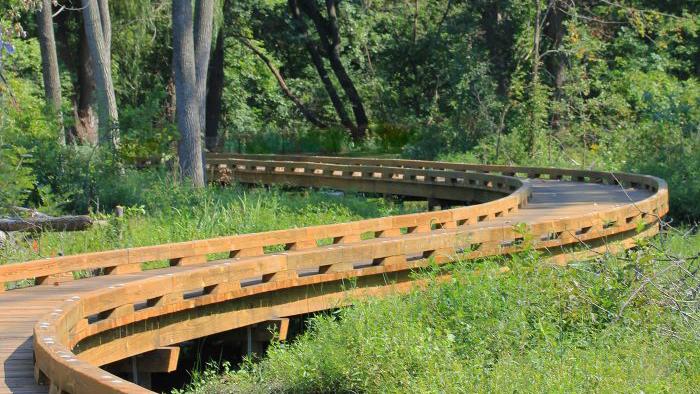 The Lost Beach Trail at Sand Ridge Nature Center leads to a view of an ancient shoreline. (Courtesy of Forest Preserve District of Cook County)
Freedom seekers fleeing slavery in the American South cut a path across the Calumet region on their way further north, with their progress through the area's swampy terrain aided by a geologic feature formed during the last Ice Age.  
The unsung role the region's natural landscape played in the Underground Railroad was the recent subject of a virtual presentation, "From Sand Ridge to Freedom Road," hosted by Alex Palmer, a naturalist at the Cook County Forest Preserve's Sand Ridge Nature Center.
According to Palmer, an estimated 6,000 to 10,000 enslaved people passed through Illinois between 1820 and 1861, using the Mississippi, Ohio and Illinois rivers as their guides. Though Illinois was a free state, it wasn't considered as safe as others, and most freedom seekers continued on to Canada or Detroit, he said.
The path to Detroit went through the marshes and wetlands of the Calumet region, which would have posed a significant obstacle were it not for the High Toleston Sand Ridge, Palmer said.
The ridge, from which the forest preserve takes its name, is a remnant of a prehistoric shoreline created by the glacial lake that predated Lake Michigan. As the waters of this ancient lake receded some 6,000 years ago, its former beach stood 25 feet taller than the adjacent lowland, which had once been the lake's bottom. 
The higher, drier ridge served as a natural thoroughfare, traveled by indigenous peoples, traders and European pioneers prior to its use by those seeking freedom. (Today, Michigan City Road follows the ridge line.)
"This unique geology influenced the movement of people," Palmer said. 
Along the way, people fleeing slavery would have taken refuge at safe houses — barns, inns, basements — one of which was located fairly close to Sand Ridge: the farm of Jan and Aagje Ton. Near what's now Beaubien Woods, the Ton Farm was added to the Underground Railroad registry in 2019 by the National Park Service.
Sand Ridge Nature Center is hosting self-guided Underground Railroad walks on Feb. 27, from 9 a.m. to 3 p.m. A section of the ancient ridge can be viewed from the preserve's Lost Beach Trail. 
Contact Patty Wetli: @pattywetli | (773) 509-5623 |  [email protected]
---