From left: Associate Concertmaster Stephanie Jeong; So Young Bae, violin; Assistant Principal Cello Kenneth Olsen; Lawrence Neuman, viola. (Credit: Todd Rosenberg Photography)
The Chicago Symphony Orchestra's CSOtv Sessions series is, without question, the finest virtual music treasure created in response to the COVID-19 plague year. Those who discovered it when it first came into being this past fall can attest to its brilliance. Those who have yet to revel in its delights are encouraged to catch its two newest entries: Episodes #11 and #12.
The chamber music-scaled concerts in this series provide various combinations of the bravura musicians of the CSO an opportunity to perform works that their intense pre-pandemic symphony schedule rarely made possible, and they also are the ideal tonic for a locked-down world in which grand-scale orchestras are unable to gather. The intimacy of the concerts, combined with the sheer brilliance of the musicians, and the exceptional beauty of the repertoire chosen, also serve as a potent reminder that classical music is among the most sublime inventions of the human imagination and a great humanizing force.
A brief explanation of how this very reasonably priced series works: A variety of ensembles — all assembled from the CSO's ranks — gather on the stage of Chicago's Symphony Center. There is no audience, but the mood is theatrical. And the expert camera work of Todd Rosenberg, combined with fine lighting design, home in on these socially distanced players in ways that bring the individual artistry and complex interplay of the musicians into unusually close focus while simultaneously illuminating the very particular demands of each composer. The brief but revealing introductory remarks provided by one of the musicians in each piece is another winning element.
Episode #11 (running now through Feb. 12), opens with the effervescent "Petite Symphonie" for wind instruments and strings by Charles Gounod, the 19th century French composer known primarily for his many operas. As assistant flute Emma Gerstein notes in her introduction, the work has the lightness and charm of a Haydn-style classical symphony. It begins with a slow, meditative melody, speeds up with a playful theme for the clarinet (beautiful work by clarinetist Stephen Williamson), gives Gerstein a rich showcase on flute in the third movement, and then moves on to a sunlit finale. Seated in an airy circle, the eight musicians (retrofitted from Goundod's original nine, for a reason Gerstein explains), include Wagner Campos (clarinet), William Welter (oboe), William Buchman and Miles Maner (bassoons), and David Cooper and David Griffin (horns). And together they create the breezy sound of a high-spirited aviary.
Next comes Mozart's "Quartet for Flute and Strings in D Major," a piece that principal flute Stefan Ragnar Hoskuldsson tells us he played for the first time as a 16-year-old in Iceland. He also says that this quartet reminds him of his time as principal flute in the Metropolitan Opera Orchestra when he played for many Mozart operas. And indeed, from the very start, this piece suggests the way Mozart used instruments as if they were human voices.
The quartet (with Hoskuldsson in his usual top form along with the impeccable playing of concertmaster Robert Chen on violin, Li-Kuo Chang on viola and John Sharp on cello), taps into all the exquisite, delicately magical and invariably "singing" quality of this work.
Closing the program is Maurice Ravel's ravishing "String Quartet in F Major," written in 1903, at the age of 28. It features a knockout ensemble comprised of bravura associate concertmaster Stephanie Jeong, So Young Bae, also on violin, violist Lawrence Neuman (who introduces the work and has a notable turn in the third movement) and Kenneth Olsen on cello.
At moments plaintive and dreamy, and then shifting into the most feverishly intense, agitated passages conjured with a brilliant use of pizzicato (string plucking), this quartet is at once richly romantic and notably modern, shifting from the rapturous to the fiery, from the lyrical and yearning to the introspective and explosive. And together the musicians bring a fittingly orchestral grandeur to this magnificent piece.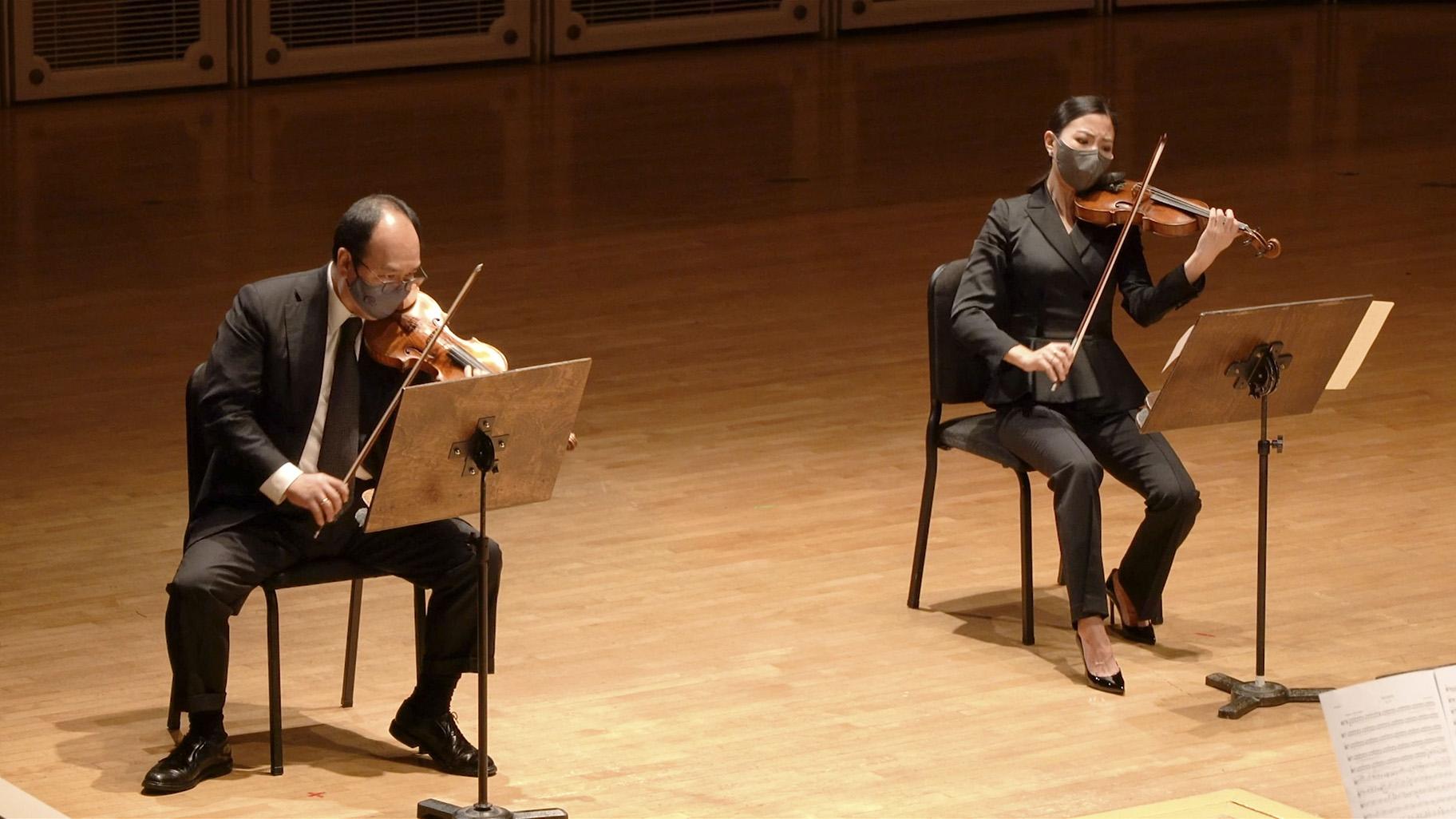 Concertmaster Robert Chen and Associate Concertmaster Stephanie Jeong. (Credit: Todd Rosenberg Photography)
The latest concert in the series, Episode #12 (which runs through Feb. 26) features Mozart's "Serenade for Winds in C Minor" and Brahms' "Sextet for Strings No. 2 in G Major." It is yet another program that combines the exquisite intimacy of chamber music while at the same time capturing the glorious richness of a full orchestra. And by the time it's all over you might just find yourself saying, "Wow!" (as I've sometimes heard a member of the audience at Symphony Center exclaim at the end of a particularly thrilling movement).
Keith Buncke, principal bassoon of the CSO, introduces the Mozart "Serenade," an octet for winds and brass expertly performed by Stephen Williamson and Susan Warner (clarinets), William Welter and Lora Schaefer (oboes), Buncke and Dennis Michel (bassoons) and David Cooper and James Smelser (French horns). He notes that the work, set in a minor key, is darker in tone than most serenades, and that while it demands virtuosity, the instruments Mozart composed it for were "primitive" compared to those used by today's musicians. Nevertheless, there can be no question about the virtuosity required to capture the emotional shifts in Mozart's score, which moves from the fervent to the melancholic, from driving melodies to lyrical passages, from formal rhythms to a sense of bursting heartstrings and joy. Throughout, the beautiful blending of all the instruments creates an embracing golden sound.
And then there is the Brahms "Sextet," an unmitigated masterpiece that dates from 1864. As violist Danny Lai explains, the work captures the profound heartbreak of the composer's broken marital engagement, and beautifully interweaves the sound of two violas (played by Lai and Li-Kuo Chang), two cellos (John Sharp and Kenneth Olsen), and two violins (Robert Chen and Stephanie Jeong).
There is always a volcanic lushness to Brahms' music, and a sense of breathtaking momentum captured in the sweep of folk dance-like melodies. And the underlying heartbreak here amplifies those qualities with a kind of rapturous sense of ardor that only music can fully express.
Brahms can have a wild dance sequence cede to the quiet plucking of strings and a suggestion of deep loneliness, just as he can make a great burst of excitement shift to what seems like a memory of joy followed by a sweeping, agitated race to a musical release. By the time it's over you might very well find yourself applauding in your living room.
---
NOTE: In addition to the CSOtv Series, there also are many free offerings, including a CSO for Kids series, concerts from the CSO archives, and a newly introduced series of concerts by musicians from the Civic Orchestra of Chicago. For tickets and details about all the programs visit www.cso.org.
Follow Hedy Weiss on Twitter: @HedyWeissCritic
---