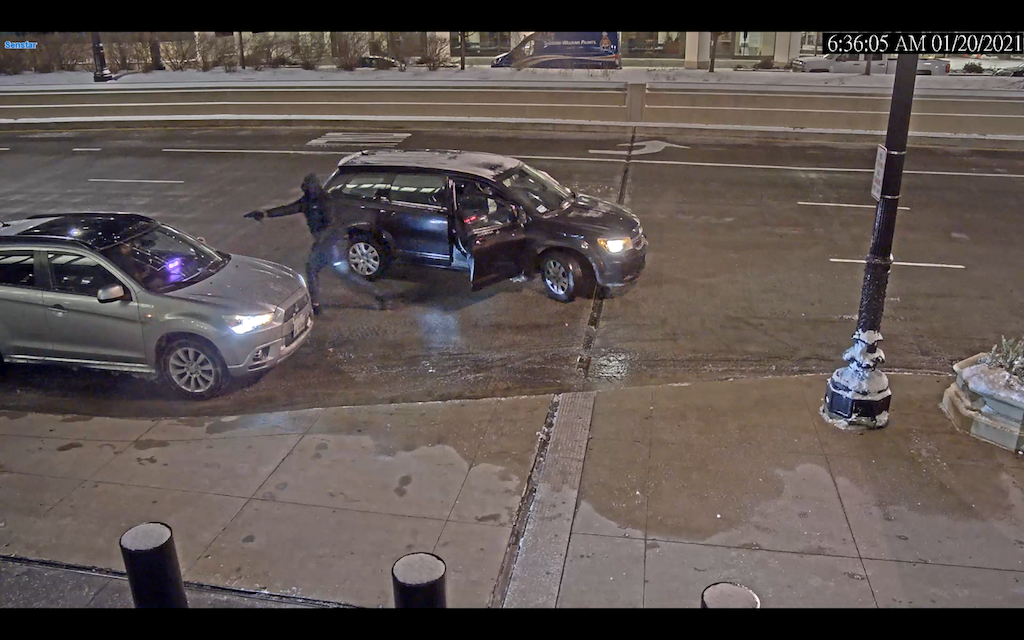 Chicago police released video of a vehicular hijacking that took place early Wednesday morning in the 200 block of South Wacker Drive. (Chicago Police Department)
In just the first three weeks of 2021, there have already been nearly 150 carjackings across Chicago, according to police, continuing the spike seen throughout last year.
Police Superintendent David Brown on Thursday said his department is looking to ramp up its efforts to try and stop these crimes, expanding its vehicular hijacking task force, collaborating with surrounding cities that are seeing similar issues and working with the Cook County State's Attorney to ensure "stronger prosecutions" of these offenders.
"There has to be consequences for these types of crimes," Brown said during a press conference Thursday evening. "People have been shot and killed, even after giving up their car to the offender."
According to Brown, there have been 144 carjackings — which include the specific crimes of vehicular hijacking, aggravated vehicular hijacking and criminal trespass to vehicles — already in 2021. He said there were 1,417 vehicular hijackings through the entirety of 2020.
Police have arrested 104 suspects in cases this year, he said, and the majority of suspects in these crimes are between the ages of 15 and 20, though some of those arrested have been even younger.
Chief of Detectives Brendan Deenihan said a 12-year-old allegedly carjacked a woman in her garage last Friday, pointing a gun at the woman and threatening to shoot her if she didn't move.
Denroy Garcia, 16, is being tried for murder as an adult after he allegedly shot and killed 33-year-old Shuai Guan during a carjacking las month in which Guan had willingly handed over the keys to his vehicle.
And three suspects, including two teens, have been arrested and charged in connection with the fatal shooting of former Chicago Fire Department Lt. Dwain Williams, who was killed during a shootout during an attempted carjacking. Police announced a fourth offender had been charged late Thursday.
"The point is that we're having 12-year-olds commit these acts now," Deenihan said, "and we've got to do something together as a city to kind of stop these actions."
Brown on Thursday outlined a "comprehensive" approach the department is taking to address these crimes. That includes adding staffing to the CPD's detectives division, expanding the citywide carjacking task force that's been in place since last February and being "more strategic" about the consequences for offenders.
Deenihan said the department will also now operate a carjacking-specific team within each detective area in the city. He cited COVID-19, civil unrest, and the partial shutdown of schools and courts as possible contributing factors to the rise in carjackings.
Several of these cases have also involved rideshare vehicles. Deenihan said a 15-year-old is accused of carjacking a Lyft driver after the driver dropped them off at a residence. And police have also released video of a carjacking that occurred Wednesday near the Willis Tower.
Deenihan said police have been in contact with rideshare companies, but added that it's not as simple as checking to see who ordered a ride in order to catch a carjacker.
"Obviously that's not how criminals operate," he said. "It's a little bit more complicated … but what we're doing is we are communicating with the drivers and we're doing our best to use technology to track these guys down and to solve the crimes."
Contact Matt Masterson: @ByMattMasterson | (773) 509-5431 | [email protected]
---