Christmas is over, which means it is — or will soon be — time for all of the Christmas decorations to come down, too.
At some point, Christmas trees get brown, the needles fall off, and it's time for them to go. But that doesn't necessarily mean tossing your tree in the trash.
Katie Wilson's Christmas tree was decorated this year with tinsel, colored lights, and, instead of a star, a revolving tree topper. But: "We're glad to have it gone and have our space back," she said.
Rather than toss it in the alley, she says she wanted to do something more responsible. So she called Dan Farace, or as he calls himself, Pedicab Dan, to come and get it.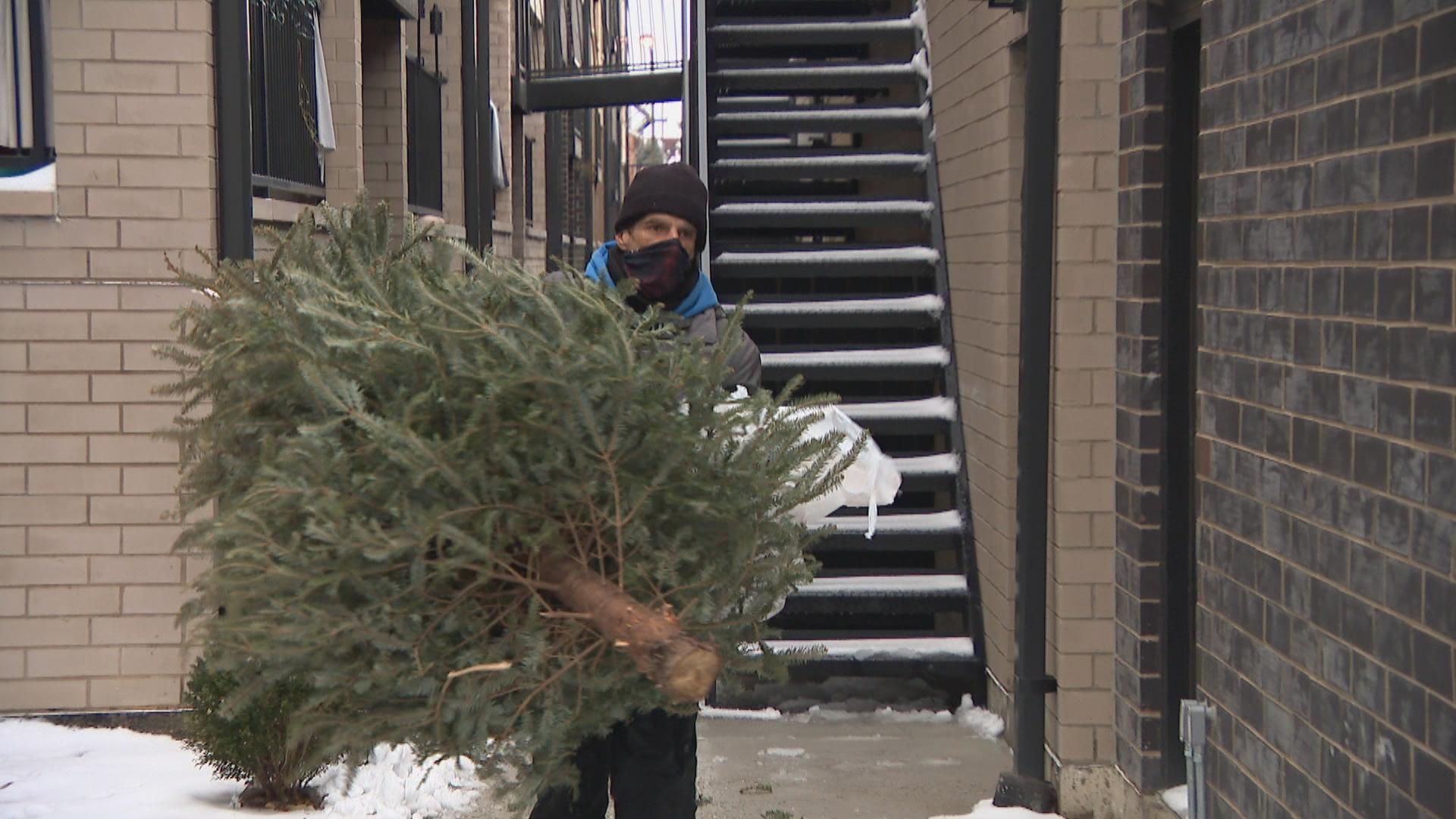 (WTTW News)
Farace is the co-owner of Second City Tuk Tuks, and he usually drives people in the back of his cab — even in the winter and snow as long as it's not too windy or icy.
"It's Christmas and obviously people are going up and down Michigan Avenue, and they want rides, depending on the weather, of course," Farace said. "But normally we have the United Center events. Hockey fans are dressed for this kind of weather, so short rides back to their car and the bar are fine. The Bulls. The concerts that are over there. So you can even work Chicago year-round."
He says he got the idea to use his bike to pick up Christmas trees a couple of years ago, when he saw a bunch of trees tossed in an alley by his house.
"You cannot throw these in the dumpster and if I would've saw just one … but there was piles of them everywhere and that becomes a huge problem," he said. "So I'm like, you know what, maybe it's just my alley at first, but we ain't going to be the problem. So that's how it grew."
And it's growing. It's not even a week after Christmas, and already Farace says he's toted away upward of 40 Christmas trees. On Wednesday morning, Farace picked up three trees in 4 or 5 miles. Farace doesn't charge people to haul away their trees, he only collects tips.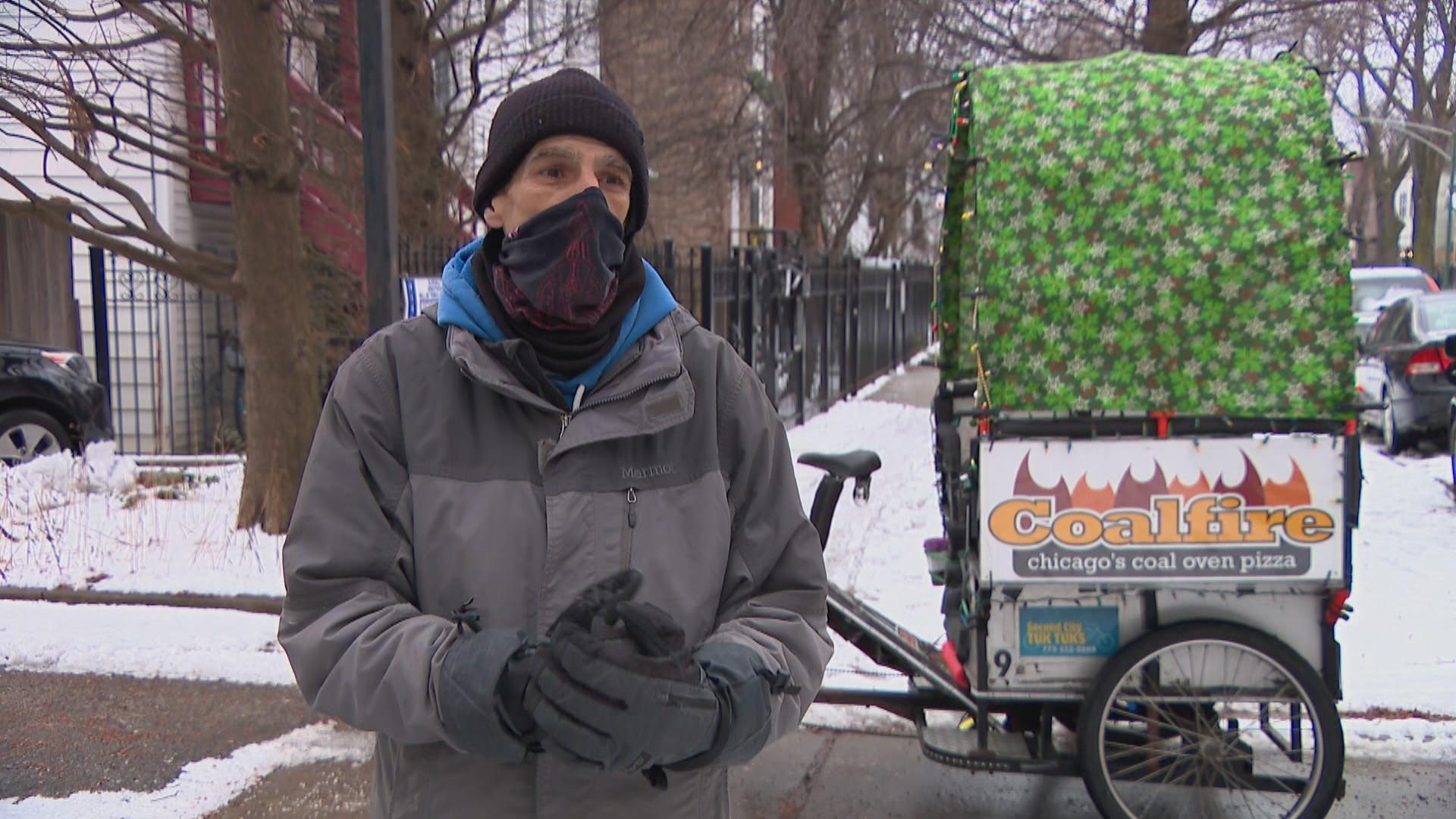 Dan Farace (WTTW News)
"Whatever people want to give me. Most people they tip and they're generous. Especially this year, I'm not going to say that anyone can't recycle their tree because they've been pushed to an economic brink," he said. "So I will take your tree for anything. It doesn't matter – for zero. As long as you're calling me and you want to help the environment, I'm there for you."
While the pedicab business is his business, he loves biking. And it's better for the earth to ride a bike than to drive a car, which is where the tree recycling thing fits in.
"We all have to take a part in what is going on in our environment, so if everyone just took one little whatever they like to do – pick up trash – whatever they like to do," he said. "If we just did one little thing … this world would be a lot better and we see our environment as being pushed to the limit. It needs help."
Weighty stuff, considering that Farace makes a point to shove off the small stuff.
"Being a bike rider, you can't get mad at everyone because there's so many opportunities to be a bike rider to get mad at people, it's like, oh forget it," he said. "Somebody parked in a bike lane or somebody opened a door in front of me. If you got mad at that every day, you're going to lose 10 years of your life on stress."
Despite all this effort with trees, Farace doesn't ever put one up in his own home.
"I have living plants and I hang ornaments on my living plants," he said. "I like to decorate but … I'm not into cutting down a tree."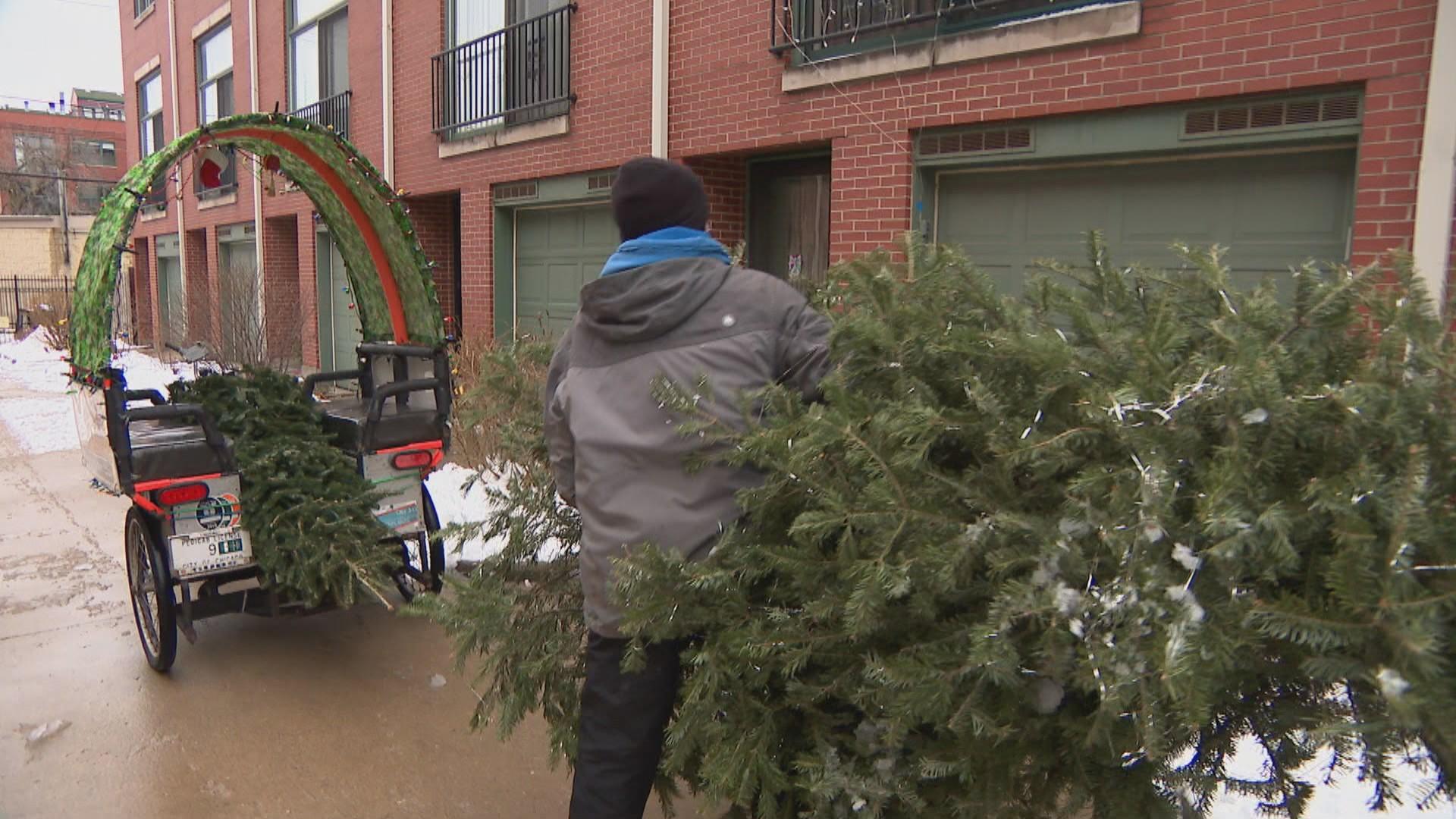 (WTTW News)
As for the trees he picks up and hauls away? He takes some back to his garage, to prepare them for their next life.
"I cut off the limbs. If some of my friends want their fire to smell nice, they take a few of the limbs and throw it in their fire," he said. "Somebody contacted me on Facebook. They want to do an art project, so I'm saving all the stumps so she can carve things out of them. We do a lot things with them. I mulch a little of it and throw it as mulch in the neighborhood."
Others he drops off at Humboldt Park, which is one of the city parks where residents are free to drop off trees themselves. The city turns those trees into mulch to use in parks.
READ: Don't Trash Your Tree. Chicago's Christmas Tree Recycling Program Starts Jan. 9
Residents can later pick up free mulch for their own yards.
If you want Farace to pick your tree up, his radius is generally East Humboldt Park to Noble Square.
But he has another friend who'll pick up trees in Albany and Irving Park.
And another of his pedaling pals, James Sydow, just built a flatbed for his pedicab so he can help to recycle trees, too. 
Follow Amanda Vinicky on Twitter: @AmandaVinicky
---