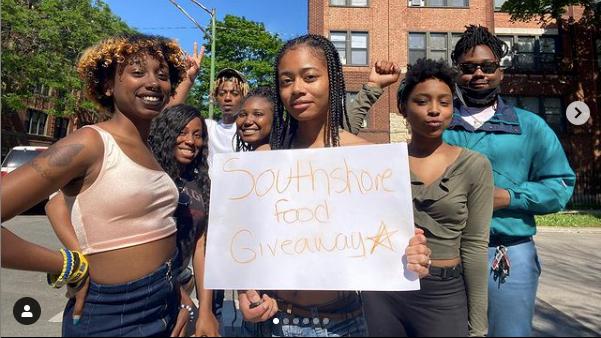 Kierra Wooden (center holding sign) started Southside Cleanup following last summer's looting, and her mission keeps expanding. (Southside Cleanup / Instagram)
More than six months after protests and looting rocked communities on Chicago's South Side, Kierra Wooden is still out there picking up the pieces.
The 23-year-old was among those who organized cleanups in the immediate aftermath of the unrest. What she thought of as a one-time effort has since grown into an ongoing and ever-expanding mission.
"With all the donations I had (including from the Obama Foundation), I thought, 'I can do more,'" said Wooden. "I decided, 'I'm going to make this into a thing.'"
Wooden's Southside Cleanup is one of four partners in the Clean Up Coalition, formed in late 2020. The coalition is scheduling monthly citywide cleanups, the latest of which is set for 10 a.m. to noon on Saturday. Each organization is coordinating a group of 25 volunteers on a different side of town: Southside Cleanup on the south, Powers for Good on the north, Babes Only on the east and Thankful for Chicago on the west.
During each scheduled cleanup, the goal is for each participating volunteer to collect one bag of trash in a two-hour window, with the aim of collecting more than 1,000 bags of trash by the end of the year.
The simple act of collecting litter shows that a community is cared for, said Wooden, who focuses on the South Shore neighborhood where she lives.
"South Shore is not the cleanest. Some apartment buildings don't get their trash picked up, it blows everywhere," she said. "Now that we've been out here, I'm seeing that change."
The monthly events are a way for Southside Cleanup to maintain a consistent presence in the community, become a recognizable force and also to connect with neighbors in order to gain a better understanding of the issues they face, said Wooden, who grew up in Jeffery Manor.
Because of those connections, Wooden has already broadened the scope of Southside Cleanup beyond picking up trash.
She's organized food drives, handed out toiletries and sanitation products, supplied laptops to students, and marshalled phone bank volunteers for November's get-out-the-vote initiative. This year, Wooden, who's working toward a degree in game programming, is planning to host coding workshops for students. And she's trying to figure out how Southside Cleanup can lend a hand to people low on rent or in threat of being pushed out of South Shore due to gentrification.
It's a bit of an overwhelming undertaking, Wooden admitted.
Though she's always been drawn to community activism — Wooden is a creative fellow with Chicago Votes — making a career out of it was something she thought would happen further down the road.
But that first cleanup in June was born more out of frustration with the inaction of others than a desire to spawn a movement, she said.
The day after the looting, she was scrolling through comments posted online by people who were shocked by the damage to their neighborhoods and thought: "If people were so upset, why were they sitting on social media and complaining? Take action."
Wooden spent 10 minutes creating the flyer announcing her first cleanup and as donations began pouring in to a degree she hadn't anticipated, Wooden realized she'd jumped into the deep end and it was sink or swim time.
"So many people were waiting for me to tell them what to do," she said. "It kind of hit me like a deer in headlights."
Now she feels a responsibility to continue the work, both to set an example for youngsters in the community and to help chart a different course for the South Side.
"People have so much potential," Wooden said. "They just need the resources."
Volunteer slots are still open for Saturday's cleanup. Sign up online.
---
Contact Patty Wetli: @pattywetli | (773) 509-5623 |  [email protected]