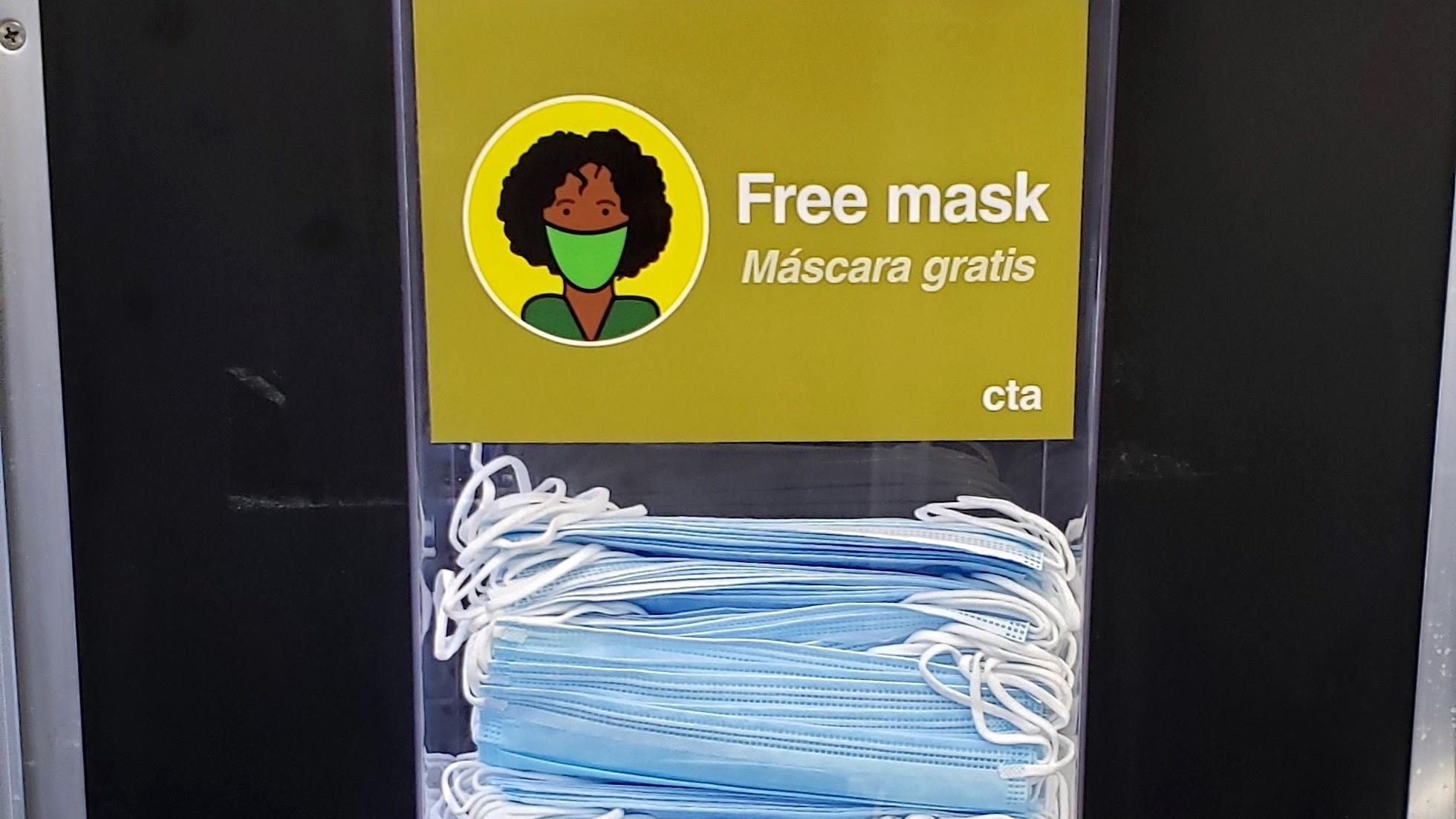 CTA free face mask dispenser. (Courtesy of Chicago Transit Authority)
The Chicago Transit Authority announced Tuesday it will begin providing free, disposable face masks to riders on a trial basis.
Dispensers will initially be installed on 200 buses, serving 20 routes. High-ridership routes including the No. 56 Milwaukee, No. 91 Austin and No. 77 Belmont were among those chosen for the pilot.
The first group of dispenser-equipped buses rolled out on Tuesday, with the full complement of 200 buses expected to be outfitted within the next week or two, according to a CTA spokeswoman. 
The announcement was welcomed by the advocacy organization Active Transportation Alliance, which has been calling for the free dispensers since July.
"This is great news for essential workers who have been riding transit throughout the pandemic and the operators keeping it moving," said Kyle Whitehead of Active Trans. "Both groups are disproportionately Black and Brown and many live in the communities hit hardest by COVID-19. It will help restore comfort and confidence as riders continue to return to transit during the recovery."
The pilot will assess demand for masks and the logistics of replenishing the supply on buses, some of which remain in service all day without returning to a depot. Restocking in the event of high demand is likely to be the biggest hurdle, the spokeswoman said, and there's the potential for a rider to board one of the 200 buses only to find an empty dispenser. That's the sort of kink the pilot was designed to address, she said.
If the trial is a success, the program will expand to all 129 bus routes, as well as to rail stations, according to the CTA.
"This new pilot program reflects our unwavering commitment to seek out new tools and ideas to help keep everyone healthy during this ongoing pandemic," CTA President Dorval Carter said in a statement.
Ridership across the transit system has plummeted in 2020 due to the coronavirus pandemic. According to the most recent CTA report, which provides data through September, bus ridership is down 45% for the year and rail ridership is down 62%. Downtown's bus routes, subway and Loop stations have seen ridership decreases in excess of 80%. 
The agency has implemented a number of health and safety measures during the pandemic, such as the use of electrostatic sprayers for cleaning. Since the summer, the CTA has also distributed more than 19,000 free "Travel Healthy" kits, which include a reusable cloth mask, hand sanitizer and healthy travel tips. That program is continuing, with additional giveaways planned in early 2021. 
Contact Patty Wetli: @pattywetli | (773) 509-5623 |  [email protected]
---