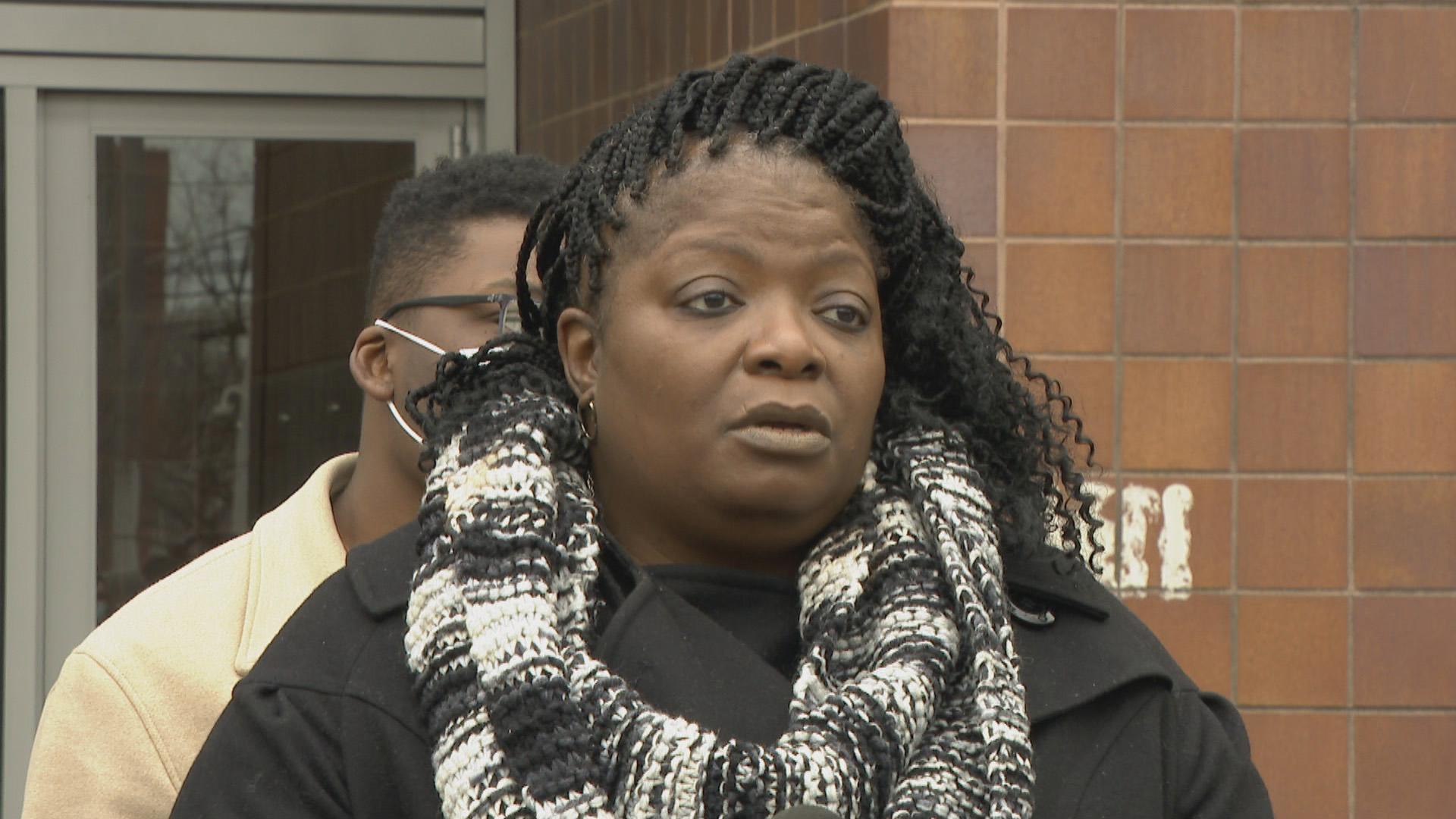 "This was so terrifying to me that two years later, I'm still dealing with it," Anjanette Young said during a press conference Wednesday, Dec. 16, 2020. (WTTW News)
Mayor Lori Lightfoot on Monday declined to commit to a Wednesday meeting with Anjanette Young, who was handcuffed while naked during a botched raid by the Chicago Police Department in February 2019.
Keenan Saulter, Young's attorney, invited Lightfoot to talk in private to "start the healing process" after the raid created a firestorm that cost the city's top lawyer, his deputy and the Law Department's spokesperson their jobs and imperiled the mayor's political standing.
"It's certainly my hope that Ms. Young and I will meet, and meet soon," Lightfoot told reporters Monday afternoon at an unrelated news conference. "I'm hoping the details will be worked out so that can happen."
However, Lightfoot said she would not participate in a forum as proposed by Saulter after the meeting at Progressive Baptist Church, 3658 S. Wentworth Ave. Saulter invited Chicago Police Superintendent David Brown and all 50 aldermen, and said he planned to broadcast it on Facebook.
Lightfoot said that would violate restrictions imposed by Gov. J.B. Pritzker as well as the city's stay-at-home advisory, which restricts most indoor gatherings to six non-household members but are strongly discouraged.
In addition, Lightfoot said she was concerned that a forum that included all 50 aldermen — or just a majority of the City Council or one of its committees — would violate the state's Open Meetings Act.
Lightfoot also suggested that attending the forum could compromise the "fiduciary duty" aldermen owe to the city. Aldermen could be asked to approve a financial settlement to resolve the matter.
After the mayor's remarks and a conversation with acting Corporation Counsel Ceila Meza, Saulter sent all 50 aldermen an email saying, "the mayor seems intent on playing politics, and that's fine."
Lightfoot has repeatedly apologized to Young for the raid, which took place before she took office, and for her administration's handling of the matter. Lightfoot announced Tuesday she had tapped retired Judge Ann Claire Williams to conduct an outside investigation into the raid and the conduct of the mayor's office, the city's Law Department and the police department.
Video of the raid obtained by CBS2-TV showed Young, a social worker, telling seven male police officers 43 times they were in the wrong home and begging them to let her get dressed.
Brown said there was "no excuse" for the conduct of the officers, which he said violated Young's "human rights." All 12 officers involved in the raid were stripped of their police powers and assigned to desk duty by Brown on Dec. 21.
However, Saulter wrote in his letter that those steps were insufficient.
"For Ms. Young, her apologies without action ring hollow and fall of deaf ears," Saulter wrote.
Saulter's letter prompted a response from Meza, also by email, to all 50 aldermen.
Meza said Lightfoot had accepted his invitation to meet one-one-one with Young, but declined to attend the forum.
"I am disappointed that we could not work together to make this meeting take place," Meza said.
However, Saulter responded that Young's invitation to the mayor included both the individual meeting and the forum — not one or the other.
"The mayor decided that she was going to reject the invitation that Ms. Young gave," Saulter wrote. "That's fine. Let's not parse words or play games."
Contact Heather Cherone: @HeatherCherone | (773) 569-1863 | [email protected]
---