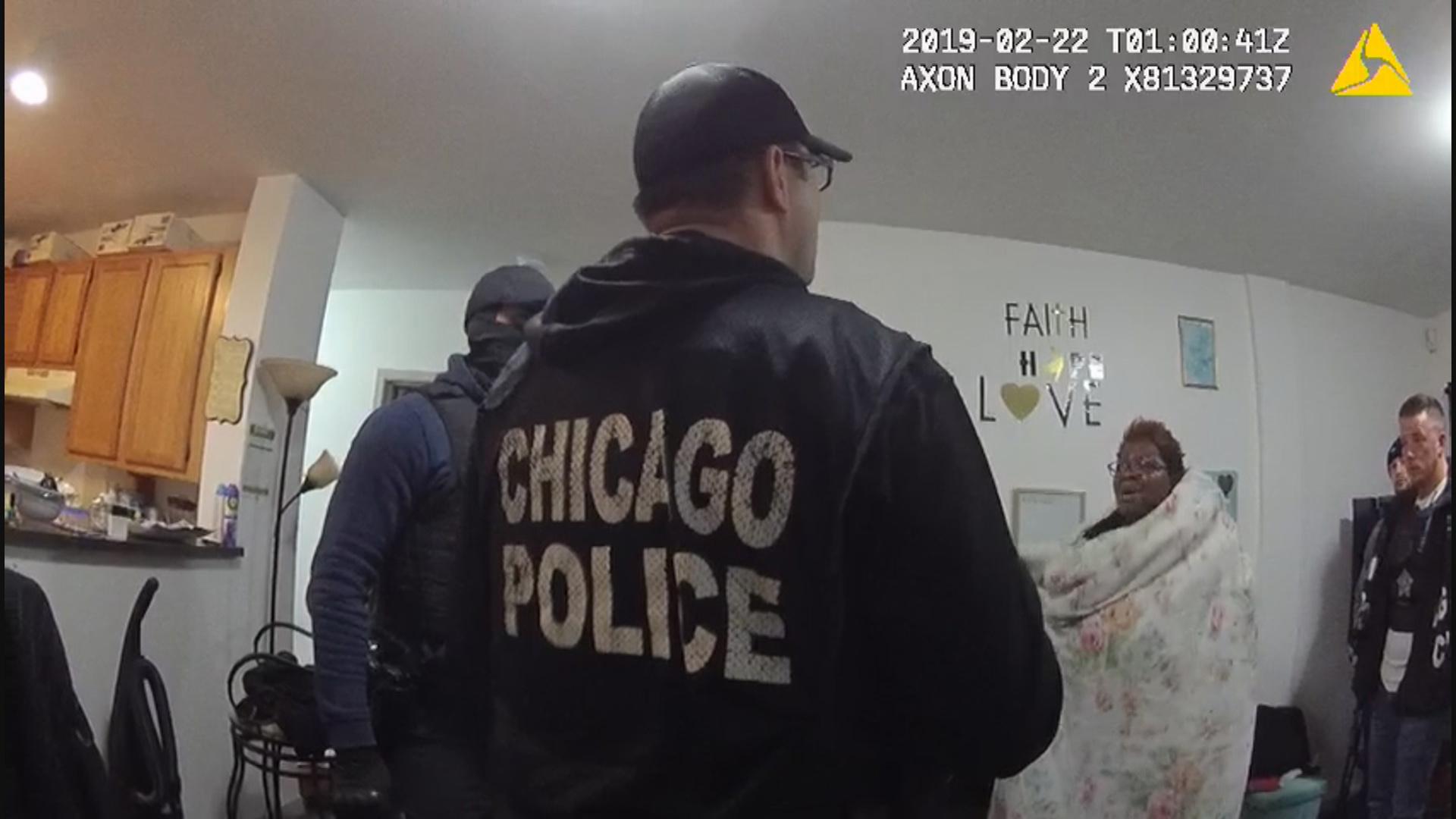 A still image from a Chicago Police Department body camera video shows a police raid at the home of Anjanette Young in February 2019. (WTTW News via Ja'Mal Green)
Mark Flessner, the city's top lawyer, resigned Sunday amid a growing furor over Mayor Lori Lightfoot's handling of the revelation that Chicago police officers handcuffed a naked woman during a mistaken raid in February 2019.
The firestorm that pushed Flessner out as Chicago's corporation counsel began Monday evening when CBS2-TV aired video of the raid that showed Anjanette Young, a social worker, telling seven male police officers 43 times they were in the wrong home and begging them to let her get dressed.
Flessner sent a brief message to the city's Law Department on Sunday afternoon announcing his resignation and tweeted that it had "been an honor to work alongside my friend @lorilightfoot for the last two years."
Lightfoot said Flessner's resignation would take effect immediately.
"I am committed to a full review of everything that occurred surrounding this incident, will take corrective action where appropriate, and will hold people accountable," Lightfoot said. 
Flessner told the Chicago Tribune's Greg Pratt, who was the first to report his resignation, that his decision was prompted by the fallout from the raid and the city's initial refusal to release the video to Young.
"I'm being accused of trying to hide it, which is not true," Flessner told the Tribune.
However, Flessner's resignation came after a damaging series of revelations about how the Law Department under his leadership responded to efforts by Young and her attorneys to obtain footage of the raid captured by the officers' body cameras as well as CBS2's reporting on the raid.
Although Lightfoot told reporters Wednesday that she first learned about the raid from news reports Tuesday, she acknowledged 24 hours later that she first learned about the raid in November 2019.
READ: Lightfoot Knew Woman Had Been Handcuffed While Naked During Mistaken Police Raid in November 2019
In addition, Lightfoot was incorrect when she angrily told reporters on Wednesday that Young had not filed a Freedom of Information Act request for the footage of the raid and that the city had not sought to block access to the video.
In fact, Young did request the video and her request was denied, Lightfoot said.
Lightfoot blasted the decision by city lawyers, who reported to Flessner, to ask a judge to block CBS2 from airing the video, even though the First Amendment prohibits courts in nearly every situation from preventing news organizations from publishing lawfully obtained, newsworthy information.
Lightfoot on Thursday declined to say whether she would fire Flessner, instead promising a full investigation.
The mayor also disavowed the decision by the city's lawyers to ask a judge to sanction Young's attorney Keenan Saulter in connection with the release of the video.
A court filing by the city also "specifically affirms" that the city never sought to sanction Young but asked the judge to sanction Saulter because city lawyers "take very seriously our responsibility as officers of the court and were very concerned that a violation of a court order had occurred." 
In addition, the filing seeks to withdraw a request made by city lawyers that urged the judge in the case to prevent CBS2-TV from airing the video of the raid.
The judge already rejected that request, but Lightfoot said that she wanted the record to reflect that the request "was a mistake." 
That filing averted a special meeting of the Chicago City Council called by three aldermen who planned to urge their colleagues to order the city's lawyers to reverse their attempt to punish Saulter, and by extension, Young.
But hours after the court filing, Lightfoot announced late Friday that the "Law Department clearly failed to search all potential locations where corresponding [body camera] video could be located."
While 14 videos of the raid were turned over to Young's attorney in March, six additional videos were discovered this week, the mayor's office announced.   
"While this failure to produce the additional six videotapes was inadvertent and not intentional, nonetheless, it was completely unacceptable," according to the mayor's office. "The mayor has directed that all individuals responsible for this discovery failure be identified so they can be held accountable."
Flessner joined Lightfoot's administration from the law firm of Holland & Knight, where he served as a partner after working as a former federal prosecutor. Lightfoot also worked as a federal prosecutor.
During his 19-month tenure, Flessner was a lightning rod for controversy.
In December 2019, Flessner acknowledged that he claimed both a Naperville home and a condominium on the Near South Side as his primary residence, and took tax breaks on both properties. However, a state law requires homeowners to claim just one location as their primary residence to earn the homestead tax break.
That issue came to light after Lightfoot and Flessner fired Bill McCaffrey, the Law Department's spokesperson, claiming he "spread disinformation" about Flessner's residency.
Flessner had to pay back $2,500 to resolve the tax issue.
That same month, Flessner agreed to stop using a private road that connects downtown and McCormick Place to avoid congestion in downtown Chicago known as the "Bat Cave," as first reported by NBC5-TV.
In September, Flessner clashed with aldermen after warning them to be careful when demanding that firms do more to meet goals set by city officials designed to encourage them to hire Chicagoans and work with firms owned by female, Black and Latino Chicagoans.
Flessner also declined to release the full investigation by Inspector General Joseph Ferguson into former Chicago Police Superintendent Eddie Johnson, who was fired by Lightfoot after she said he lied about apparently passing out in his running car at a stop sign in Bridgeport after a night of drinking last year.
Contact Heather Cherone: @HeatherCherone | (773) 569-1863 | [email protected]
---