(Manne1409 / Pixabay)
The city's top lawyer bluntly warned aldermen on Tuesday to be careful when demanding that firms do more to meet goals set by city officials designed to encourage them to hire Chicagoans and work with firms owned by female, Black and Latino Chicagoans.
The rare letter from Corporation Counsel Mark Flessner, sent Tuesday, told aldermen that his staff had become concerned after monitoring recent City Council committee proceedings, but did not specify what issue prompted the missive.
However, the only City Council committee to discuss the issues raised by Flessner was the Finance Committee, which held a hearing on Sept. 8 that focused on a proposal to finish a project to expand cargo operations at O'Hare Airport by approving plans to borrow $55.6 million to benefit a private firm, Maryland-based Aeroterm.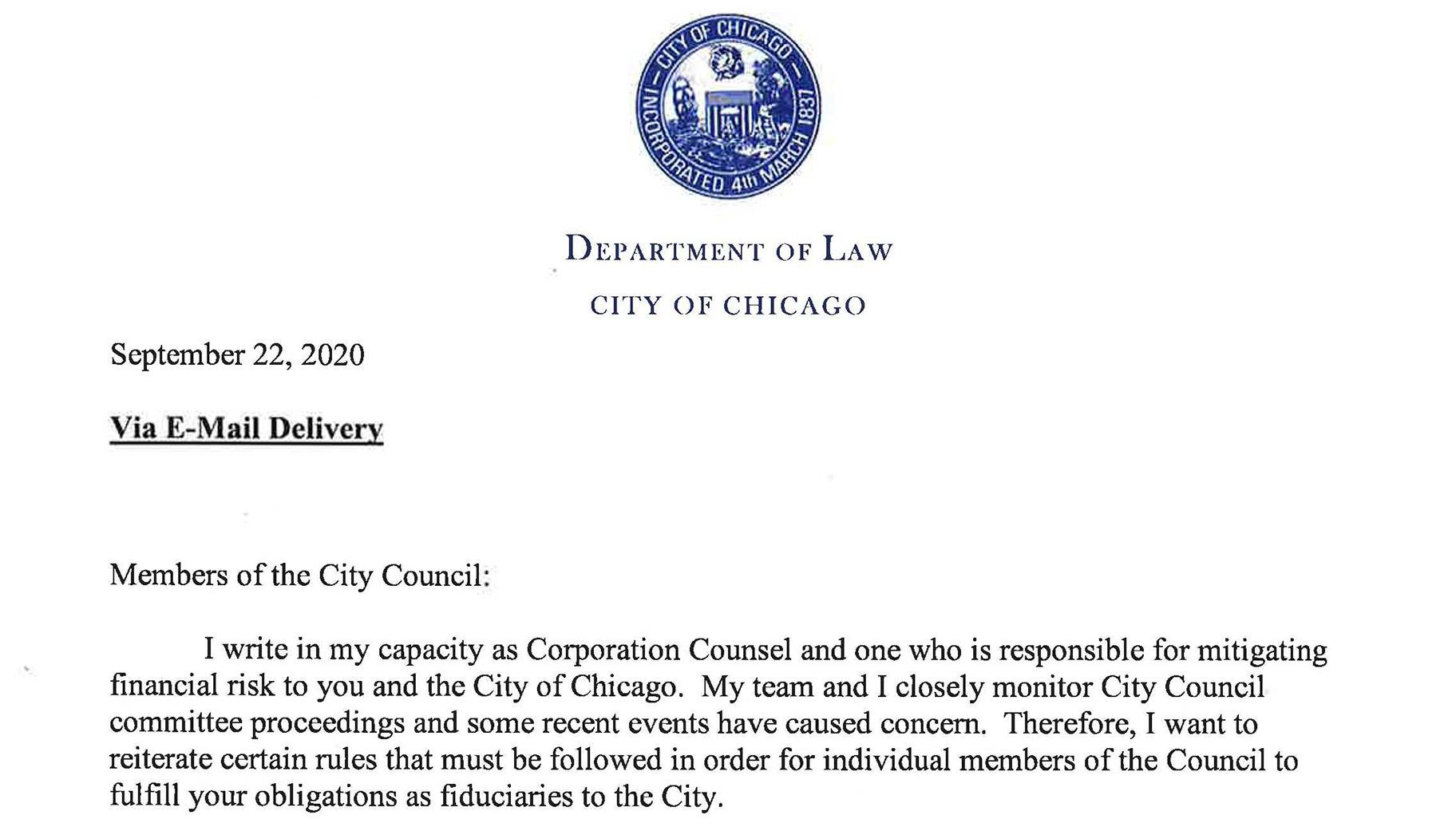 Document: Read the letter. Kathy Fieweger, the spokesperson for the Law Department, declined to confirm that Flessner's letter was motivated by the debate about the O'Hare cargo project.
"As the letter states, some recent events have caused concern," Fieweger said in a statement. "We believe it was an appropriate time for a reminder to City Council members about their fiduciary duties to the city."
That effort ran aground amid pointed questions from aldermen about why Aeroterm failed to fulfill promises to set aside half of all jobs created by the first phases of the project for Chicagoans. In the end, Chicagoans only filled 23% of the jobs, officials said.
In addition, while Aeroterm subcontracted 33% of the total $131 million contract for the project's first two phases to firms owned by Black, Latino and female Chicagoans — more than the 30% goal set by city law — Black firms were underrepresented.
Aldermen were unconvinced by repeated promises from Greg Russell, the firm's vice president for development, that Aeroterm would meet the goals were met during the final phase of the project. No vote was taken, leaving the project in legislative limbo.
Flessner said that aldermen "are of course authorized and encouraged to ask robust and detailed questions about the transaction in order to both inform, and provide a basis for, a vote on the matter."
But Flessner warned that going beyond that could expose the city — and the individual alderman — to a lawsuit.
Aldermen should not take any action that could "appear as a demand for the inclusion or exclusion of any vendor by name or race or ethnicity," according to Flessner's letter.
In addition, Flessner said he "strongly" urged aldermen not to "unilaterally amend the terms of the deal" specifically by changing the percentage of city contracts set aside for firms owned by Black, Latino and female Chicagoans, known in city jargon as the M/WBE program.
"What is not appropriate and could result in legal liability is 'on the fly' attempts to re-write city law and impose new requirements on a transaction during a committee meeting," Flessner wrote. "Those kinds of actions are not appropriate and are legally difficult to justify. The 'on the fly' amendments could ultimately imperil the entire M/WBE program which the city works very hard to maintain."
Flessner said aldermen may not compel concessions from those with transactions in front of the City Council in return for approval.
If aldermen ignore his warning and the city is sued in a lawsuit that names them in their individual capacity, Flessner put them on notice.
"There is no assurance that the city would be able to represent or indemnify them," Flessner wrote.
Aldermen have frequently been critical of the city's efforts to ensure that city contracts benefit firms owned by Black, Latino and female Chicagoans. 
Firms owned by White Chicagoans get the bulk of the city's contracts — even though they only make up about a third of the city's population.
That direct warning is likely to exacerbate tensions between the City Council and Mayor Lori Lightfoot's administration, which has been working to scale back the power of individual aldermen — even as the mayor has vowed to listen more respectfully to those who oppose her policies and initiatives.
Contact Heather Cherone: @HeatherCherone | (773) 569-1863 | [email protected]
---