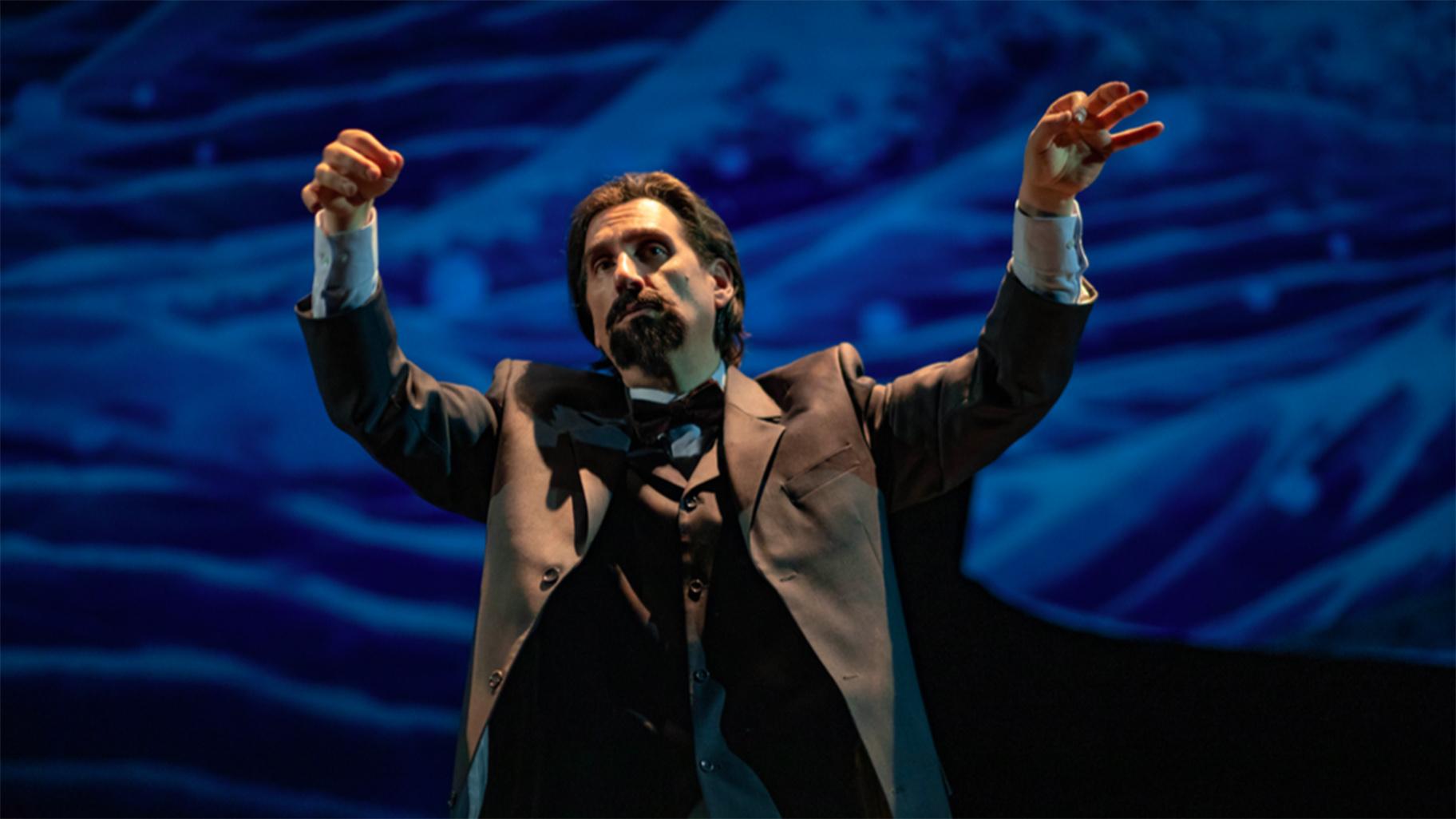 Hershey Felder in "A Paris Love Story." (Credit: Christopher Ash)
For several decades now, Hershey Felder — actor, pianist, writer, designer, director, producer and all-around Renaissance man (who, as befits such an artist, even lives in Florence, Italy) — has created a series of one-man shows, all of them richly theatrical biographies of great composers, from Beethoven, Tchaikovsky, Liszt and Chopin to George Gershwin, Irving Berlin and Leonard Bernstein. His latest work, "A Paris Love Story," follows the essential pattern of these earlier productions (all of which have enjoyed acclaimed runs in Chicago), but it also does something quite different. For in chronicling the chaotic life and innovative music of the French composer Claude Debussy (1862-1918), Felder also adds a heartbreaking layer of autobiography.
Born in Montreal, Canada — the son of a Polish-born father who was a Holocaust survivor, and a mother from Budapest, Hungary — Felder grew up in a Yiddish-speaking household. He was 13 years old when his mother — who loved Debussy's dreamy, diaphanous piano suite, "Clair de Lune," and yearned to visit Paris — died of breast cancer. Already an actor/pianist, he began learning as much of Debussy's music as possible. And, at 19, he made his first visit to Paris, determined to walk in the composer's footsteps, and in some way also live out his mother's dream.
Now, at 52, Felder has revisited the world of Debussy in a multi-layered production awash in bravura performances of some of the composer's best known works ("Clair de Lune," "Prelude a L'Apres-midi d'un faun," "La Mer" and more), along with storytelling that weaves together the lives of both his mother and the composer (a seminal influence on modern music who was 40 years old before his work was fully recognized, whose tumultuous romantic life sparked suicide attempts by two of his lovers, and whose unabashed love for his daughter suggests she was the great gift of his tragic final years). The show also employs sophisticated visual effects that capture the gossamer beauty of the music, as well as the enduring allure of Paris — a city that has recently suffered from a massive fire at the Cathedral of Notre Dame, terrorist attacks, and, of course, the pandemic.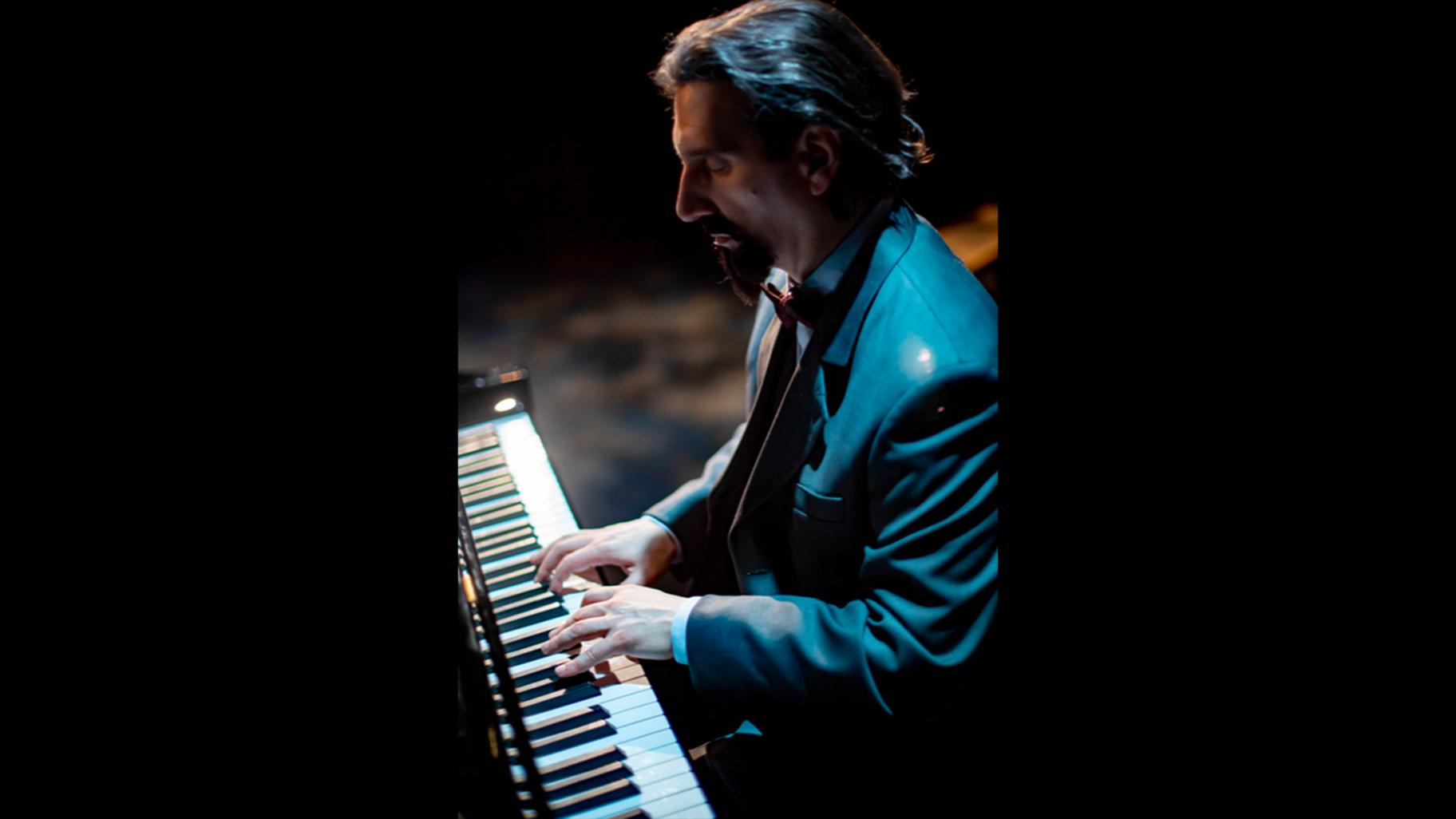 Hershey Felder in "A Paris Love Story." (Credit: Christopher Ash)
Among the show's many highlights is Felder's crystalline explanation of how Debussy (who was dubbed an Impressionist composer, but detested the label), rebelled against the weighty German Romantics (especially Wagner) who defined classical music. Instead, he found his inspiration in the dreamy "liquid harmony" of the sounds in nature, whether "the many layers of water" or the flutter of butterflies, and he also was taken with the music of the Javanese gamelan and the Symbolist poetry of Mallarme and others. So he set out to find a way to "paint in sound" using an innovative approach to harmony and musical structure. Felder's vivid explanation of all this brings to mind Leonard Bernstein's hugely engaging tutorials in his fabled televised "Young People's Concerts" series. It also suggests Felder might be just the person to create an updated "virtual" version of that sort of programming.
I will not reveal how "A Paris Love Story" ends. Suffice it to say that Felder's beautifully intertwined homage to Debussy and elegy for his mother concludes as real life does, and as only art can illuminate it.
---
Note: In many ways, by the time the pandemic grabbed hold of the world nearly a year ago, Felder — an irrepressible engine of creativity who possesses unstoppable energy as a performer — had already generated a solo repertoire that seemed custom-made for the virtual era. Until now, as a true man of the theater, he has followed a relentless schedule of live performances on stages throughout the United States. Now, even without an actual audience — but with a stellar "backstage" team — he insists on filming his shows "live," although they subsequently are available for streaming. He also is creating a great deal of new work.
Here is a brief look at Felder's upcoming season, which will feature three world premieres. Meanwhile, "A Paris Love Story" (which was to mark his debut at the Goodman Theatre last season, and, depending on the COVID-19 situation, is still on the docket for a future date) is now available on demand through Dec. 31. For full details and ticket information visit hersheyfelder.net.
—"Tchaikovsky — Live from Florence" (beginning Dec. 20). Newly revised for the screen, this homage to the great Russian composer, who loved the city of Florence, captures Tchaikovsky's conflicted personal life that was not quite as enchanted as the Christmas revels in his famous "Nutcracker" ballet.
—"Before Fiddler — Live from Florence," (beginning Feb. 7, 2021), a world premiere production (featuring Felder and the musicians of Klezmerata Fiorentina), that focuses on the Yiddish writer, Sholem Aleichem, whose work inspired "A Fiddler on the Roof."
—"Puccini — Live from Florence" (beginning March 14), a world premiere celebrating the life and work of the beloved Italian composer whose operas include "La Boheme," "Madame Butterfly," "Tosca" and "Turandot."
—"Anna & Sergei — Live from Florence" (beginning May 16), another world premiere, this memory play is infused with the music of the great Russian composer, Sergei Rachmaninoff, and homes in on the strange encounter he had with Anna Anderson, who claimed to be Princess Anastasia, the sole surviving member of the Romanov Dynasty.
Follow Hedy Weiss on Twitter: @HedyWeissCritic
---