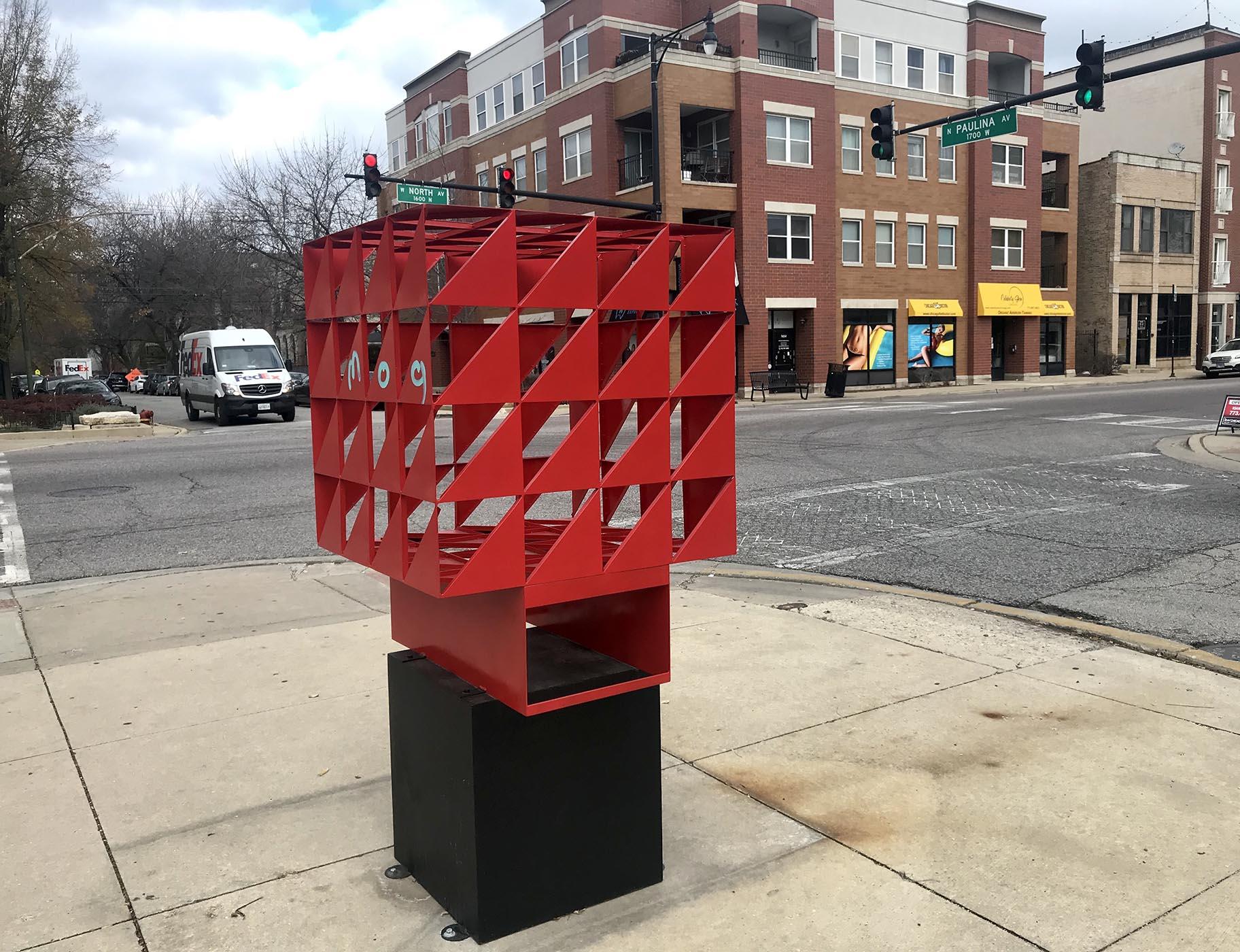 "Cherry" by artist Sung-Hee Min is on display at 1701 W. North Ave. (Ariel Parrella-Aureli / WTTW News)
Six new sculptures in Wicker Park and Bucktown are on display to encourage community members to get outside, explore the area and support local businesses as winter sets in amid the coronavirus pandemic.
The public works from local and national artists were installed last month as part of the Chicago Sculpture Exhibit, which brings works of art to different neighborhoods on a rotating basis with the goal of making art free and accessible to everyone. They will be on display until summer 2021.
Sponsored and funded by Wicker Park Bucktown Special Service Area #33, the area's business improvement district, the sculptures created by national and local artists Sung-Hee Min, Christopher Newman, Benjamin Pierce, Charles Pilkey, Fisher Stolz and Jaci Willis are located at prominent intersections.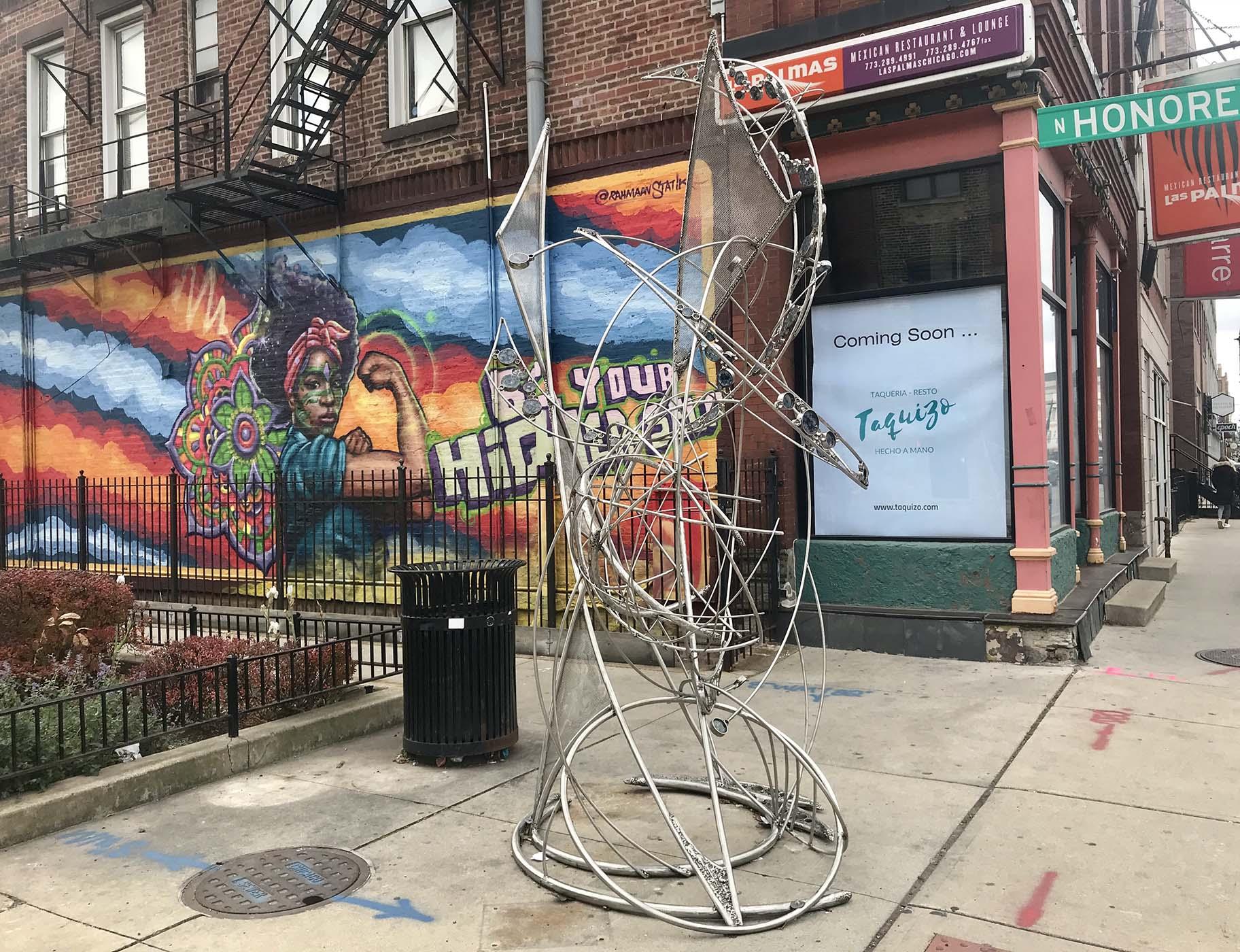 "Dream Traveler" by 1835 W. North Ave. is on view at 1835 W. North Ave. (Ariel Parrella-Aureli / WTTW News)
Because the pandemic has stripped the city of major cultural events, art and economic stability, the neighborhood group wants to push folks to find joy in their surroundings and support small business owners.
"We have done the Chicago Sculpture Exhibit for the last several years but in the pandemic year, it actually makes even more sense because people are looking for ways to get outside, experience either the neighborhood or some art or explore neighborhoods they would not normally go to," said Garrett Karp, program manager at the Wicker Park Bucktown Special Service Area. 
Karp said he hopes the exhibit will draw visitors to the area — and inside local shops.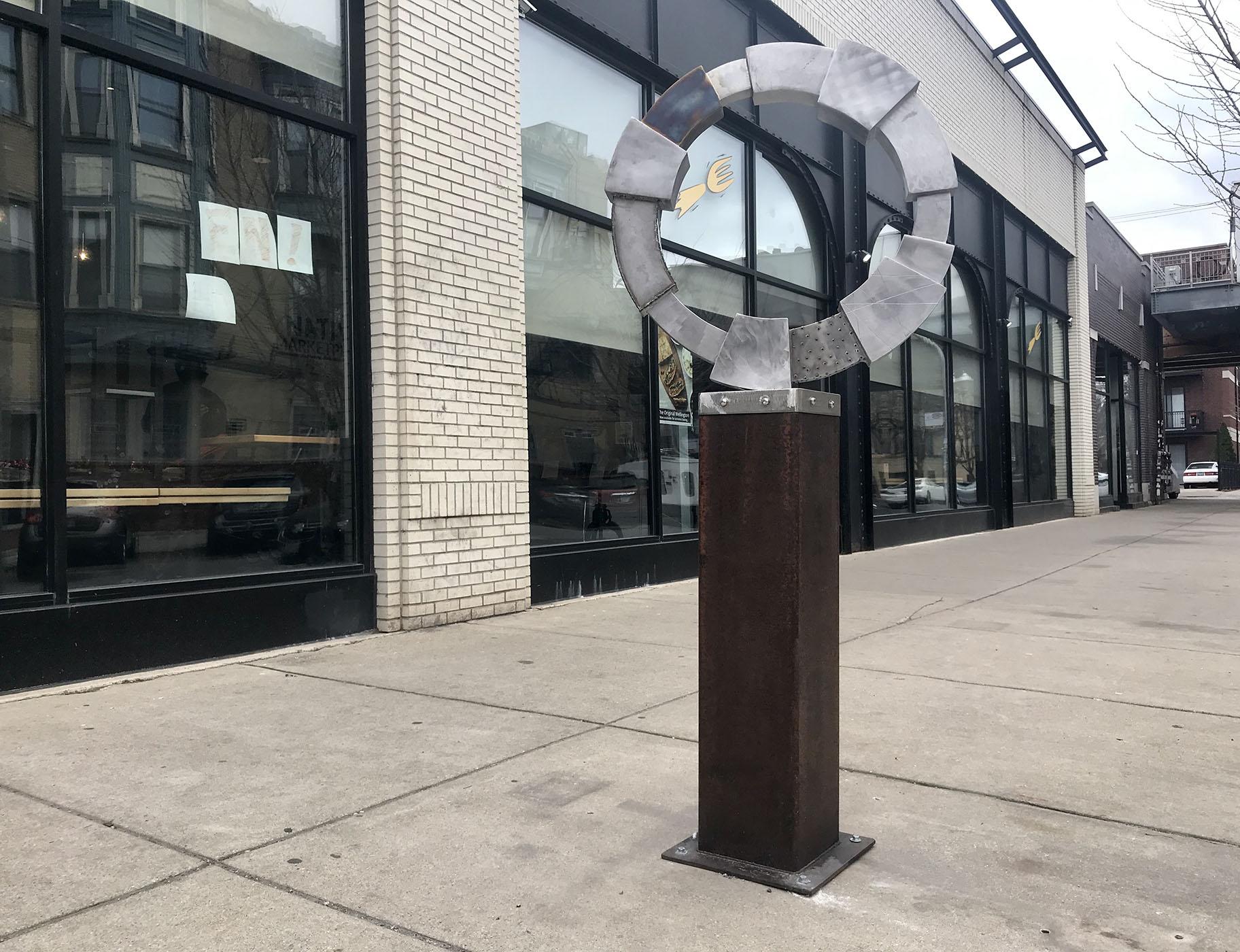 Benjamin Pierce, "Through." (Ariel Parrella-Aureli / WTTW News)
"Through," the geometric sculpture at 1486 N. Milwaukee Ave. by Missouri-based artist Benjamin Pierce, has definitely captured the interest of passersby, said Native Foods Cafe employee Temperance Watkins. The sculpture sits right outside the cafe, where Watkins can watch people interact with it.
"You will walk past [the sculpture] and never pay any attention to it until you see a bunch of people taking pictures of it," Watkins said. 
Now that outdoor seating at the cafe is finished for the season — and indoor dining is currently not an option in Chicago or in any part of the state — the corner of Milwaukee Avenue and Honore Street is far less lively. She said the business strip could benefit from holiday lights but for now, the new sculpture appears to be encouraging folks to pause and at least consider the cafe's menu.
Large snowflakes were recently installed on light poles along Milwaukee and North avenues; Karp said the group is working on more long-term holiday decorations. He said funding for more light installations is always an issue, since most of the organization's money goes toward neighborhood cleanup, maintenance and public artwork. However, there is holiday lighting in the Polish Triangle and along some of the entrances to the 606 trail.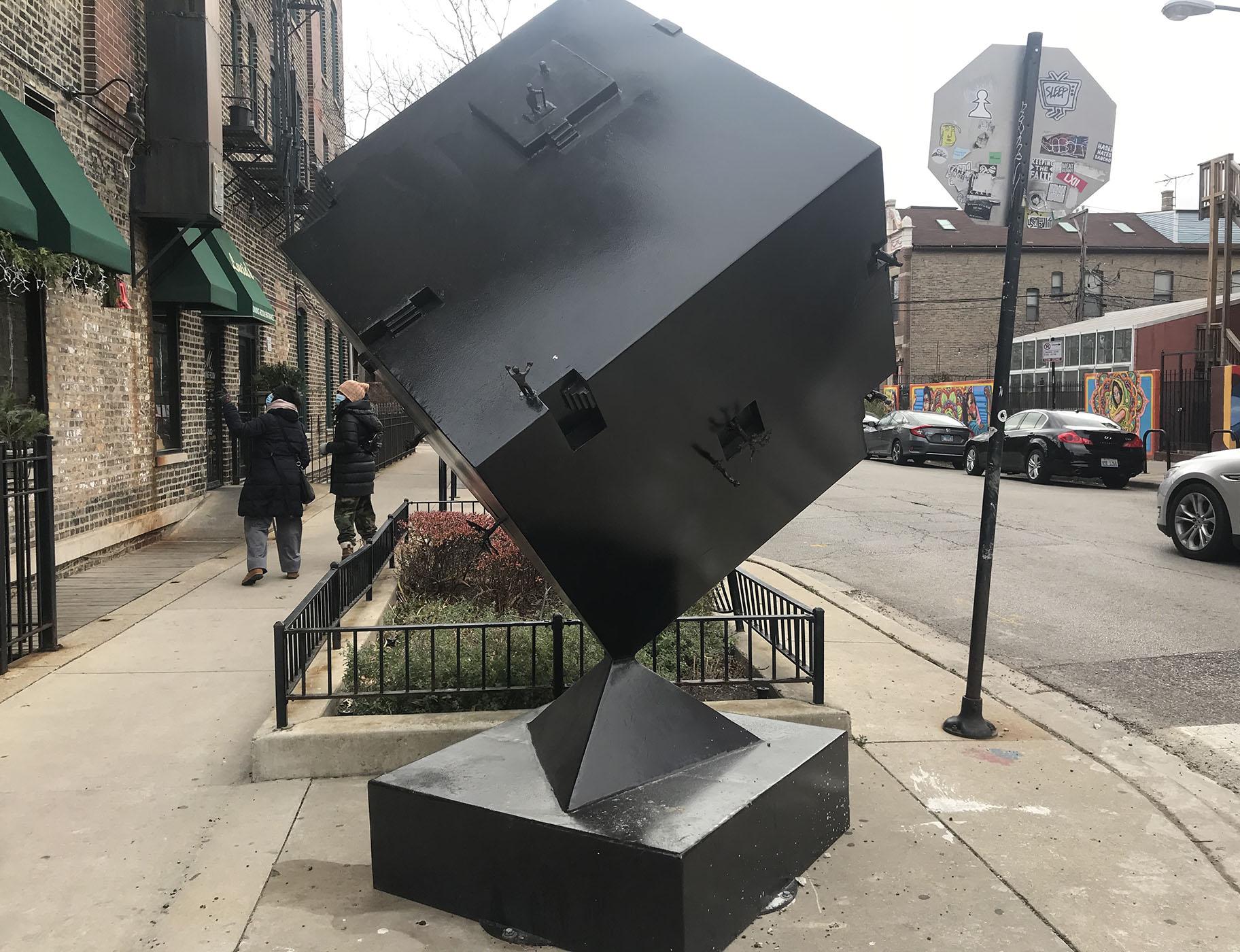 "Enigma" by Charles Pilkey is on display at 1833 W. North Ave. (Ariel Parrella-Aureli / WTTW News)
At the corner of Honore Street and North Avenue are more of the new sculptures: "Dream Traveler" by local artist Jaci Willis; and "Enigma" from North Carolina artist Charles Pilkey.
Italian restaurant and cafe Lucia's, which has been in the neighborhood for over 20 years, is right next to "Enigma." Owner Lucia Mancini said she's noticed people stop to take photographs of the art.
"They embellish the community and bring people from outside [the neighborhood]," Mancini said, though she has not noticed any increase in business as a result.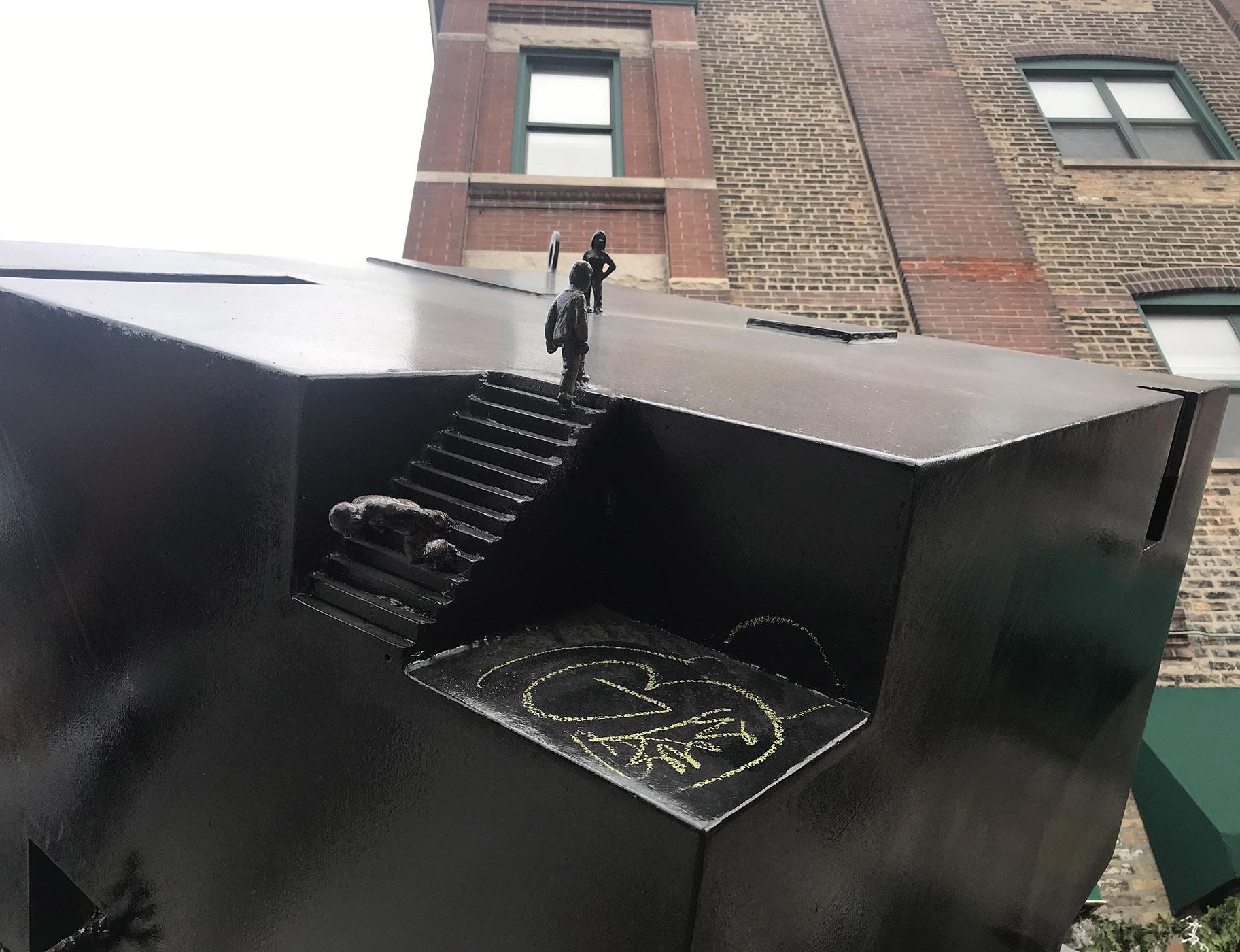 "Enigma" in detail. (Ariel Parrella-Aureli / WTTW News)
The remainder of the new works can be seen at the intersections of Paulina Street and North Avenue, Cortland Street and Ashland Avenue and Milwaukee and Damen avenues. 
When news broke last month of a mysterious metal monolith discovered in Utah by scientists performing a survey of bighorn sheep in the area, the internet and art world blew up with countless memes, social media hashtags, investigations and even copycat monoliths in Romania, Pennsylvania, Nevada and California, before the Utah structure was dismantled under the cover of night on Nov. 27, according to Business Insider.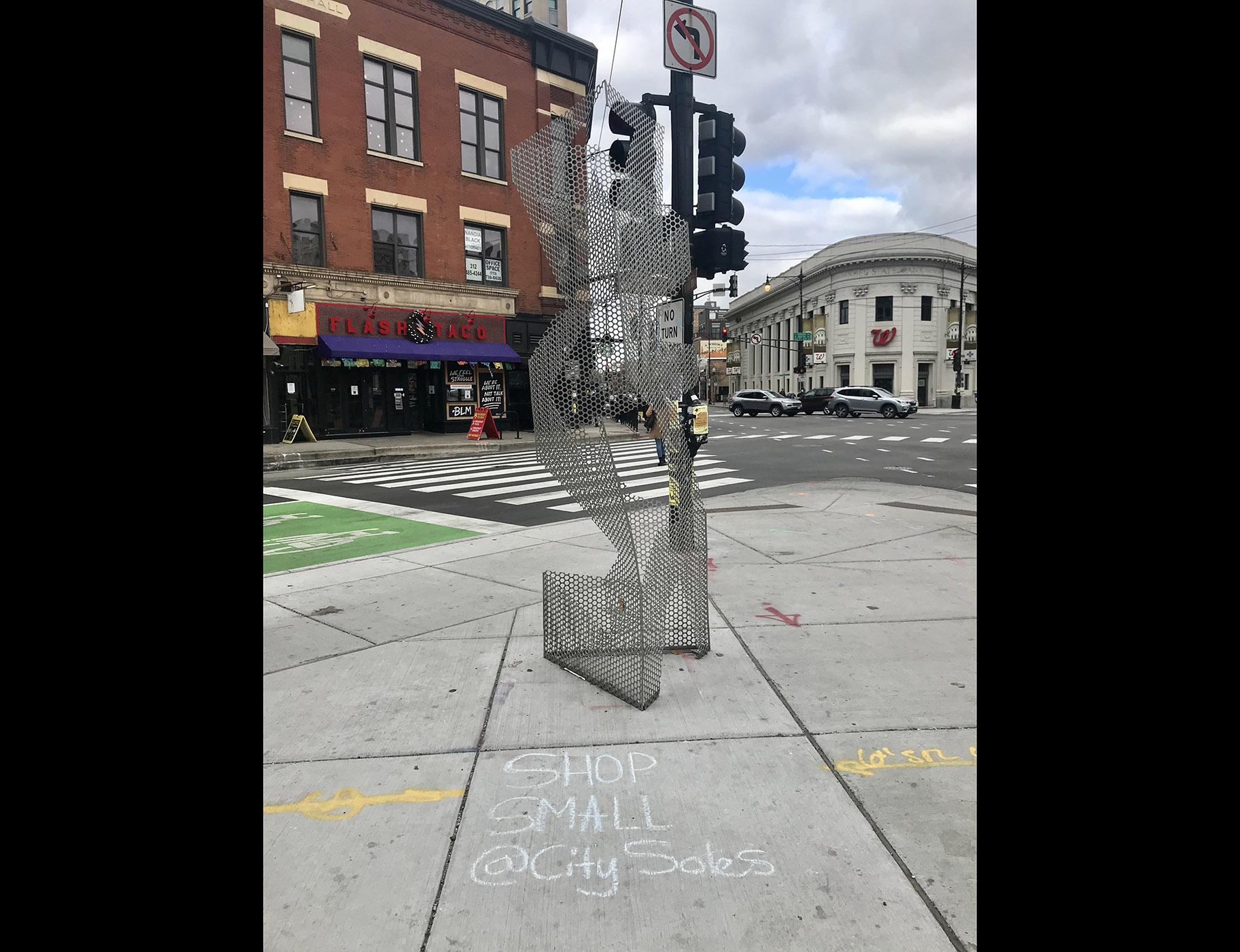 "Totem V" by J. Christopher Newman is on display at 1555 N. Damen Ave. (Ariel Parrella-Aureli / WTTW News)
When Karp saw those headlines online, he likened it to the sculpture at Milwaukee and Damen avenues, joking that it looked similar to another mysterious monolith that miraculously appeared since it was installed around the same time. 
"The sculpture is called 'Totem' and kind of looks like a monolith so I have been joking with all my friends that we have one of the monoliths here in Wicker Park," Karp said. "I think that's pretty cool right now."
Ariel Parrella-Aureli is a freelance contributor to WTTW News: @ArielParrella
---