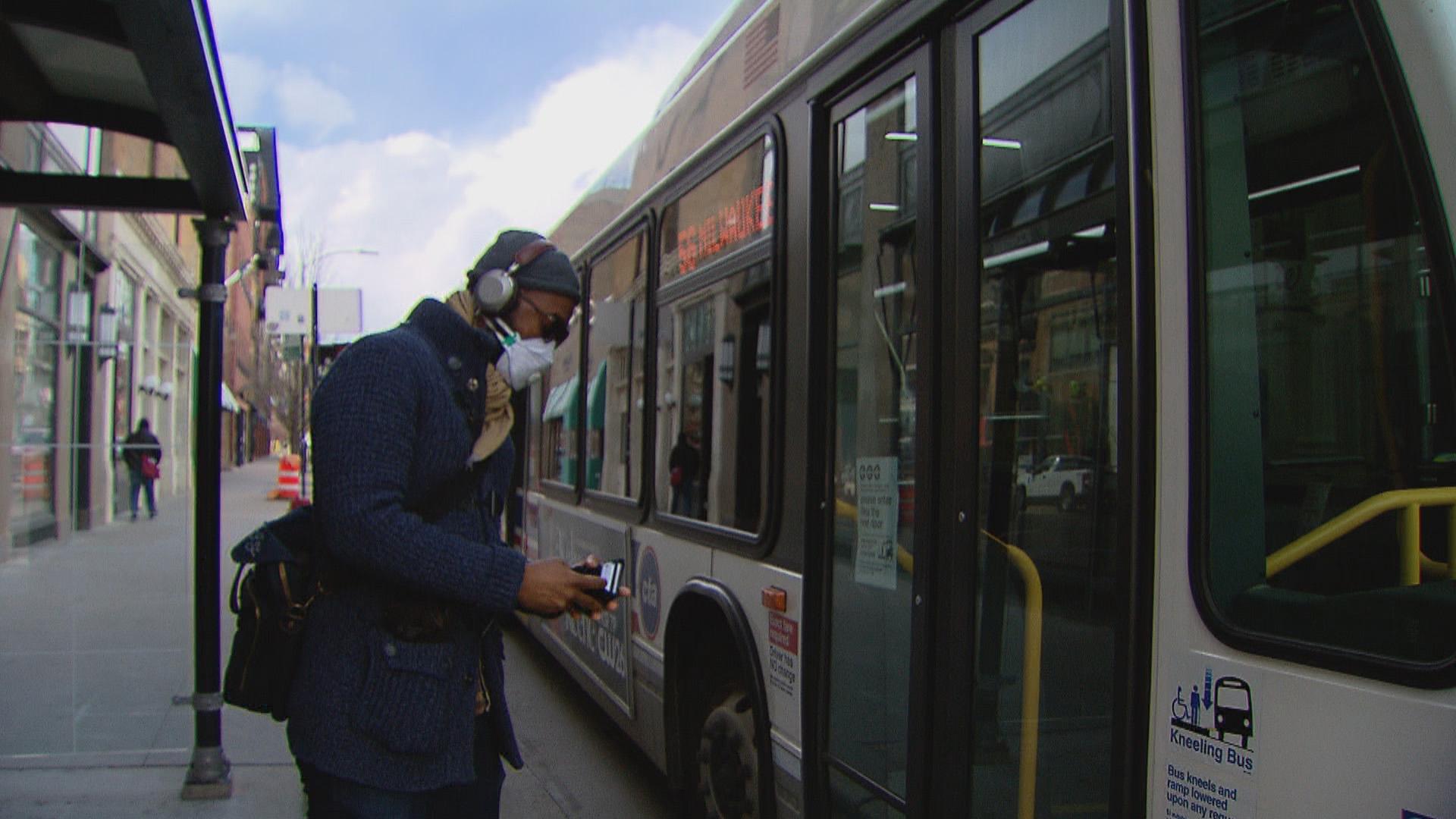 A passenger wearing a face mask boards a CTA bus in Chicago. (WTTW News)
The Chicago Transit Authority's Board of Directors approved the agency's 2021 operating budget of $1.645 billion on Wednesday, but CTA staff warned of drastic service cuts without another infusion of cash from Congress.
The budget currently relies on another round of stimulus funding from the federal government to close a $372 million budget gap. CTA Chief Financial Officer Jeremy Fine said the agency's been successful in keeping costs down and in conserving the existing funding from the Coronavirus Aid, Relief, and Economic Security (CARES) Act stimulus package that passed earlier this year. So far, Fine said the CTA's used about 40% of the $817 million it received, and will be able to carry $260 million of stimulus money into the 2021 budget.
The agency's also been conservative about ridership projections for next year. Chief Planning Officer Michael Connelly said CTA's only expecting an 8% increase in ridership next year. Because ridership – and the fares that come along with those riders – is still projected to be anemic next year, Fine said raising fares would likely only raise about $5 million, rather than the $20-$25 million increase in revenue that previous fare hikes created.
That means without stimulus funding, it's likely CTA would have to make drastic cuts to make up the $327 million gap. But Fine and CTA President Dorval Carter said they're "cautiously optimistic" about another infusion of cash from the federal government.
"We have been successful once before, so it is not like we're starting from scratch with this discussion. With the CARES Act, no one thought at the time that we would get funding in the CARES Act for public transit," Carter said. "We know that our message is being heard and we've seen Congress take action on it, but the issue is that they haven't come to a resolution in general about emergency relief funding for anybody. But the good news is that we're in the conversation."
The House of Representatives last month passed the Health and Economic Recovery Omnibus Emergency Solutions (HEROES) Act, which contains $32 billion in funding for transit. The Senate has yet to take up a similar measure.
"The real question that we're facing is the timing of (another stimulus)," Carter said. "We're focused on doing everything that we can to extend our CARES Act funding and reduce our expenses, while continuing to provide a full level of service to our customers for as long as possible, in order to make sure that we are in a position to receive those funds before we would have to make the tough and difficult decisions around what we would do to service."
The CTA board also approved a 2021-2025 capital plan. It includes funding for three major rail improvements: the largely completed Your New Blue upgrades on the Blue Line, the ongoing construction to overhaul stations and tracks on a North Side portion of the Red and Purple Lines, and the final phase of project development the long-awaited Red Line Extension from 95th Street down to 130th Street on the Far South Side. CTA hopes to move into the next phase of planning for that extension soon, though the project's funding sources have not yet been finalized. The capital plan also includes new buses and rail cars, as well as funding to continue upgrading CTA stations to make them fully accessible.
---