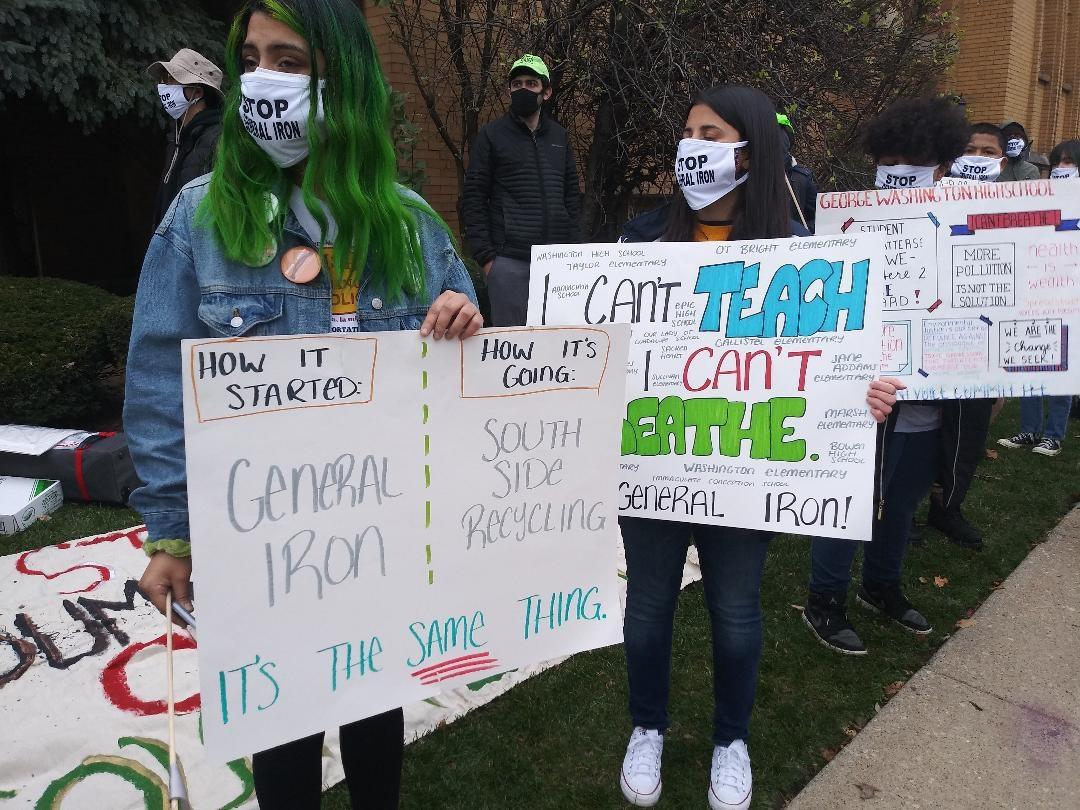 Protesters gather near the Logan Square home of Mayor Lori Lightfoot to voice their opposition to General Iron's plans to move to the Southeast Side on Saturday, Nov. 14, 2020. (Annemarie Mannion / WTTW News)
Convening on a patch of green lawn outside a church just down the street from Mayor Lori Lightfoot's North Side home, residents of the Southeast Side repeated a message they've been sending since 2018: they don't want General Iron to operate a metal shredding and recycling operation in their neighborhood.
"The Southeast Side has been a dumping ground. We're fighting for a Chicago where heavy industries aren't allowed in residential neighborhoods," said Lauren Bianchi, a teacher at George Washington High School, 3535 E. 114th St., who traveled to the corner of Kimball and Wrightwood avenues on Saturday to oppose the facility's plans to move to the Southeast Side. The company needs a final permit from the city for the new location.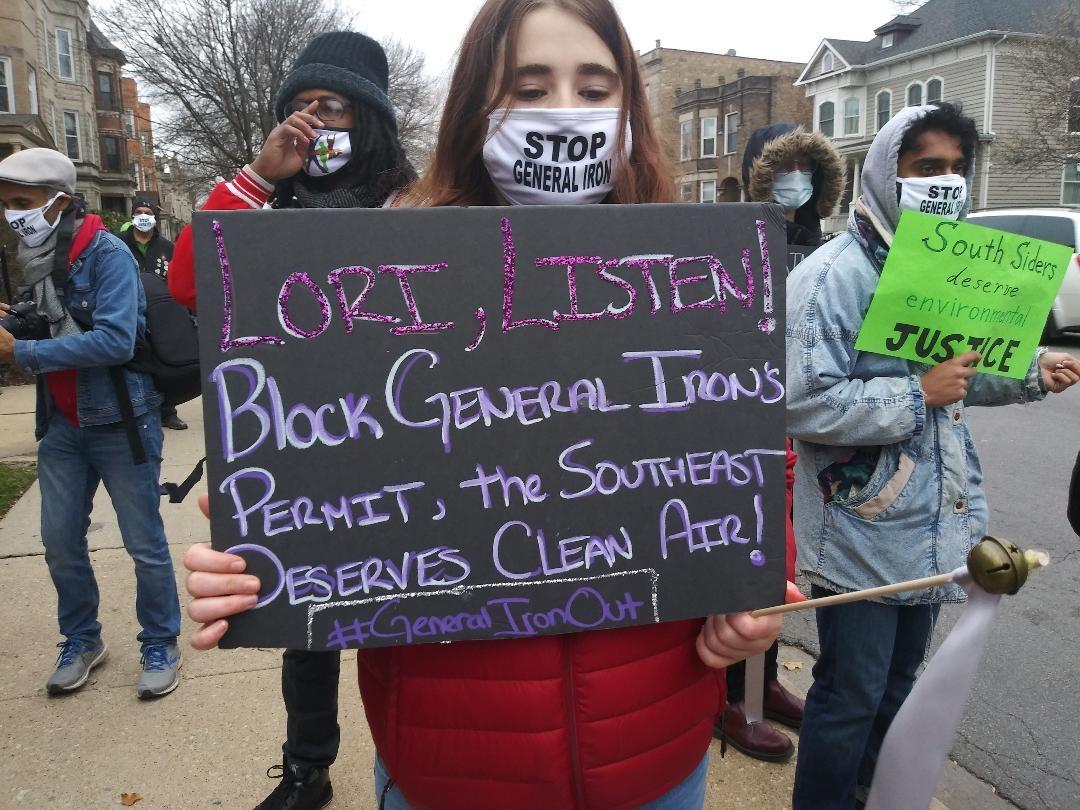 (Annemarie Mannion / WTTW News)
Bianchi joined about 100 other people, some beating drums, shaking bells or carrying signs reading "Deny the Permits," "Lori, Listen" and "Let Us Breathe" to protest the plan that was first announced two years ago.
That plan calls for the company to shutter its Lincoln Park shredding and recycling facility along the North Branch of the Chicago River, which is adjacent to the controversial Lincoln Yards development, in favor of a new operation on 178 acres on the east side of the Calumet River, at South Burley Avenue and 116th Street, a site which RMG (General Iron's parent company) has owned for about 20 years.
RMG hopes to open the new facility in the first quarter of 2021.
(Annemarie Mannion / WTTW News)
Protesters contend the company has had numerous problems through the years, including air pollution, fires and an explosion, and they don't want those problems shifted to their working-class neighborhood, which is home to many Black and Latino residents.
"If General Iron isn't wanted in a rich White neighborhood, why is it wanted in a poor Brown community?" asked Evan St. Germaine, a member of the Chi-Nations Youth Council, who addressed the gathering.
Gina Ramirez, a member of South East Coalition to Ban PetCoke, which helped organize Saturday's event, voiced concerns about air pollution and safety.
"We know they have a record of dangerous fires and explosions," Ramirez said. "We don't want it anywhere near our schools or homes."
Most recently, the Chicago Tribune reported that a Nov. 10 fire shut down operations at the metal shredder just a week after its owners paid an $18,000 fine for a May explosion at the facility.
READ: General Iron Explosion Rocks Neighborhood: 'It Was Terrifying'
In 2018, the company was issued a notice of violation by the U.S. Environmental Protection Agency for exceeding limits on air emissions and for failing to obtain the proper operating permit. For years, the company had been the subject of complaints about clouds of black dust, metallic odors and other pollutants emitted from the facility's heaps of crushed cars and discarded metals, according to previous reporting by WTTW News.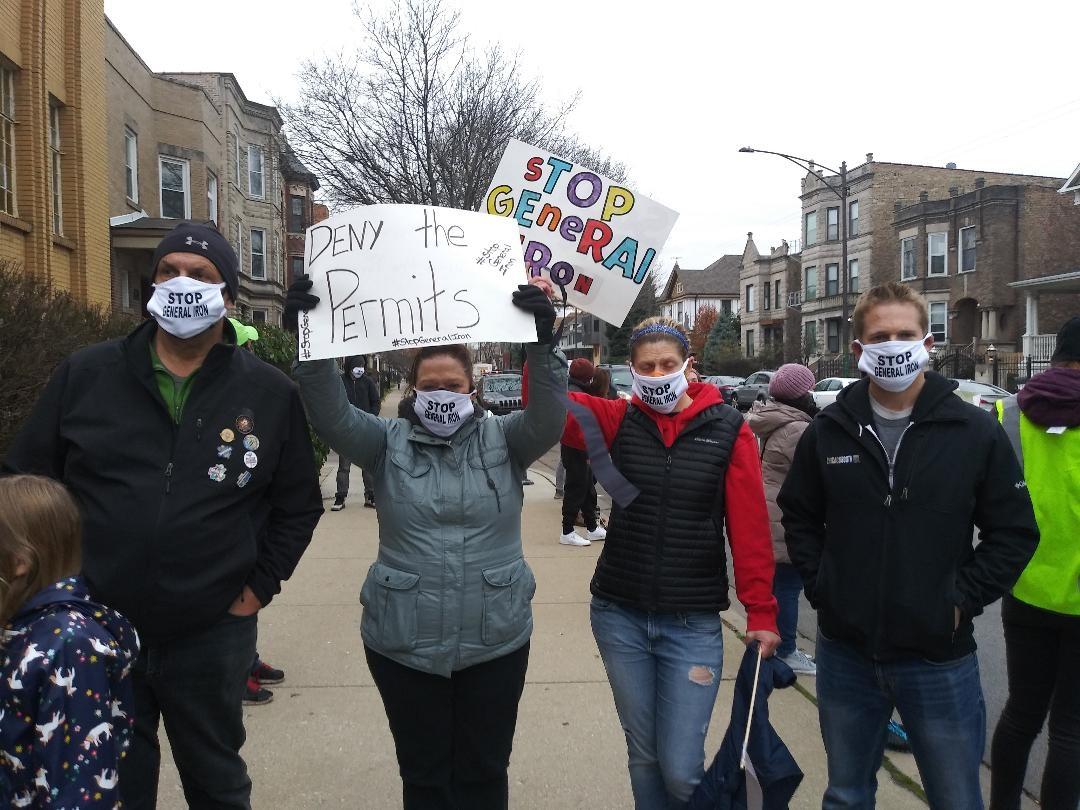 (Annemarie Mannion / WTTW News)
The company installed additional air pollution controls in response to the violation notice.
In a statement issued Saturday, RMG says it "expects a rigorous vetting process that will show the new recycling facility will meet or exceed the city and state's strict permit conditions and regulations.
"The alternative to this project is discarding metal in landfills or shredding metal at facilities that don't have any pollution controls," the statement continues.
"From the ground up, we are building a new shredding facility that will continue the environmentally responsible recycling we have conducted at our Southeast Side home, which has been properly zoned for metal recycling, for decades," another portion of the statement reads.
Trinity Colon, a junior at George Washington High School, said opening a metal shredder in her neighborhood is another assault on the already environmentally burdened community.
"It shows me that me and my peers aren't valued," she said.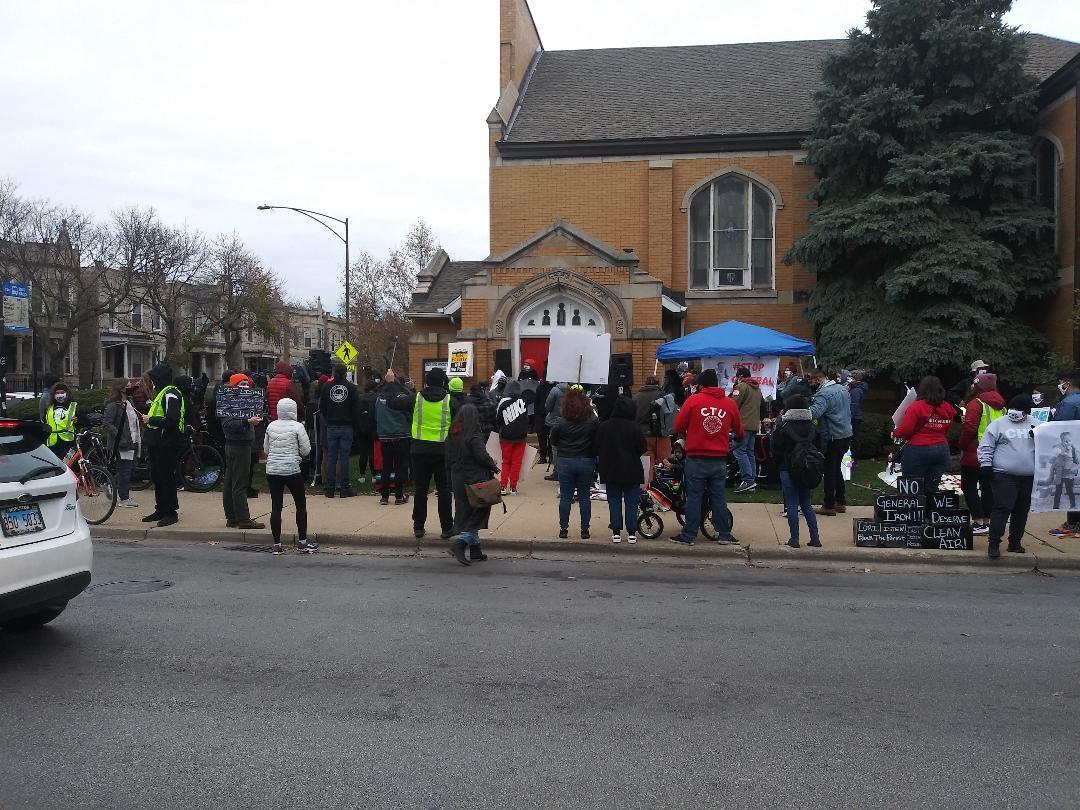 (Annemarie Mannion / WTTW News)
Chuck Stark, a science teacher at George Washington, said the release of particulate matter into the air is a health concern for students, some of whom already complain to him of asthma and difficulty breathing.
"The small, fine particulate matter will be lodged into the lungs of our students and go into their blood streams," he said.
Randall Samborn, an attorney representing RMG, said the Southeast Side site will have a structural enclosure around the shredder to contain dust and noise and other technological improvements.
"The explosion prevention monitors and equipment that were installed following the May explosion and which will be used at the new facility, are the best technology available – and proven effective – to prevent explosions," he said in an email.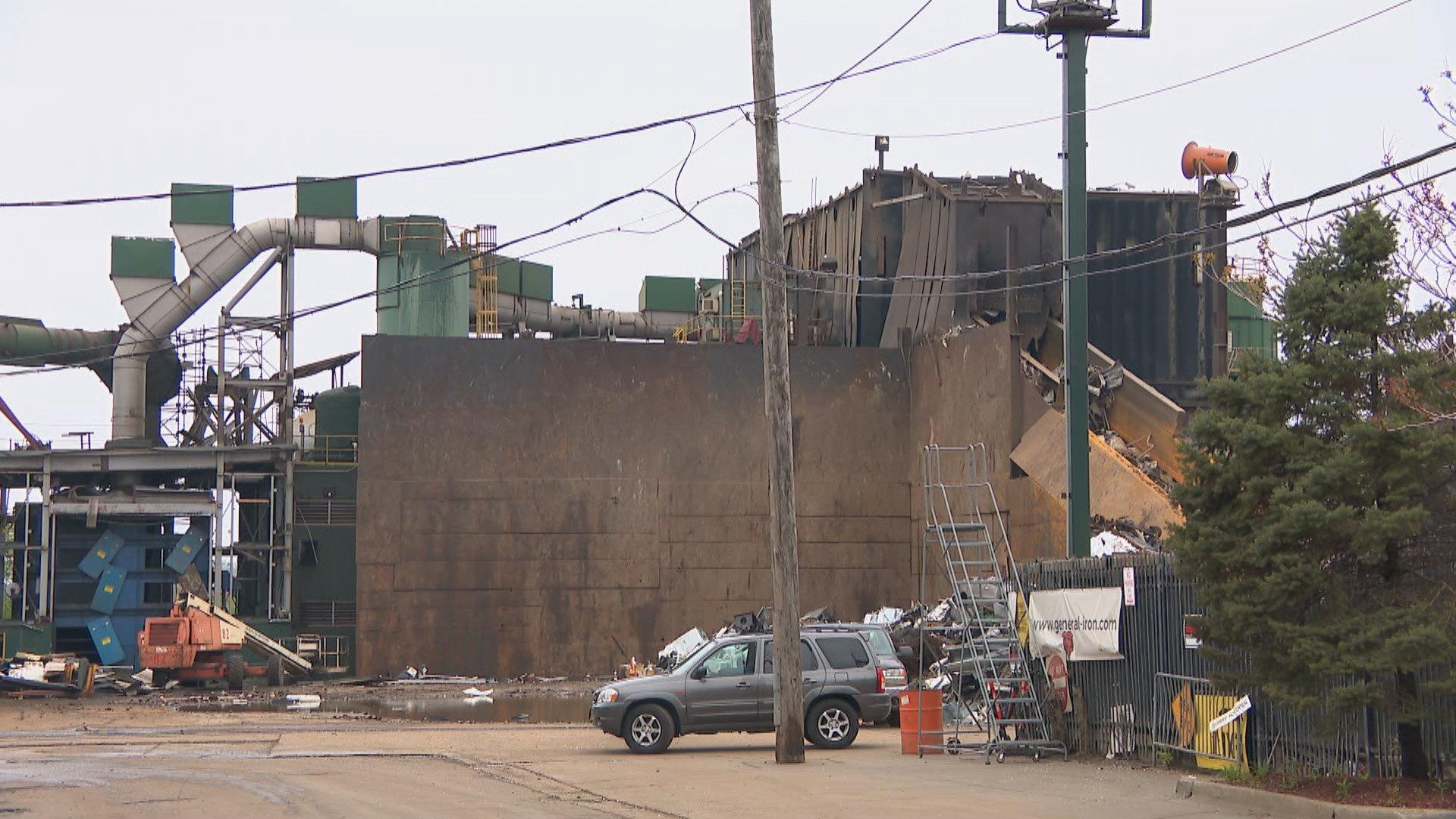 General Iron's metal-shredding operation in Lincoln Park. (WTTW News)
He said another advantage of the Southeast Side site is its size, which, at 178 acres, is much larger than the 10 acres in Lincoln Park.
Despite such improvements, Colon said her community will not stop fighting the shredder.
"They don't want us to breathe the same, clear privileged air they breathe," she said. "We'll never stop this momentum. We'll get what we want — clean air and a great community."
Annemarie Mannion is a freelance contributor to WTTW News. 
---