About 40 miles north of Chicago, a nonprofit is bringing several dozen elementary school students into schools as part of a hybrid education plan that launched in September.
Since 2008, North Chicago Community Partners has provided supplemental assistance to North Chicago students and families in need through donations of food, school supplies and clothing as well as guidance and supervision.
That support now extends to the challenges associated with remote learning.
"We're not here to teach – that's what the educators do," said Jennifer Grumhaus, who started the nonprofit in 2008. "We're here to wrap around the educators and the families, to make sure students, when they come to school, are fed, to make sure they're equipped, to make sure they're affirmed and to provide lunchtime and after-school remedial support."
In the midst of a COVID-19 shutdown of North Chicago's public schools in September, NCCP launched the Extended Care and Learning Program, in which 68 students, from kindergarten through fifth grade, spend their school days in one of three North Chicago school buildings.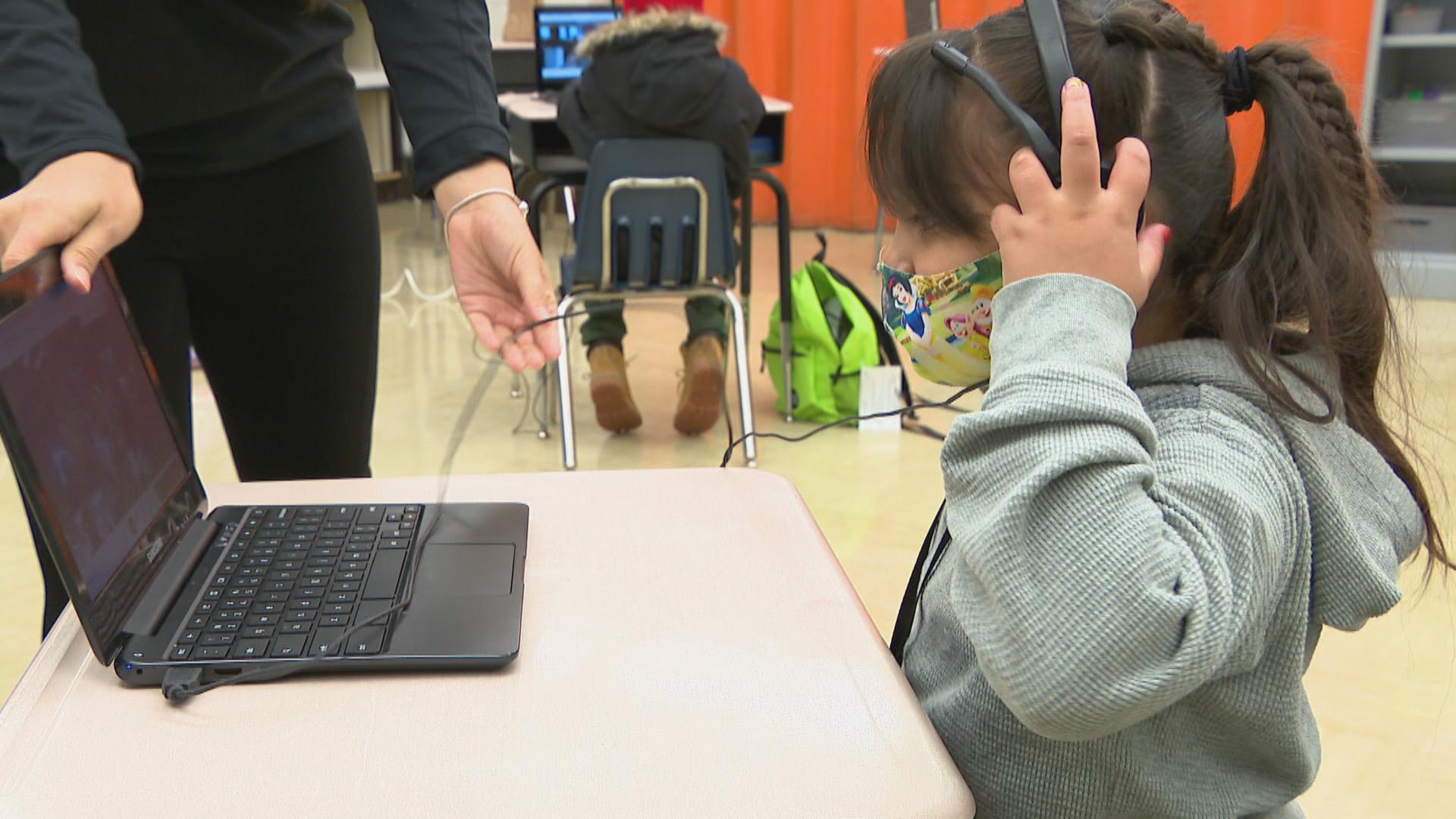 An elementary school student prepares to log onto her laptop for remote learning at A.J. Katenzmaier Academy in North Chicago on Oct. 30, 2020. (WTTW News)
From Tuesday through Friday, the students start their day with instruction on their laptops, following the same lessons as their peers learning remotely at home. NCCP staff guide students and provide any tech help that's needed.
After lunch, students partake in asynchronous learning, which could mean art class, STEM learning, read-aloud sessions and language games. Grumhaus said the nonprofit's staff essentially act as a parent or guardian during the school day.
Children in this program may have an empty home during the day due to working parents. Or their parents may have language barriers or other obstacles that make remote learning from home difficult.
"If you're from another community, where poverty is maybe more of the norm, where English might be your second language, where perhaps there's more trauma in your life, it takes a different set of resources to educate that child," Grumhaus said. "And unfortunately, how we fund education doesn't create fair opportunities for children."
About 15% of North Chicago residents lived below the poverty line, according to the 2010 census. That's more than double the 7% of Lake County's total population living in poverty.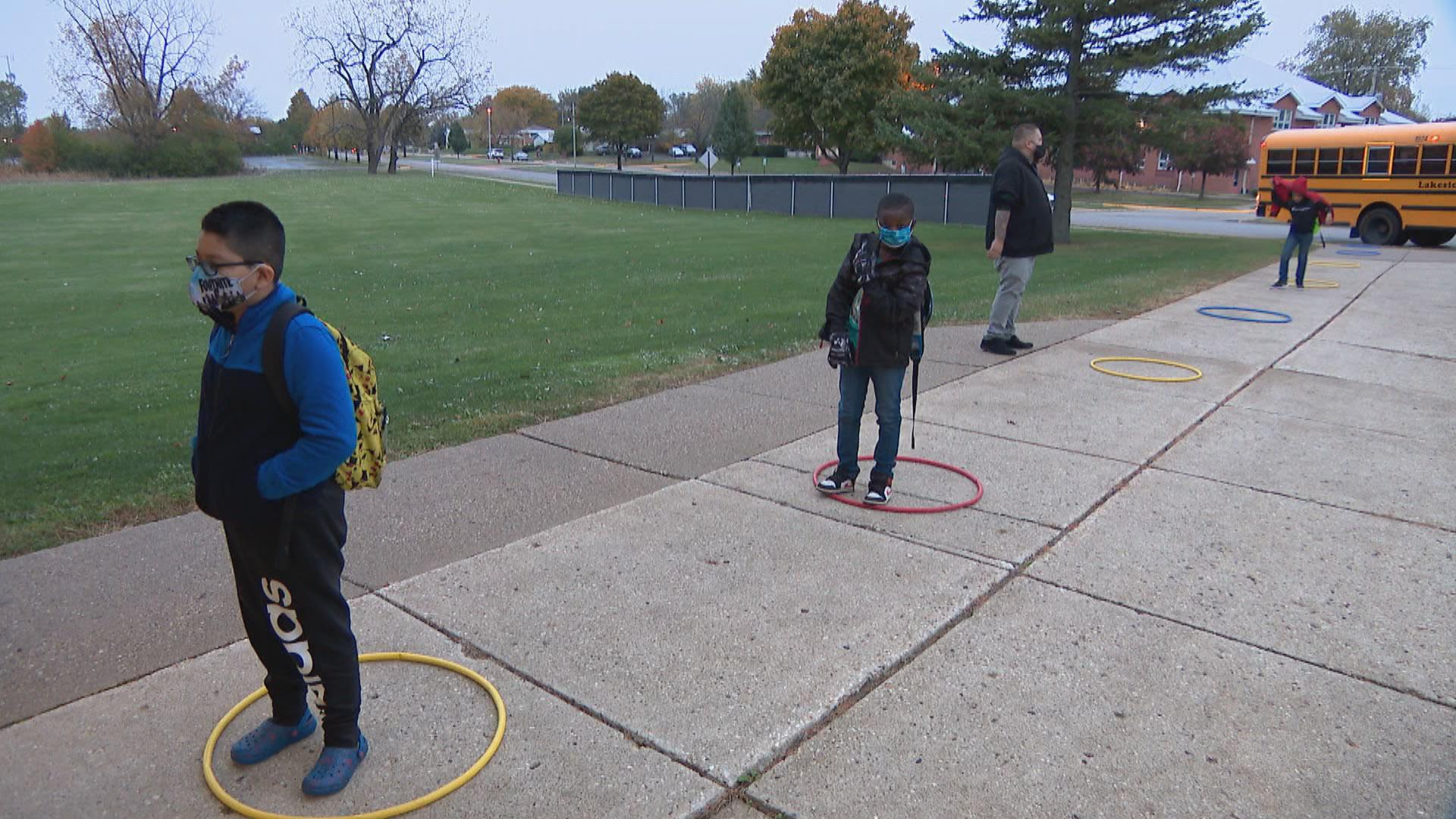 Elementary school students stay socially distanced while lining up to enter A.J. Katenzmaier Academy in North Chicago on Oct. 30, 2020. (WTTW News)
Grumhaus said NCCP's 35 employees are practicing and imposing safety policies for students like frequent hand sanitizing, social distancing and daily temperature checks.
One student tested positive for COVID-19 in the second week of the program, Grumhaus said, but they had no close contact with other participants of staff. All families in the school district were informed, Grumhaus said.
If the school district allows it, Grumhaus said she intends to enroll more students in the hybrid learning program in the coming months.
Follow Evan Garcia on Twitter: @EvanRGarcia
---