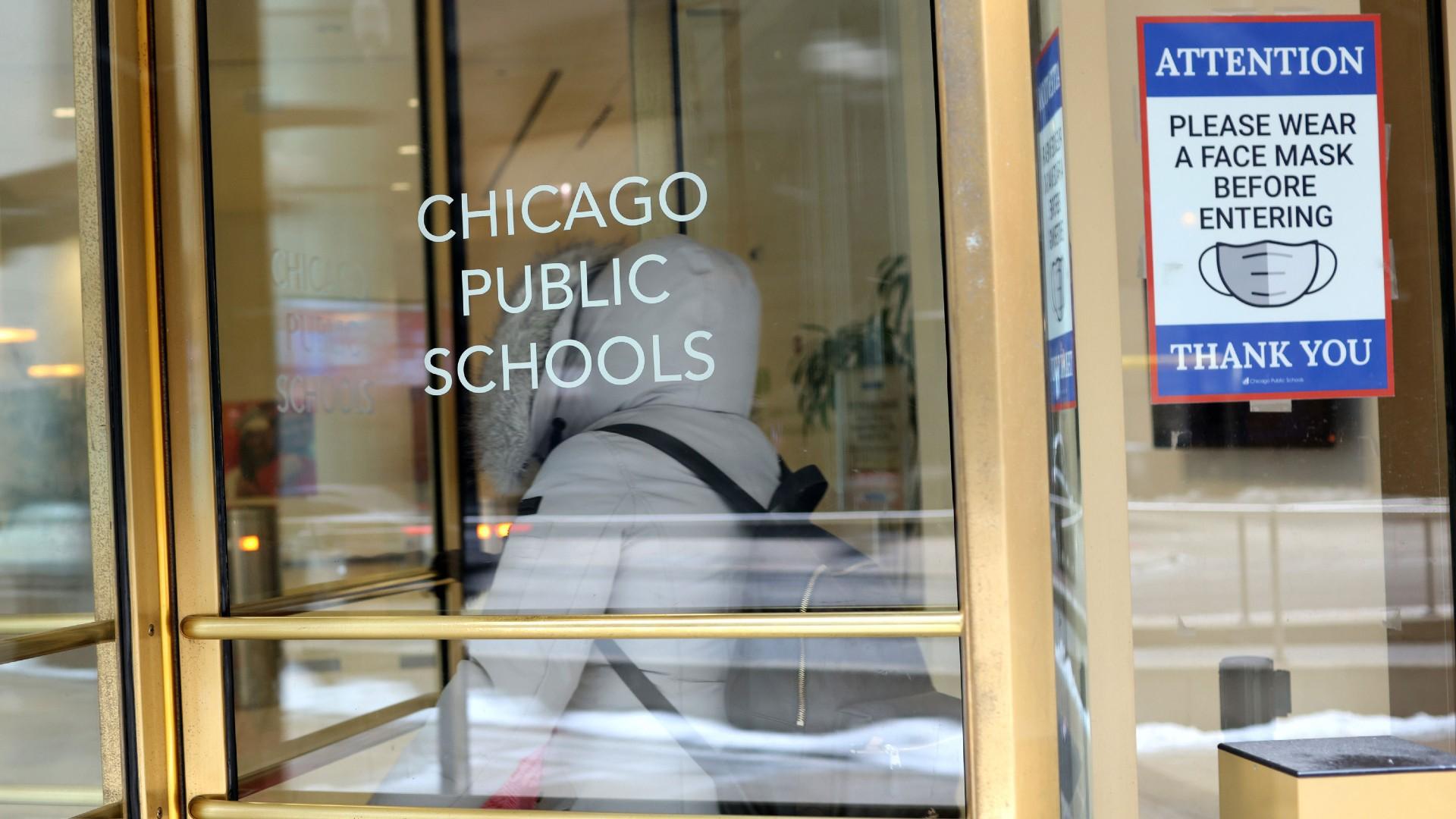 Chicago public schools are closed for a second day as city school officials and the teachers union remain at odds over whether it's safe to return to the classroom, and pictured, a sign is displayed at the entrance of the headquarters for Chicago Public Schools on Jan. 5, in Chicago, Illinois. (Scott Olson / Getty Images)
(CNN) -- As school district officials and the teachers union continue to negotiate a return to classrooms, Chicago Public Schools announced Thursday that while most schools will be closed again Friday, a few will have in-person learning and activities.
The announcement appeared to catch principals off-guard.
The district tweeted Thursday evening that in-person learning and activities may be available "at a small number of schools" on Friday. "Please do not plan on sending your child to school unless you hear from your child's principal," the district said.
The Chicago Principals and Administrators Association said it was "blindsided" by the announcement.
"Principals don't determine the resources and conditions that leave some schools ready to open and others unable to," it said. "Principals do not want the demoralizing task of telling one school community why it cannot open while others can," the group wrote, citing input from more than a hundred principals and assistant principals.
According to the letter, principals met with the school district Wednesday morning, during which they were told schools would not only be closed Thursday and Friday but that if Chicago Public Schools were to go remote or hybrid, it would start on Monday and end on Friday, Jan. 14.
The school district has not publicly released any such plans. But according to the letter, district officials reiterated to principals "multiple times" that schools would be closed Thursday and Friday.
"To tell principals schools would be closed this week, and then blindside us just a few hours later with a public statement that principals will decide to either open or close our schools on Friday is offensive and unsafe," the letter says.
According to a news release that includes the letter, 75% of administrators agreed in a survey sent Monday that the school system should go remote for one or two weeks and in that time "ensure the districtwide return to in-person learning is safe." But many were concerned about the part of the question that implied schools could open on an individual basis.
The Chicago Public Schools said that one out of 10 teachers had shown up to schools "ready to work" on Wednesday and that one of eight showed up Thursday.
CNN has reached out to Chicago Public Schools for comment on the principals' letter but has not gotten a response.
The rift between the nation's third-largest school district and its teachers echoes a debate playing out across the country amid a COVID-19 surge fueled by the omicron variant: When and how should students return to the classroom?
Parent: My child is the one who loses
Some frustrated parents feel they and their children are stuck between both sides.
"We don't know how to plan out the next 24 hours, let alone the next 24 days," parent Nolberto Casas told CNN on Thursday.
"They point the fingers at the district, then they point the fingers at the teachers," said Casas, who wants students to be learning in-person. "I'm pointing the finger at my child, because he's the one who ends up losing out in this whole argument."
In-person learning had resumed Monday, but the Chicago Teachers Union voted Tuesday night to teach virtually instead. The union has said conditions for in-person learning were unsafe, citing inadequate staffing and testing as new COVID-19 cases and new hospitalizations among children reached record highs.
Chicago Public Schools, which has about 340,000 students, responded by canceling school, insisting children needed to return to classrooms. The district said its schools were safe.
Chicago Department of Public Health Commissioner Dr. Allison Arwady told CNN's Wolf Blitzer that while she understands that teachers are worried, schools are not the source of COVID-19 spread, adding that remote learning "is not likely to be something that we can keep returning to over and over again."
On Tuesday, the last day classes were held, the school system reported 422 new COVID-19 cases among students and 271 new cases among adults -- both record highs for the academic year.
Union President Jesse Sharkey indicated Wednesday teachers might not return to classrooms until Jan. 18 if the stalemate continues. Teachers may return earlier if the surge subsides or the union reaches an agreement with city officials, he said.
In a joint statement, Mayor Lori Lightfoot and Chicago Public Schools CEO Pedro Martinez said Thursday's negotiations were "productive."
Meantime, some parents say they are dissatisfied with both the union and the city.
"I am very disappointed in the Chicago Teachers Union for the fearmongering tactics and negative rhetoric regarding this vote," said Carolina Barrera Tobón, a parent of a first-grader and third-grader in the district. "I am equally disappointed in the CPS CEO and our mayor."
"CPS has dropped the ball on so many important decisions and the implementation of safety procedures," she said. "And I honestly do not trust the teachers union to stay remote for only two weeks after their continued spread of misinformation regarding the safety of our schools."
Ryan Griffin, another parent and founder of the Chicago Parents Collective, which pushes for in-person learning, pointed to public health officials who have emphasized the importance of having students in class "above all else."
"Instead of being surgical and quarantining certain classes at certain schools where spread in the community is high, they are closing down 550 schools serving 340,000 students," he said. "That is not the right approach; that's putting a sledgehammer and chaos into a big district."
The-CNN-Wire
™ & © 2022 Cable News Network, Inc., a WarnerMedia Company. All rights reserved.
---