Chicago bars and restaurants are set to suspend indoor service starting Friday in an effort to curb a resurgence of COVID-19 infections. The tightened restrictions were announced Tuesday by Gov. J.B. Pritzker.
Local restaurant operators are pushing back and some state lawmakers are asking both Pritzker and Mayor Lori Lightfoot to provide additional relief to small business owners, such as delaying tax payments.
Some businesses are able to remain open by leveraging patio space and pivoting to takeout and delivery service, though as the temperature drops, outdoor dining could be a less popular option for many customers.
Lightfoot and Pritzker pointed to roughly $220 million of Business Interruption Grants available for small businesses in Illinois as a way for restaurants and bars to try to sustain themselves. With so many businesses needing assistance, some owners say it's a shot in the dark.  
"It's sort of like tossing a crumb of bread to a crowd of hungry people," said Steve Kopka, owner of the Green Eye Lounge, a neighborhood bar in Logan Square. "Everything has sort of been like that. Maybe you'll win the lottery and get some of this money. Meanwhile, our staff is struggling, the businesses are struggling."
The patio at the Green Eye Lounge. (WTTW News)
Kopka has just six outdoor tables. He had to stop indoor service last week after the mayor ordered bars that don't serve food to stop serving customers indoors.
"We do what we can, most people in my business are just trying to lose less money than they would if they were fully closed," Kopka said. "The last two days we couldn't even open those because of the weather. Pretty soon that will be true for every day."
Kopka hopes he can make it through the winter, but he's uncertain what the next few months will look like.
"I'm not sure what the future will hold, and I'm more scared for my staff than for myself," Kopka said. "The utter uncertainty, on top of the regular uncertainty that everybody else is going through is very taxing."
Racquel Fields is also uncertain what the winter will bring. She moved 14 Parish, a Caribbean fusion restaurant, from the South Loop to Hyde Park at the beginning of the pandemic. She wishes Pritzker would have given restaurants more notice about potential closures for indoor dining. Three days, she said, is not enough. 
"I don't think anything readies you to shut down your business, or shut down a major aspect of your business, but it would have given some time to make adjustments for our team members," Fields said. "I think the abrupt halt to business and to service makes it very difficult for you to pivot in a way that's meaningful."
14 Parish has an outdoor patio that seats 16 people, though one block away from Lake Michigan, the wind is too strong to sustain outdoor dining past mid-October, Fields said. They're switching to takeout and delivery, but apps like GrubHub and UberEats aren't profitable for 14 Parish — the apps take up to 30% of each bill, she said.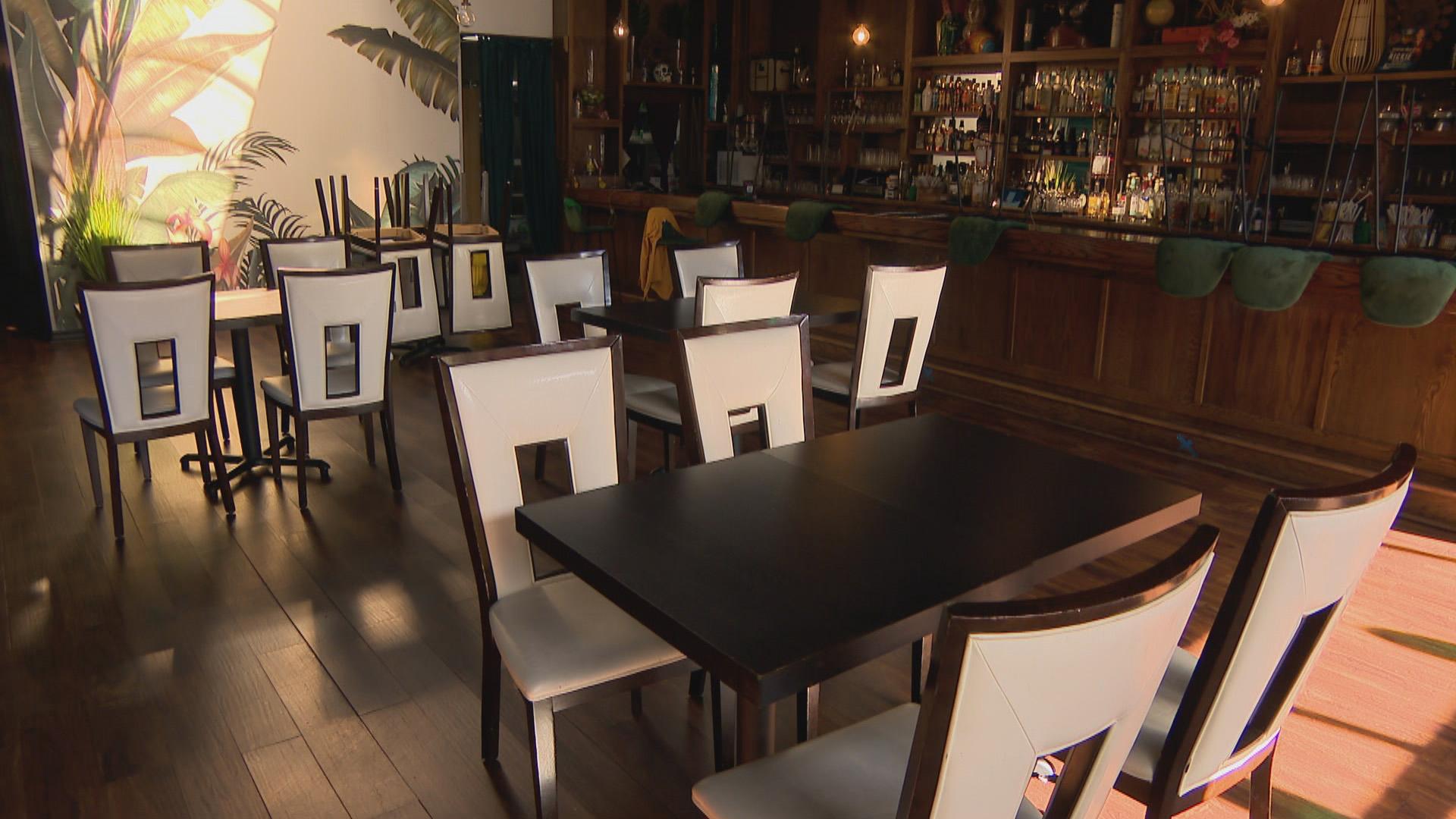 Empty tables at 14 Parish. (WTTW News)
"That's an additional cost," she said. "And usually the services are used as an additional supplement to dine-in, it's not a major function of business for a full-service restaurant."
EZ Inn, a West Town bar, had to shut down last week after the mayor ordered bars that don't serve food to stop serving customers indoors. Isaac Liberman, the owner of EZ Inn, is frustrated that businesses like his have been singled out by the city. The bar's operations have stopped until restrictions are lifted, and options like to-go drinks and its two-table patio wouldn't be sustainable, he said. 
The outlook for business this winter is "probably awful, probably closed," Liberman said. 
Meanwhile, some restaurants and bars never reopened their indoor seating in Chicago. Erik Archambeault, owner of Rogers Park Social, said they began serving to-go cocktails in the spring and have since put up heated tents for outdoor seating. The equipment alone cost $10,000, Archambeault said. He's nervous about what the winter will bring. 
"I went somewhere last night and it was cold out," Archambeault said. "I thought, 'How are we all going to do that?'" 
---