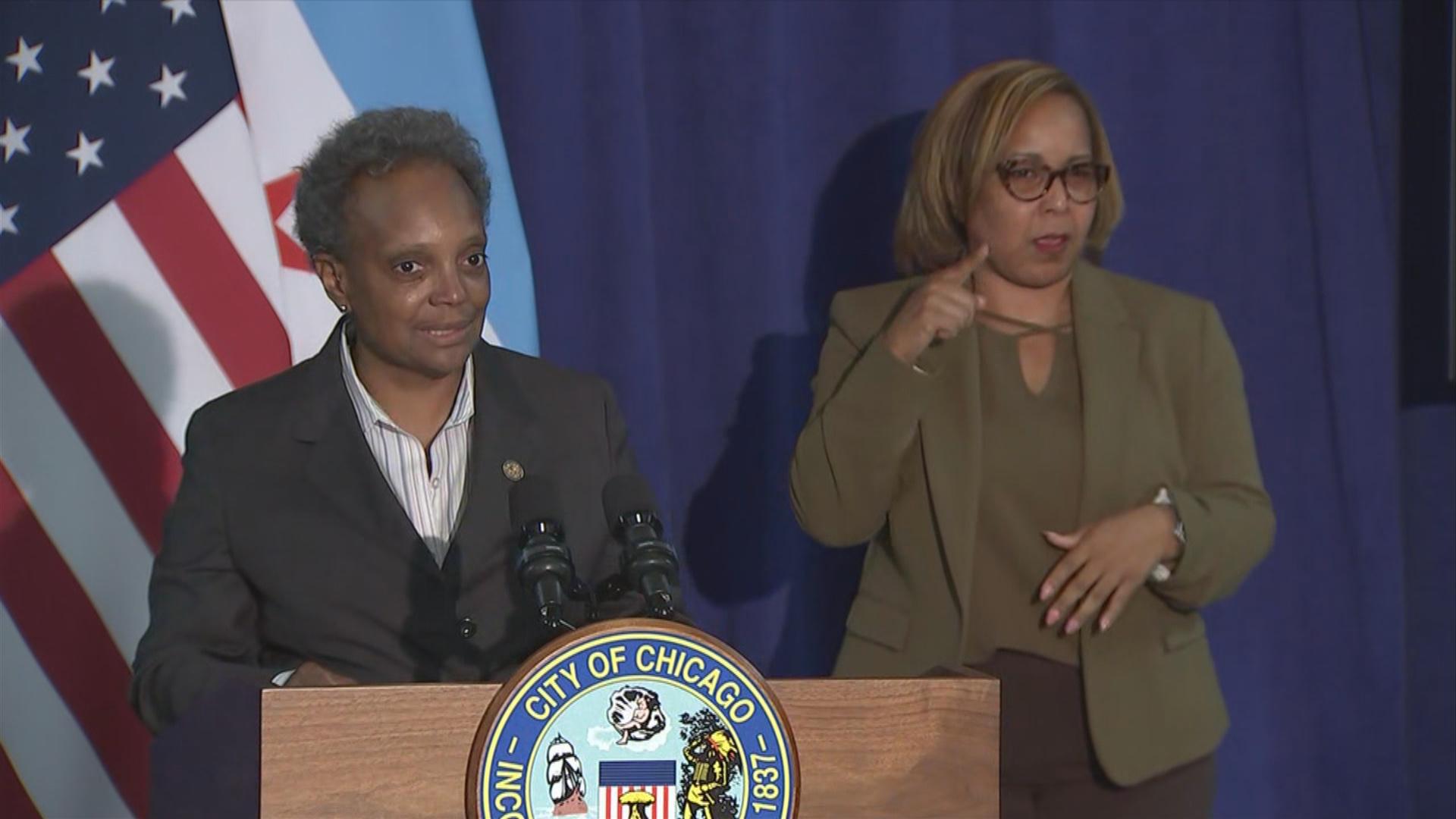 Mayor Lori Lightfoot speaks to the media on Tuesday, Oct. 6, 2020. (WTTW News)
Mayor Lori Lightfoot warned Chicagoans on Tuesday that the city faces "our moment of reckoning" as officials work to craft a plan to fill a projected $1.2 billion budget shortfall in the 2021 fiscal year without the hope of more aid from the federal government.
In a tweet, President Donald Trump said he would no longer negotiate with U.S. House Speaker Nancy Pelosi over a plan to send additional aid to cities and states, like Chicago and Illinois, facing massive budget deficits caused by the pandemic, until after the election.
"Nancy Pelosi is asking for $2.4 Trillion Dollars to bailout poorly run, high crime, Democrat States, money that is in no way related to COVID-19," Trump tweeted, saying he had agreed to a $1.6 trillion package.
At an unrelated news conference Tuesday afternoon, Lightfoot declined to confirm reports that her office had asked labor unions representing the city's 33,000 employees to agree to $200 million in cuts through a combination of layoffs, pay cuts or furloughs to balance the budget. 
No final decisions have been made, she said.
But Lightfoot acknowledged she has "engaged" with organized labor and urged their leaders to come to the table "with real concrete solutions" and warned the clock was ticking.
Chicago Federation of Labor President Bob Reiter did not dispute the reports that the city had asked unions for $200 million in concessions.
"Chicago's public workers are heroes who have sacrificed their own health and safety to keep this city moving during the COVID-19 pandemic," Reiter said in a statement. "Chicago's unions continue to urge the city to work collaboratively to identify efficiencies to help protect city services without damaging cuts to public workers. We must protect our workers and protect our services."
Lightfoot grew emotional when asked about the city's precarious financial condition, which includes an additional $799 million shortfall in the 2020 fiscal year.
"Kicking the can down the road, not who I am," Lightfoot said. "Our moment of reckoning is right now."
The city has no good solutions to close the gap, Lightfoot said, adding that she has warned aldermen that the looming vote on the budget will be the toughest they have ever faced.
"Every single meeting [on the budget] has been painful," Lightfoot said. "We're going to have to make some very tough decisions."
Lightfoot is set to unveil her spending plan on Oct. 21, a week later than originally planned.
Lightfoot has indicated she'll consider furloughs, layoffs and the elimination of vacant positions across the city — including in the Chicago Police Department. A property tax increase is also on the list, although Lightfoot has acknowledged that would be a last resort.
Contact Heather Cherone: @HeatherCherone | (773) 569-1863 | [email protected]
---