A screenshot from a video shown to the media on Thursday, June 11, 2020 shows a Chicago police officer lying down inside the office of U.S. Rep. Bobby Rush. (WTTW News via City of Chicago)
It is past time for investigators to complete their probe into the conduct of 13 officers who lounged, slept and snacked in the burglarized South Side office of U.S. Rep. Bobby Rush in the early morning hours of June 1 as unrest swept the South and West sides of the city, Mayor Lori Lightfoot said Monday.
Lightfoot again dismissed assertions made by Fraternal Order of Police President John Catanzara that the officers had permission to be in Rush's office and were protecting it when they were captured on surveillance cameras.
"That narrative is false," Lightfoot said Monday at an unrelated news conference. "It was false from the minute he uttered it. The investigation is ongoing."
The footage was recovered by Rush, who turned it over to Lightfoot. The mayor released still photos from the footage at a news conference on June 11, where she vowed to hold the officers to account.
The Chicago Police Department's Internal Affairs Bureau is investigating the incident, and "an evaluation" is underway by the Cook County State's Attorney's Office, Lightfoot said.
"This doesn't need to be hanging over those officers' head, it doesn't need to be unresolved," Lightfoot said. "I think Congressman Rush deserves to have some answers."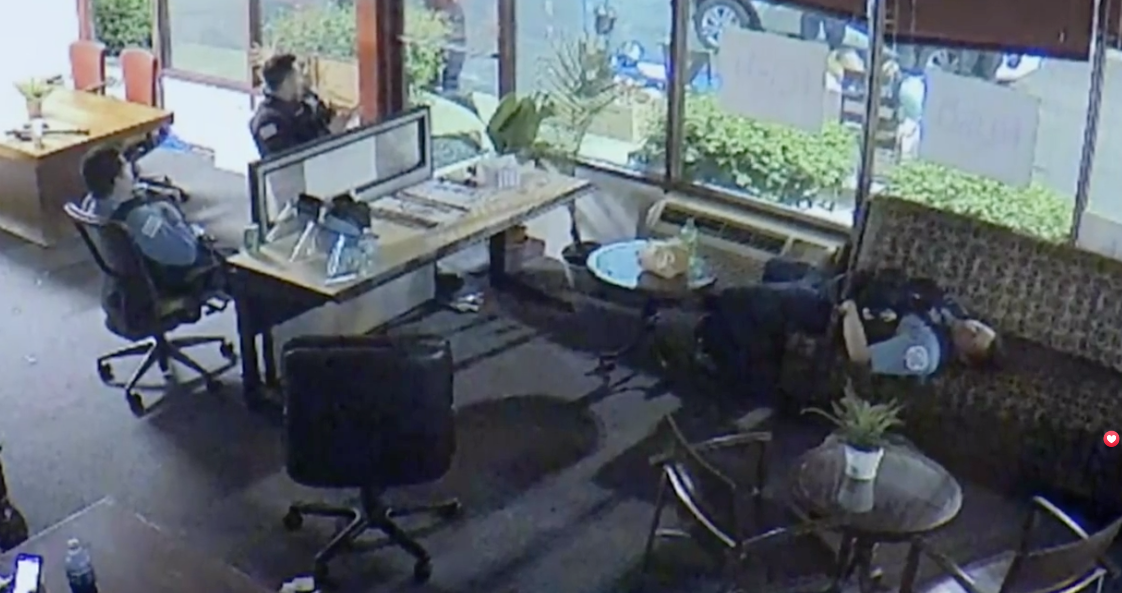 A screenshot from a video surveillance camera inside the office of U.S. Rep. Bobby Rush on June 1, 2020. (WTTW News via City of Chicago)
Rush said he was outraged by the conduct of the officers, who have not been publicly identified by department officials.
"They even had the unmitigated gall to go and make coffee for themselves and to pop popcorn, my popcorn, in my microwave while looters were tearing apart businesses within their sight and within their reach," Rush said when the photos were released.
Chicago Police Superintendent David Brown also called for the officers involved to be held responsible for their conduct.
Contact Heather Cherone: @HeatherCherone | (773) 569-1863 | [email protected]
---