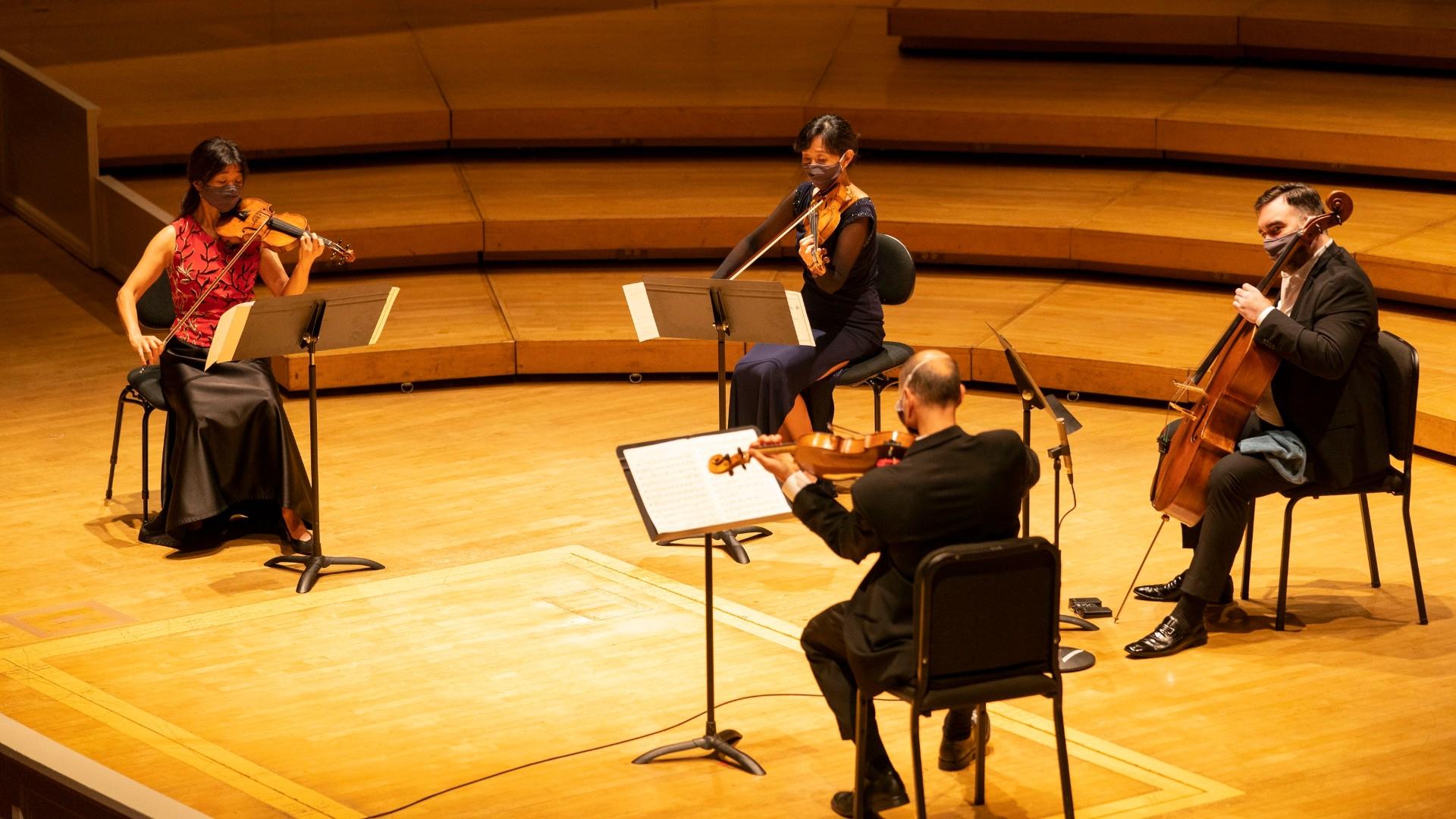 The CSO's Lincoln Quartet composed of violinists Qing and Lei Hou, Lawrence Neuman on the viola and cellist Kenneth Olsen perform in a virtual recital in August. (Clay Baker / Chicago Symphony Orchestra)
For now, the focus will be on the intimate and the virtuaI, with some form of subscriptions part of the thinking, too.
That is the news from the Chicago Symphony Orchestra, which Thursday announced its initial plans for the fall 2020 season: a series of chamber music-scaled efforts designed to address the heartbreaking absence of a full orchestra and chorus, and the presence of Maestro Riccardo Muti on the Symphony Center stage, for as long as the COVID-19 pandemic continues to make both larger gatherings of musicians and audiences unfeasible.
The plans echo, in a musical way, what many other performing arts companies in Chicago (including Court Theatre, Steppenwolf Theatre, Porchlight Music Theater and more) have devised, with numerically scaled down offerings designed to keep artists working (and safe), and audiences still connected and enriched.
Specifics about the new CSO Sessions Series (which will begin in October), as well as its CSOTv video portal, will be announced on Sept. 17, the on-sale date for the Sessions Series. At that time information also will be made available about how to access the full range of both free and premium content that will be accessible throughout the fall season. The new digital series of in-demand, high definition video recordings will feature the performances of CSO musicians filmed onstage in Symphony Center's Orchestra Hall and without an audience. It will begin with five distinct programs premiering each Thursday in October, starting Oct. 1.
Repertoire will feature a range of chamber music works from the 17th to the 21st century, with the inaugural videos including the music of Brahms, Mozart, Nielsen, Saint-Georges, Caroline Shaw, Tchaikovsky and others. And it will be performed by a variety of CSO ensembles, from duos to octets, as well as smaller string, wind and brass ensembles. The musicians will be placed in socially distanced configurations on the stage, with string players wearing masks during performances.
Also in the planning stage for availability on the portal are additional archival performances, programs for children, jazz performances, piano recitals and more.
More information will be available by web chat at cso.org, as well as by calling (312) 294-3000 (10 a.m.-4 p.m. Tuesday through Friday), or by emailing [email protected].
The initial October performances will be virtual only, but if and when any form of live performances become an option that news will be announced.
In an interview in the Chicago Tribune last week, Muti – who has spent the past many months at his home in Italy, and is still unable to travel to the U. S. – mourned his inability to be with the CSO. And he praised recent efforts to return to some semblance of live performance in certain areas of Europe. Muti not only conducted the first live (open air) concert in Ravenna in late June, but in mid-August he attracted a vast audience when he led three performances of Beethoven's massive "Ninth Symphony," with the Vienna Philharmonic, chorus and soloists as part of the Salzburg Festival. And this past Sunday he led the Luigi Cherubini Youth Orchestra in the final concert of Italy's Spoleto Festival.
As he noted in the Tribune interview, even if it initially meant streaming only, "I believe with the right ideas, being careful, I think that it's time to start making music again in the United States, in Chicago."
Follow Hedy Weiss on Twitter: @HedyWeissCritic
---