Protesters have returned to the streets of Kenosha, Wisconsin, every day since Sunday, when a police officer shot 29-year-old Jacob Blake, a Black resident of the city, seven times. 
Details surrounding the shooting by Kenosha Police Officer Rusten Sheskey remain murky. Blake was shot in the back as he leaned into his car — in which three of his children were seated; the Wisconsin attorney general has said law enforcement later found a knife in Blake's car, but no other weapons.
Map: More from our community reporting series.
At a press conference Thursday afternoon, local officials gave no updates on Blake or other incidents related to the police shooting — including the fatal shooting of two protesters Tuesday night.
Instead, the media event started with a prayer and ended with their refusal to answer questions. 
Police Chief Daniel Miskinis says investigations are ongoing, and he expressed support for those who protest peacefully and follow the 7 p.m. curfew. 
Kenosha County Sheriff David Beth repeatedly emphasized the people of Kenosha are good and peaceful — and he hopes Thursday's protests will follow suit.
"Last night was very peaceful. Tuesday night, not quite so peaceful, but it wasn't too bad. Monday night was our big night. Hopefully we're over that hump of what we have to face," Beth said.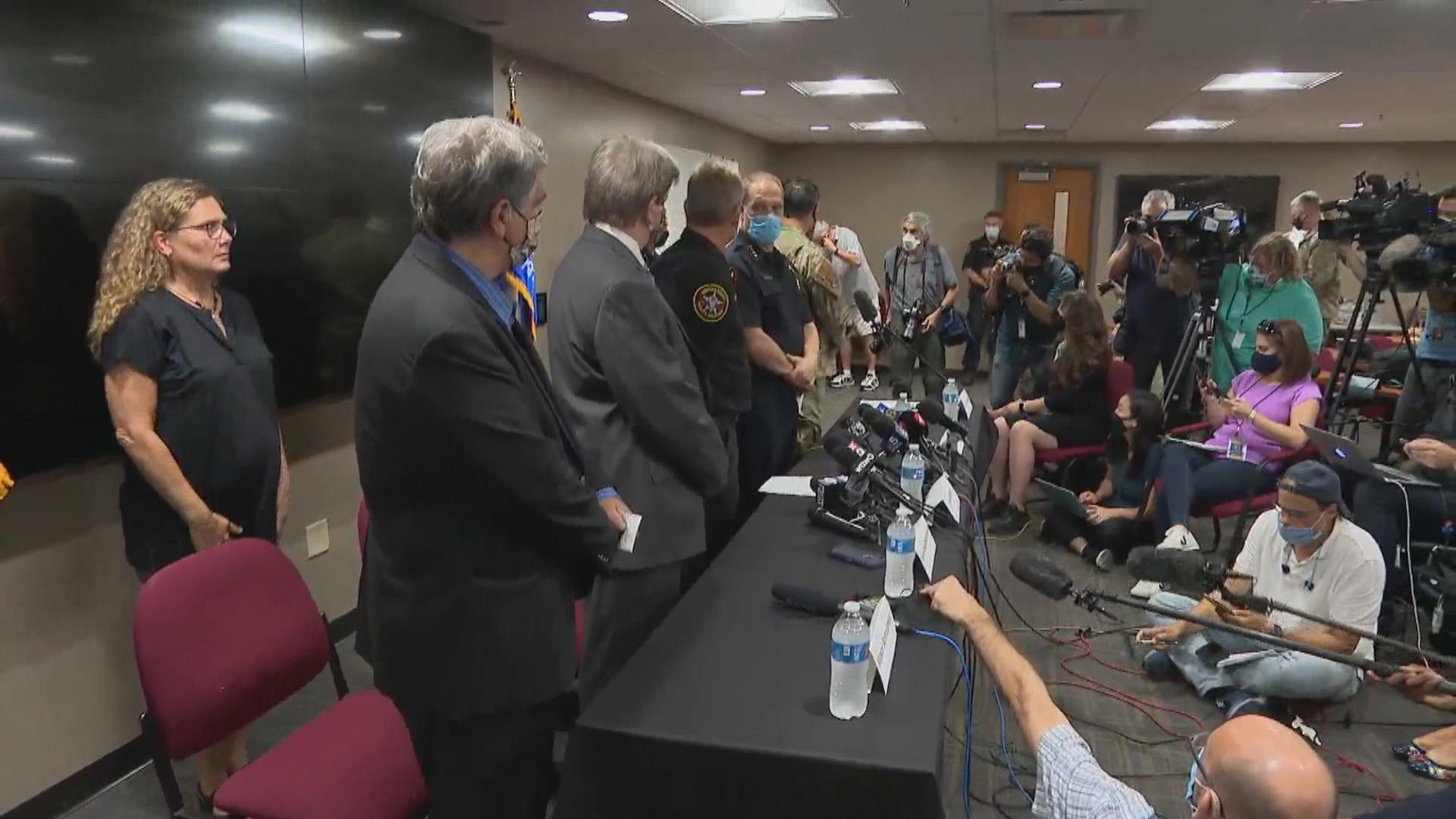 A press conference Thursday, Aug. 27, 2020 in Kenosha. (WTTW News)
Because officials did not answer questions, it's unclear whether Beth misspoke when referencing Tuesday night, when two people died and a third was wounded after a shooting during protests.
Kyle Rittenhouse, a 17-year old from Antioch, Illinois, was arrested Wednesday and charged Thursday with five felonies, including first-degree intentional homicide, in that shooting.
Some local residents we spoke with Thursday said the events unfolding in their city this week aren't a surprise.
"The racial tensions have always been high in this town. Since George Floyd's passing they've intensified. So, no, I'm not surprised," said Kenosha resident Tanya McLean.
McLean attended a press conference organized Thursday morning by the local NAACP. She said she's disappointed in her local officials for not doing more to reach out to residents in the part of Kenosha where she lives — the part that's been looted, and where businesses have been burned down.
Another pair of activists said they've been agitating to end systemic racism in Kenosha since the unrest in Ferguson, Missouri, in 2014 over the shooting of unarmed Black teen Michael Brown. While they're encouraged by the national attention and hopeful it will instigate change, it's discouraging, they say, that a Black man had to get shot seven times for it to happen.
"Kenosha is a great place that puts on a facade of being progressive and being friendly," said Kenosha resident Diamond Hartwell. "But just like the majority of the Midwest, it's very racist. And because we're such a small portion of the population here, no one wants to have the conversation to change it."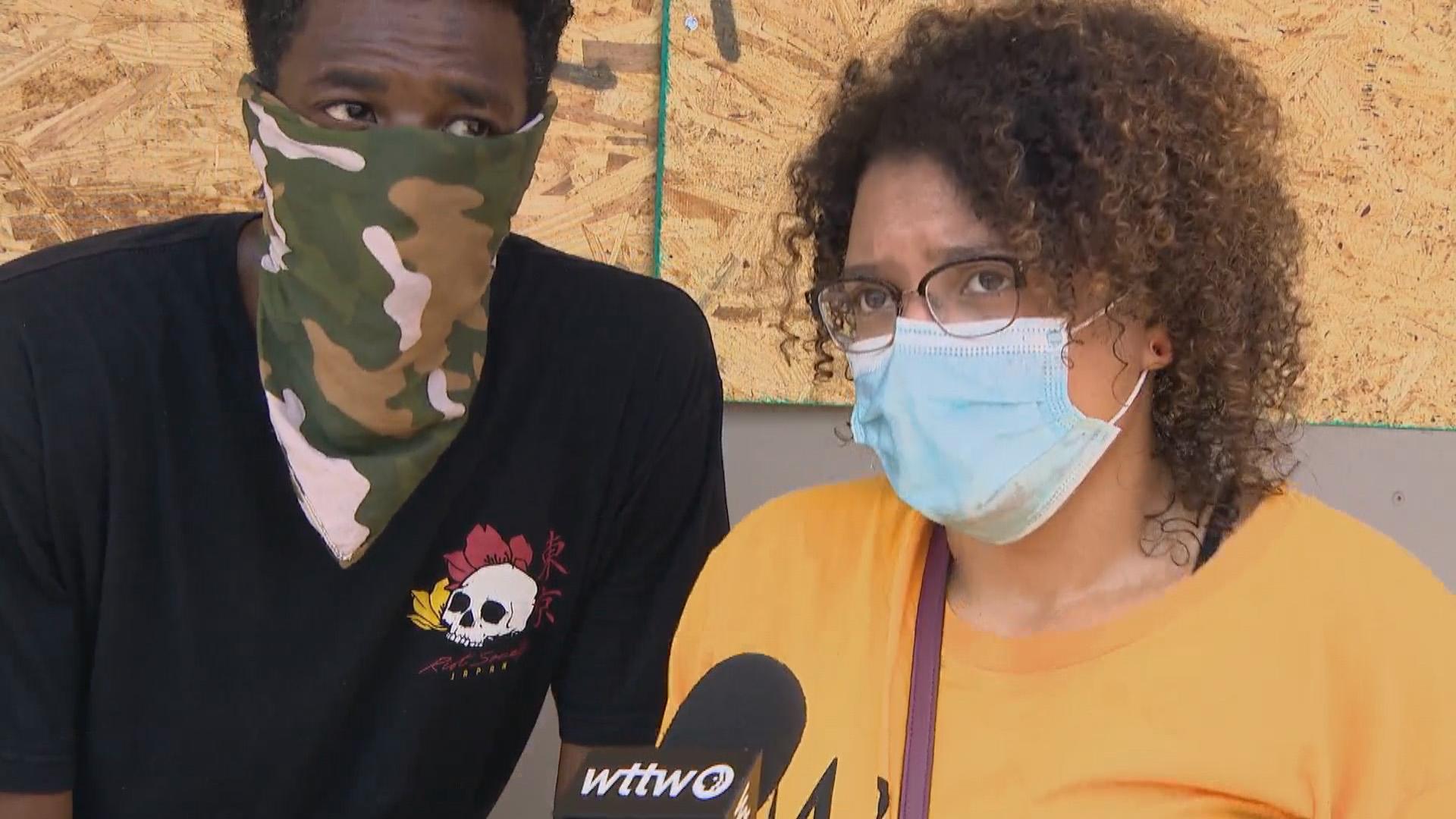 Kenosha residents and activists Brian Little and Diamond Hartwell speak with WTTW News on Thursday, Aug. 27, 2020. (WTTW News)
"I think we need a new Kenosha police department chief," added resident Brian Little. "We need a new Kenosha sheriff chief. We need a new mayor. We need to kind of wipe the deck clean and actually show the true diversity of here in Kenosha, Wisconsin. So, voting comes up—it's very important. I don't want this to be missed: voting's important. But voting locally is even more important." 
Though he did not take questions at the afternoon press conference, Kenosha Mayor John Antaramian spoke with WTTW News later in the day. 
Antaramian declined to comment on additional details on the shooting of Blake, citing due process under the ongoing investigation. 
"I'm not really able to give an answer to any of that because there's an active investigation going on," he said. "The state of Wisconsin, when an individual is shot by an officer, it requires a third party entity to do the investigation … so we have at this point in time really nothing we can say on it." 
On Thursday, the ACLU called for the resignation of Beth, the county sheriff, and Miskinis, the police chief.
BREAKING: We are calling for the immediate resignation of Kenosha Police Chief Daniel Miskinis and Kenosha County Sheriff David Beth.

— ACLU (@ACLU) August 27, 2020
---
"During the police department's first press conference in response to the Blake shooting and subsequent murders committed at protests, Police Chief Daniel Miskinis blamed the victims in Tuesday night's shooting for their own deaths," the organization tweeted.
Antaramian says he has full confidence in both Beth and Miskinis. 
"Both men have impeccable records, both have done incredibly well for the community," the Kenosha mayor said. "They have done a good job. If they've made some mistakes, some comments or something, that can be corrected easily enough." 
Video: Watch our full interview with Mayor John Antaramian.
Community Reporting Series
"Chicago Tonight" is expanding its community reporting. We're hitting the streets to speak with your neighbors, local businesses, agencies and leaders about COVID-19, the economy, racial justice, education and more. See where we've been and what we've learned by using the map below. Or select a community using the drop-down menu. Points in red represent our series COVID-19 Across Chicago; blue marks our series "Chicago Tonight" in Your Neighborhood.
---