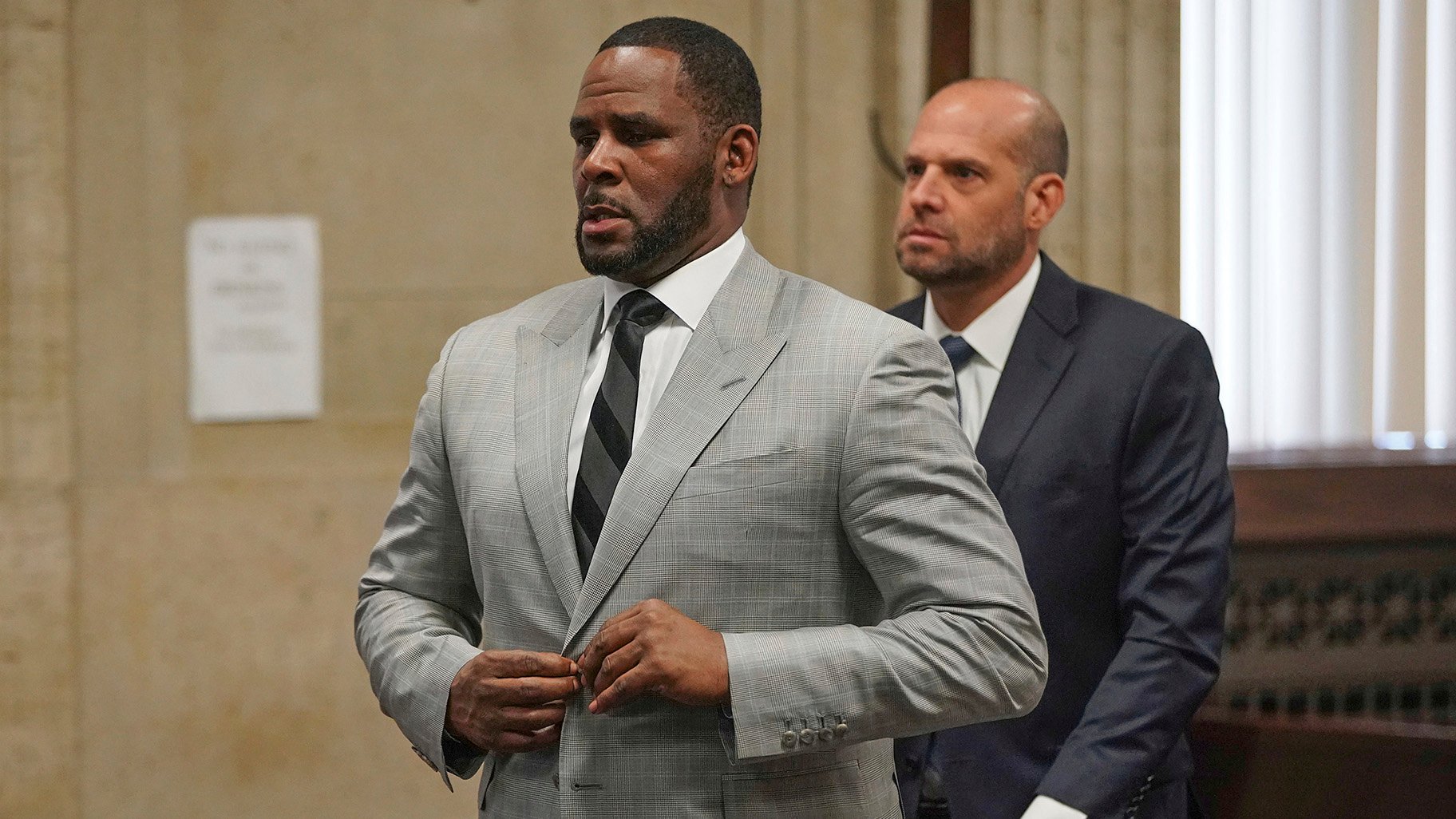 In this June 6, 2019 file photo, singer R. Kelly appears at a court hearing before Judge Lawrence Flood in Chicago. (E. Jason Wambsgans / Chicago Tribune via AP, Pool)
A federal judge has delayed one of R&B singer R. Kelly's four potential trials, after prosecutors cited difficulties caused by the COVID-19 pandemic and a lack of available space to hold a three-person trial this fall.
U.S. District Court Judge Harry Leinenweber on Tuesday postponed Kelly's October federal trial, one of four he is currently awaiting, in which the singer faces charges of child pornography and obstruction of justice.
"Over our vigorous objection his (Northern District of Illinois) trial was continued," Kelly's lead attorney Steve Greenberg tweeted Tuesday morning. "We are requesting his release."
#RKelly Over our vigorous objection his NDIL trial was continued. We are requesting his release

— Steve Greenberg (@SGcrimlaw) August 18, 2020
---
Federal prosecutors had requested a delay in the trial, pointing to issues caused by the ongoing pandemic.
They've estimated the trial – which includes two other co-defendants, Derrel McDavid and Milton Brown, and approximately 50 witnesses, a dozen of whom live out of state – would take about three weeks.
Eight or nine of those witnesses currently live in states placed under restriction on Chicago's current COVID-19 travel order, meaning they would have to quarantine for two weeks upon arrival in the city. Others are at a high risk for developing a severe illness if exposed to COVID-19, according to prosecutors, or live with someone who is high-risk.
"Forcing these witnesses to risk their health, or the health of their families, is not something the government wishes to do," Assistant U.S. Attorney Angel Krull wrote in a motion last week.
Krull also pointed out difficulties in finding space for so many people in a single courtroom, with at least four attorney tables needed plus socially distanced "stations" for 12 jurors and three alternates. She estimates there would be at least 34 to 36 people in the room at a time, not counting spectators.
The singer is currently facing criminal charges in four separate jurisdictions: the Chicago federal case, a federal racketeering case in New York, multiple sexual assault cases in Cook County and prostitution involving a minor case in Minnesota. He has pleaded not guilty to all charges.
Kelly's defense team has also faced difficulties in preparing for trial, because they've been unable to meet with their client in person while he's held without bail at the Metropolitan Correctional Center downtown.
Greenberg has repeatedly pushed for his client's release from pretrial detention, though those efforts have not yet been successful.
In a response to the government's motion filed Monday, Greenberg noted that the challenges presented in any trial have only been exacerbated under the pandemic, but the "focus here should be upon what can be done to ensure that Mr. Kelly can receive a fair trial, promptly."
"Obviously, these are unusual times, and the difficult challenges attendant to any trial are, admittedly, enlarged here," he wrote. "But, frankly, that is not Mr. Kelly's fault and that should not be Mr. Kelly's problem, and Mr. Kelly should not be the one who has to suffer, remaining in archaic jail conditions that are medieval, so that the Government can more conveniently prosecute its case."
According to the federal Bureau of Prisons, there are eight active COVID-19 cases at the MCC, two among detainees and six among staffers. Twenty-six employees and 132 detainees have also tested positive there during the pandemic, but have since recovered.
Greenberg said the "only solution" is to grant Kelly a temporary release. Even if Leinenweber did permit that request, the singer has been ordered held without bond in his New York federal case as well, meaning he would not be immediately released.
Contact Matt Masterson: @ByMattMasterson | (773) 509-5431 | [email protected]
---