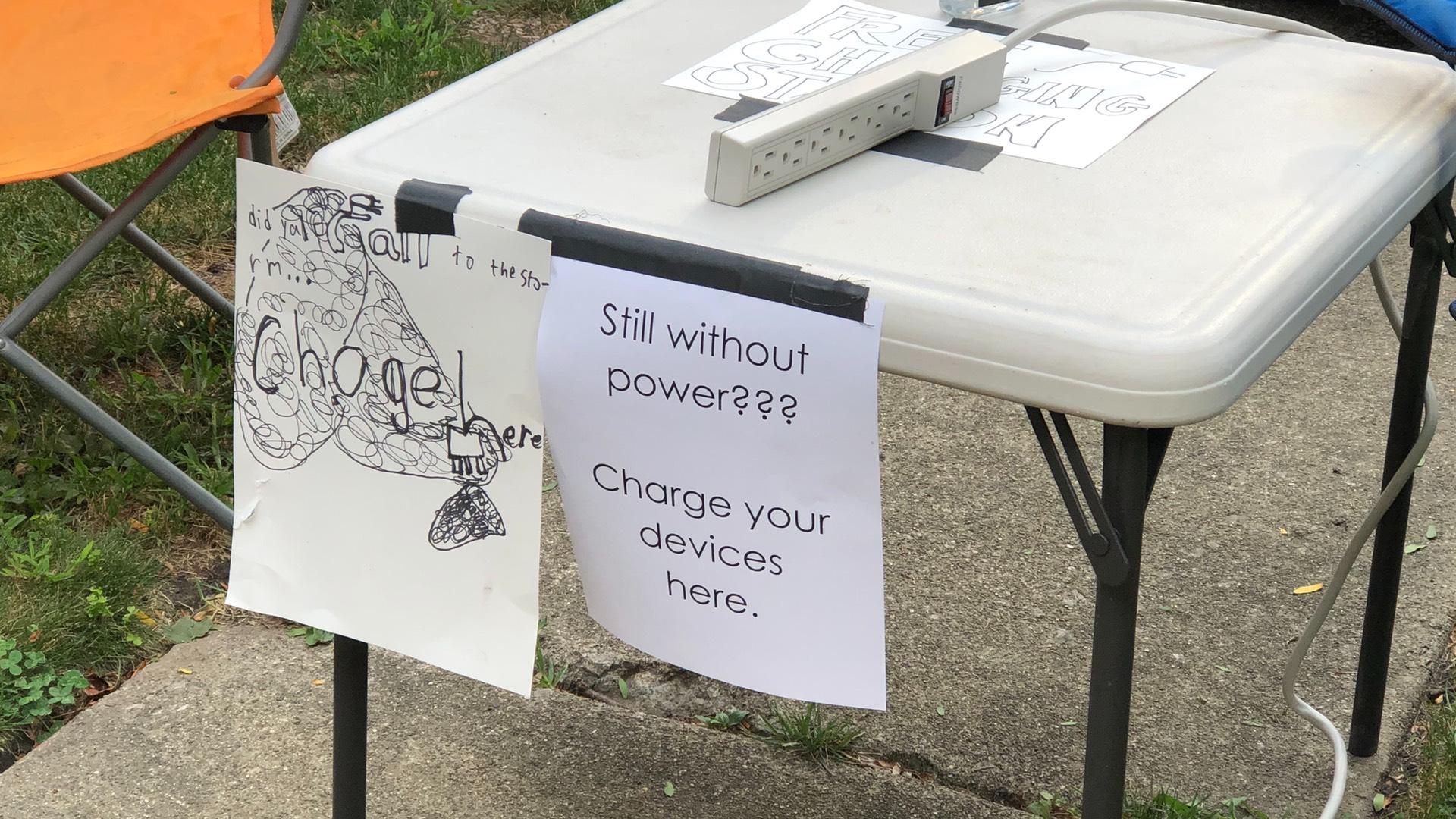 Neighbors with power have set up charging stations for those without in the Lincoln Square community. (Patty Wetli / WTTW News)
Frustration is mounting among the tens of thousands of Chicagoans still without power following Monday's powerful storm, which saw a tornado touch down in Rogers Park.
ComEd officials have stated that service might not be restored until Saturday in areas hardest hit by the derecho, defined as a swath of thunderstorms covering an area at least 400 miles long and 60 miles wide.
Though the power is back on for 75% of affected customers, 200,000 are still without electricity, including 30,000 within the city of Chicago (down from 60,000 Tuesday morning), and their patience is wearing thin.
We thank you for your patience as we continue to work as safely and quickly as possible 24/7 until all of our customers' power has been restored. pic.twitter.com/xIGrxqDyrt

— ComEd (@ComEd) August 11, 2020
Complaints poured in on social media: "Are you actually kidding? How are we supposed to work from home? Store food? Store medicine?" was among the milder responses.
ComEd has more than 1,900 employees and contractors working to address outages, and another 1,400 mutual assistance workers are coming in from out of state to assist, the company said.
Speaking at a press briefing Tuesday, Melissa Washington, ComEd senior vice president, said the "severe and devastating storm" left physical destruction similar to a hurricane or tropical storm.
Indeed, the National Weather Service confirmed that Monday's EF-1 tornado in Rogers Park had peak winds of 110 miles per hour.
Downed utility poles, power lines and trees are complicating restoration efforts, officials said. 
The utility company's priorities are to repair high-voltage transmission lines and substations first, as they affect the most customers; then public health and safety systems such as hospitals; next are large neighborhoods and high-density housing; and finally smaller neighborhoods and individual services.
Numerous residents have questioned why one side of a street might have power and the other doesn't. According to ComEd, different transformers power different sections of neighborhoods.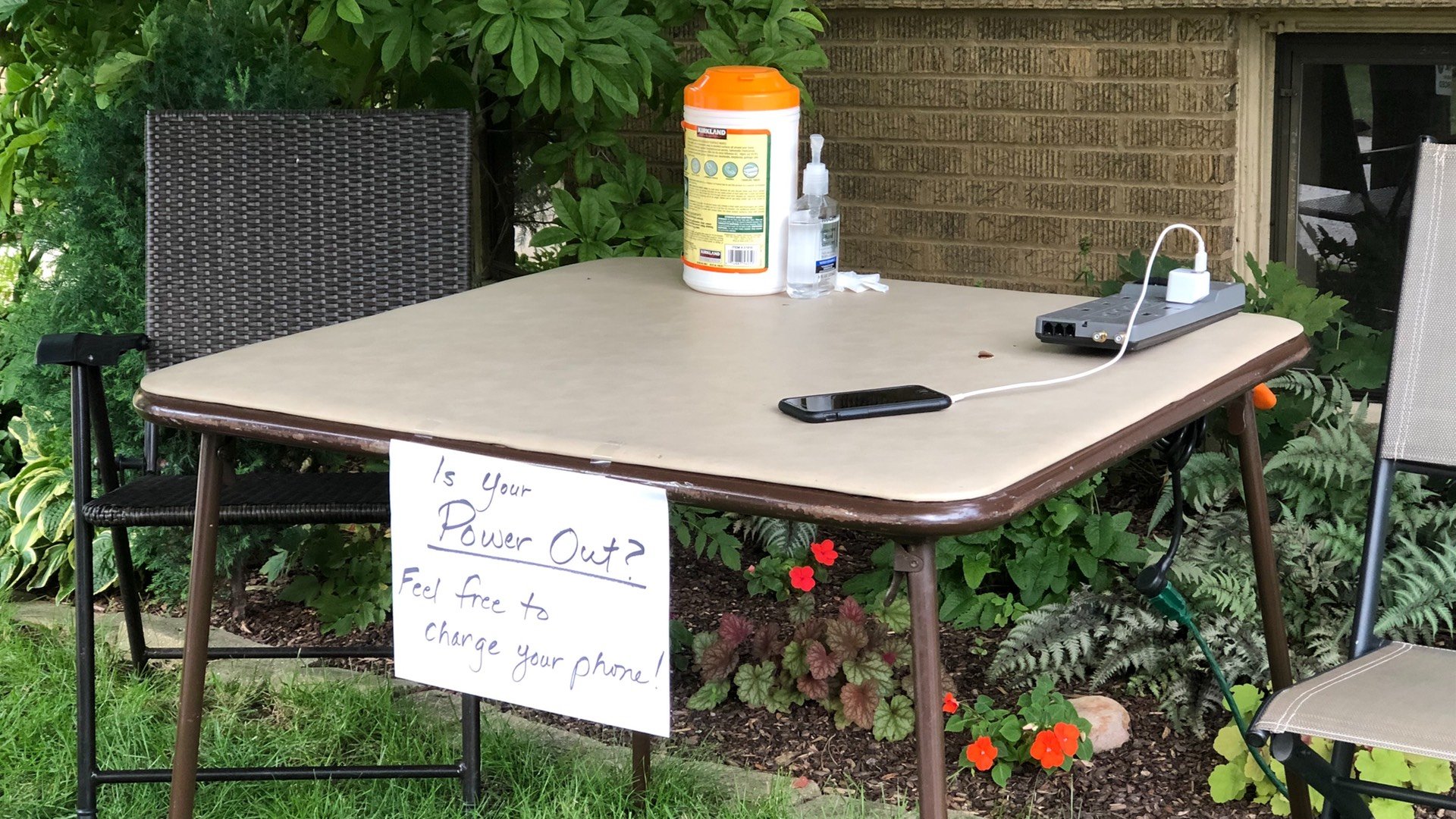 A makeshift charging station in Lincoln Square. (Patty Wetli / WTTW News)
The coronavirus pandemic is exacerbating the situation. People working from home are more reliant than ever on residential utility service to power their devices.
Neighbors are stepping into the breach, loaning voltage in the same way they might shovel out each others' cars after a blizzard.
Chicagoans, and even some aldermen, have been setting up makeshift charging stations for laptops and phones, complete with hand sanitizer and sanitary wipes.  
Once they've juiced up, customers can reach ComEd by calling 800-334-7661, sending a text to 26633 (COMED) with the word "OUT" or visiting the company's website, Facebook or Twitter pages.
Extreme weather with hurricane-force winds caused significant damage to utility poles, power lines and trees.
Our crews continue to work 24/7 to make repairs and restore outages. Stay safe & away from any downed power lines, and please call 1-800-334-7661 to report. pic.twitter.com/SvAFgypkNN

— ComEd (@ComEd) August 12, 2020
---
Contact Patty Wetli: @pattywetli | (773) 509-5623 |  [email protected]