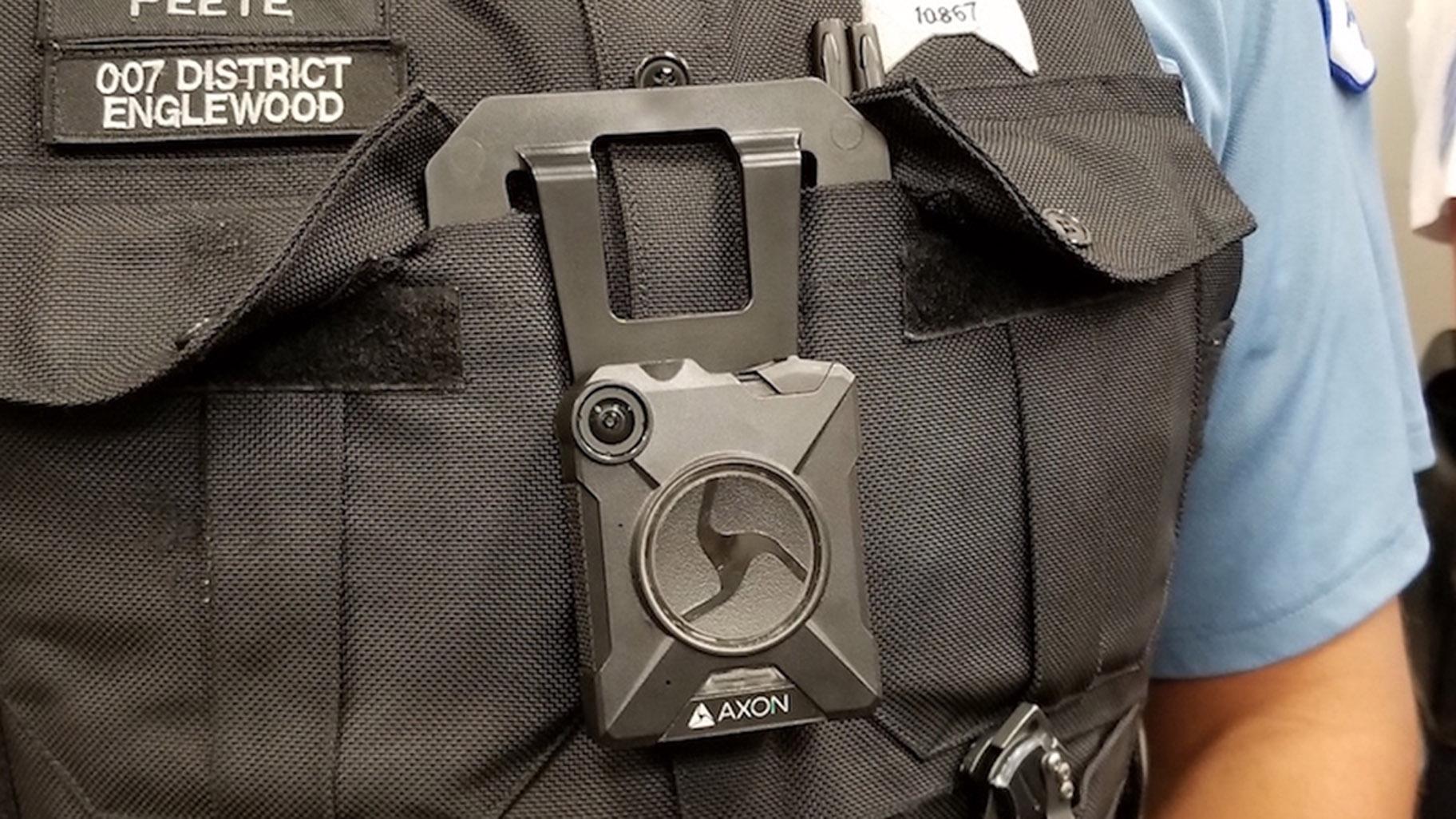 A 2017 file photo shows a Chicago police officer wearing a body camera. (Matt Masterson / Chicago Tonight)
Mayor Lori Lightfoot said it "would have been better" had the officers who shot a 20-year-old man they said had a gun Sunday afternoon in Englewood had body-worn cameras to record the incident that touched off a wave of looting that swept the city.
Lightfoot told reporters Tuesday that it was "highly, highly problematic" that the officers who responded to a call about a man with a gun in the 5700 block of south Racine Avenue about 2:30 p.m. on Sunday afternoon had not been issued body-worn cameras to capture their interactions with members of the public. The man fled from police when they attempted to stop him and fired several shots at officers, Chicago police Superintendent David Brown said. 
Latrell Allen, 20, has been charged with two counts of attempted murder and one count of unlawful use of a weapon in connection with the incident. He was ordered held on $1 million bond Tuesday by Cook County Judge Susana Ortiz.
Allen is still hospitalized but is expected to recover. The looting was spurred in part by misinformation that went viral on social media about Allen's age, whether he had died and whether he had a gun and fired at officers. 
The Civilian Office of Police Accountability is investigating the shooting, and announced Monday evening that its preliminary investigation found that the officers involved in the shooting did not have cameras. Departmental rules — and a federal consent decree — require officers to have and use the cameras as a guard against misconduct and false allegations.
Lightfoot said the officers who responded to the call had been assigned to the newly created Community Safety Team, created by Brown three weeks ago, and did not have department-issued cameras.
"We can't have people out on the street interfacing with the public without body cameras," Lightfoot said.
Lightfoot did not answer directly when asked by WTTW News who was responsible for assigning officers who did not have cameras to respond to 911 calls.
Lightfoot blamed former Mayor Rahm Emanuel for negotiating an agreement with the Fraternal Order of Police that blocks officers from sharing cameras. 
The shortage of cameras "directly stems" from the contract, which Lightfoot said she is working to renegotiate. That labor agreement expired more than three years ago, and acrimony between the union that represents most rank-and-file officers and the mayor has stalled negotiations since Lightfoot's election more than a year ago.
Lightfoot said Brown informed her 10 days ago that the department did not have enough cameras for the "plainclothes officers" he had assigned to the Community Safety Team and the Critical Incident Response Team in an effort to tamp down a surge in shootings and murders this summer.
Brown told reporters his staff was working to find any unused cameras that can be distributed to officers.
Several aldermen pressed Deputy Mayor Susan Lee during a Tuesday meeting of the City Council's Public Safety committee about why the officers were not equipped with cameras.
Lee told aldermen there was a "lag" between the fact that officers who were not assigned to districts were not given body cameras, but Brown's reorganization meant they were assigned to respond to 911 calls without cameras.
"Every police officer in the field should have a body camera. Period," said Ald. Patrick Daley Thompson (11th Ward).
Contact Heather Cherone: @HeatherCherone | (773) 569-1863 | [email protected]
---