Summer is the season for public art, and it seems like every week a colorful new mural blooms. The city granted us access to get up close to a massive new painting project along the Chicago Riverwalk. 
TRANSCRIPT
Marc Vitali: Look closely, and you can see it from across the river. It takes up two levels. And when you're on the Riverwalk, look up to really appreciate it.
The name of this ambitious work is "The Radiance of Being."
Kate Lynn Lewis, muralist: "The Radiance of Being" was a mural that we came up with to celebrate a 100 years of art deco. We ended up taking motifs from a handful of buildings all around Chicago, making a collage of all of them and creating this imagery, a beautiful scene to represent all the different buildings that were built during the art deco period. 
Vitali: A docent at the Chicago Architecture Center gave the artist a tour of all things art deco in Chicago.
Lewis: When we went around to see art deco architecture, there are a lot of universal motifs. There are a lot of swirls, a lot of long and lengthy linework and geometry. Something I ended up finding in a lot of the buildings we went to were bird motifs. That's why I chose to focus on having lots of birds and musicians in this one, a lot of flora and fauna as well.
Vitali: When planning a mural like this, it helps if you're good at math.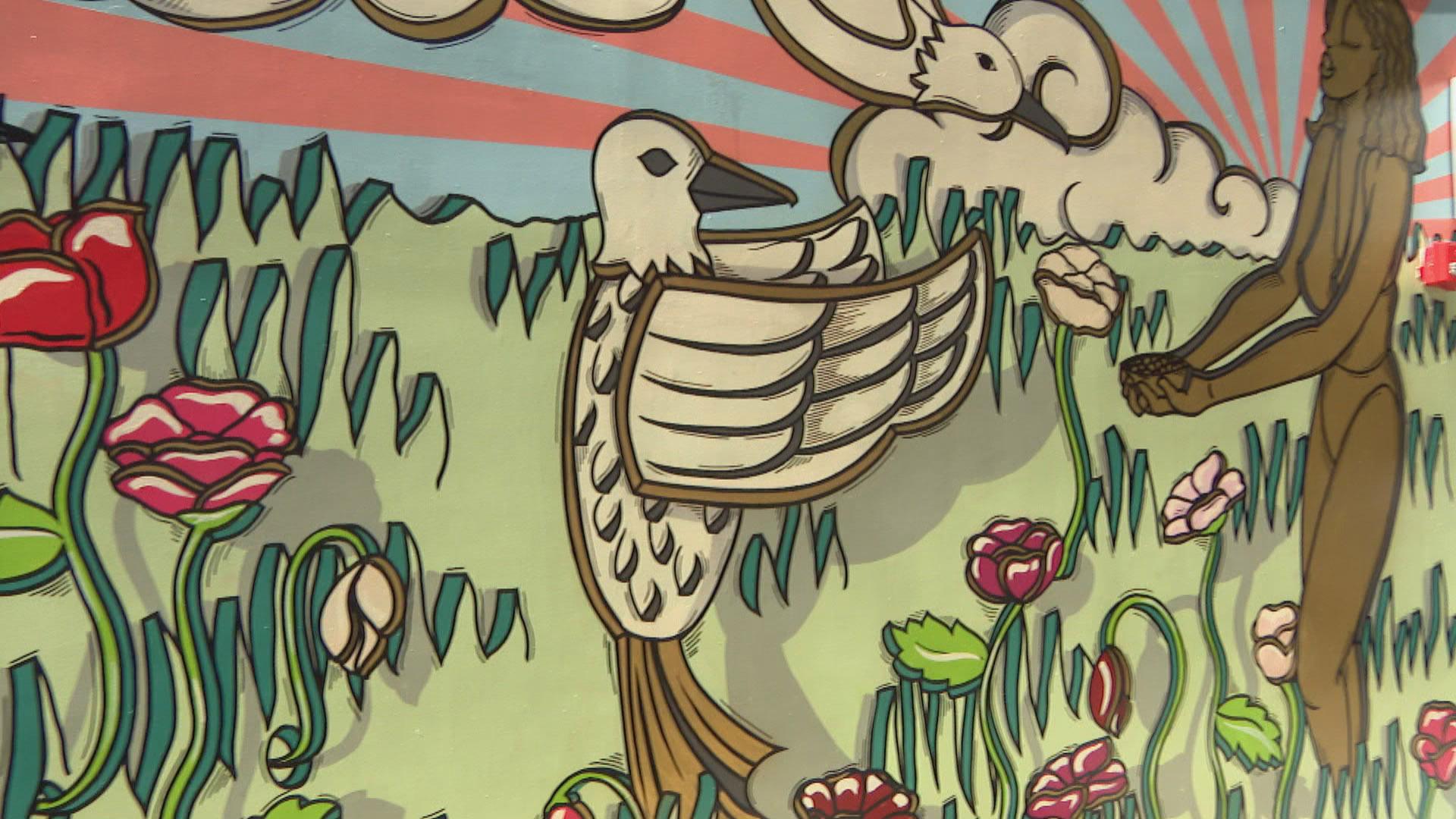 A close-up look at the new mural "The Radiance of Being" along the Chicago Riverwalk. (WTTW News)
Lewis: Murals I think in general are very mathematical. I actually studied math in college. I never studied art.
It's over 3,500 square feet. In the upper area its 110 feet long by 15 at the longest section … and the lower area here is another 180 feet and another 50 feet wrapping around the bottom, so biggest one I've done yet.
Vitali: The city initiated the project and put out the call to artists to brighten the area next to — and above — the Riverwalk.
Michelle Woods, project manager, Chicago Riverwalk: We had this great big beautiful empty wall that we thought we should put a mural on.
One of the most fun features of the Riverwalk is the public art, and we have been doing different rotations of different kinds of artwork since the Riverwalk has been in existence.
Lewis: I was really proud to be part of an all-female team that executed this. There were three female painters, two female filmmakers. It was really empowering to be a part of that, and that was important to me through this process.
---
More on this story
"The Radiance of Being" mural is just west of Michigan Avenue along the Chicago Riverwalk. Don't forget to look up.
---