Family and friends of teen activist Caleb Reed gather outside Mather High School Tuesday, Aug. 4, 2020. Reed, 17, died Sunday after he was shot days earlier. (Matt Masterson / WTTW News)
Caleb Reed and his girlfriend Derrianna Ford had their whole lives planned out. The Mather High School juniors were going to graduate next year, move out of Chicago and buy their first apartment together. 
They couldn't wait to just "get away from everybody," Ford said through tears Tuesday. "We talked about it all."
Those plans will never come to fruition after Reed, 17, was shot and killed last week in Rogers Park.
"I spent every moment with him," Ford said. "We planned our whole lives together and to be in this position it hurts. It hurts so much."
Reed was found Friday afternoon laying on a sidewalk in the 1900 block of Granville Avenue with a gunshot wound to the head, according to police. He was taken to St. Francis Hospital in critical condition and pronounced dead Sunday.
Chicago police say they have no new information to release about that shooting investigation.
Reed's family and friends gathered outside Mather High School on Tuesday to remember the life of the youth activist, who had forcefully pushed for the removal of resource officers from Chicago Public Schools buildings and additional services for students.
They recalled a caring, loving teen who was dedicated to improving the lives of those around him.
"That boy was loved," his sister Jasmine Bradley said. "He's resting in power and it's a beautiful thing because my baby was an angel, he was an angel."
Reed worked as a youth leader with Voices of Youth in Chicago Education (VOYCE). As the push to remove school resource officers from CPS has grown in recent months, Reed became one of the leading voices of the movement.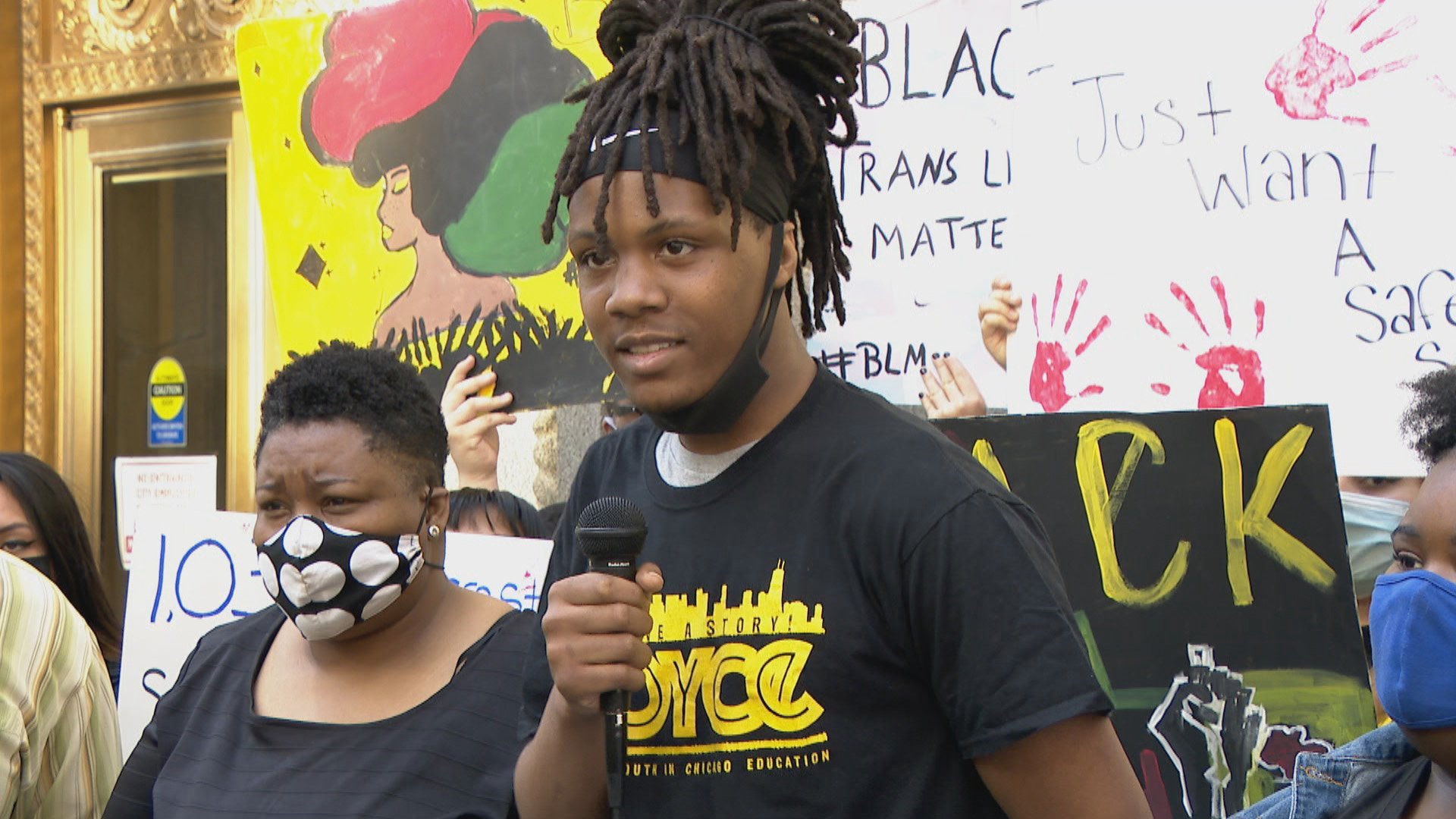 Caleb Reed, a student at Mather High School on the city's North Side, speaks about his experiences with school resources officers at an event Tuesday, June 16, 2020. Reed, 17, died Sunday, Aug. 2 after being shot two days earlier. (WTTW News)
Reed publicly recounted the pain and anger he felt when, as a sophomore, he was detained at a high school basketball game by a school police officer because he did not have his student ID on him.
"I don't want to ever see no black person go through that 'cause they are misunderstood or they don't have nobody to talk to," Reed said during a press conference in June.
That story helped inspire a city ordinance that seeks to terminate the school district's $33 million contract with the Chicago Police Department.
"He was the driving force that convinced me that this was the right thing to do," said Ald. Roderick Sawyer (6th Ward) who's sponsoring the proposal. "This young man, he spoke his truth, he was adamant, he was consistent and he wasn't going to give up. And I appreciated that in this young man. … This was a great young man."
While efforts to pull police officers from schools have gained steam across the country following the killing of George Floyd in Minneapolis, Chicago leaders have resisted calls to make a unilateral decision at the city level.
Instead, CPS CEO Janice Jackson and Mayor Lori Lightfoot have said individual local school councils should decide whether or not they want police officers in their school buildings.
Next week, Mather High School's local school council will take its own vote on the issue.
"If you are about what Caleb was about and you believe what he was fighting for, you should be at the LSC (local school council) meeting," Ald. Andre Vasquez (40th Ward) said. "And you should make sure that they know we don't want to see any more police officers in the school."
A GoFundMe campaign raising money for Reed's family to help cover funeral expenses had collected more than $13,000 as of Tuesday afternoon.
Contact Matt Masterson: @ByMattMasterson | (773) 509-5431 | [email protected] 
---