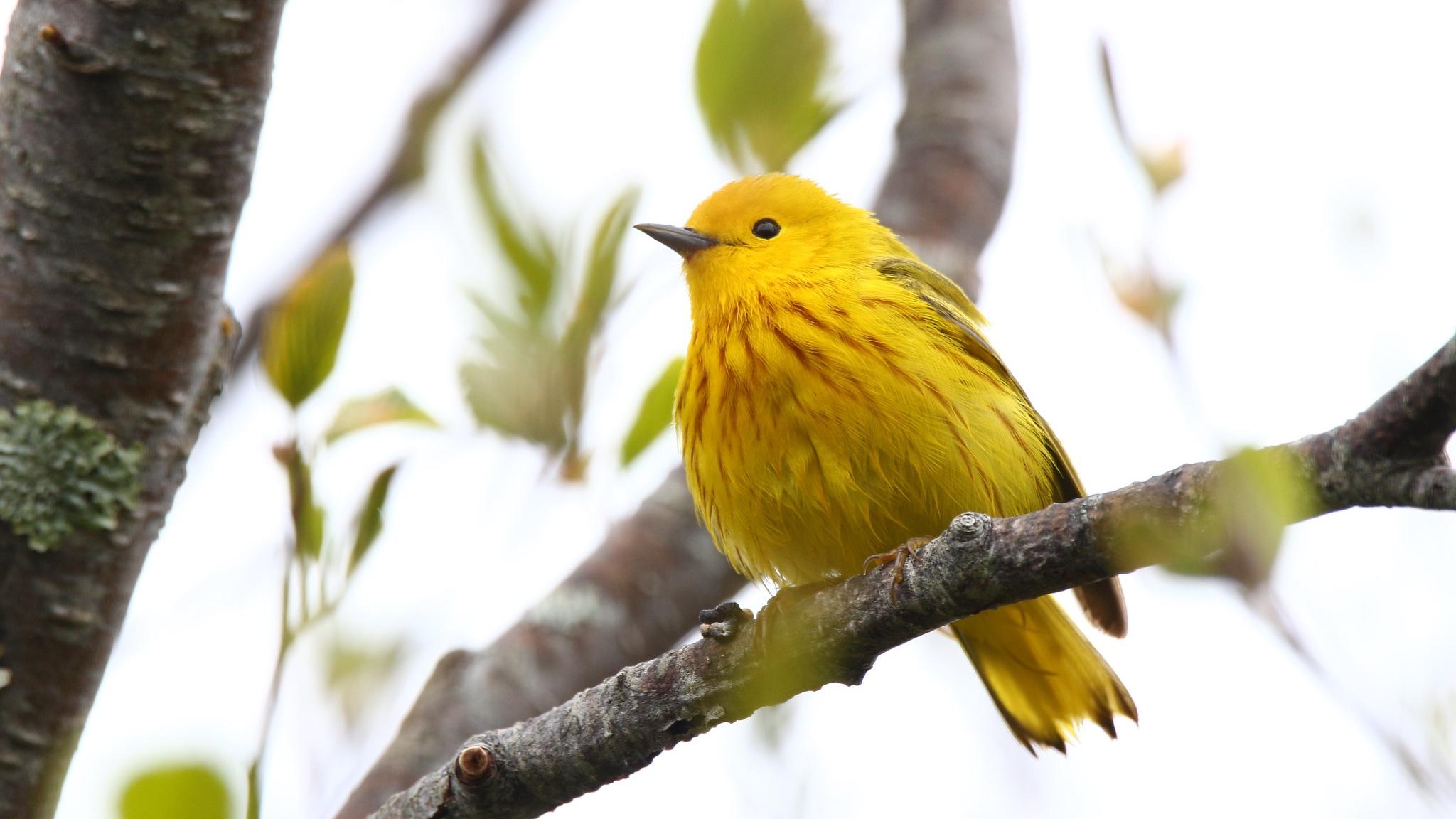 Yellow warblers are among the birds that have been banded for future identification at a new Chicago station. (Silver Leapers / Flickr)
A large and diverse population of birds can be found in the Calumet region, existing on the remnants of a once vast natural ecosystem.
"We know the birds are there, but we don't know how well they're doing," said Stephanie Beilke, conservation science manager at Audubon Great Lakes and a board member of the Chicago Ornithological Society.
A new bird banding station at Big Marsh Park will give researchers a better sense of the population's health, while also contributing to a broader study aimed at understanding the causes behind the dramatic decline in North America's birds — 2.9 billion lost in the past 50 years — and determining which conservation measures have the most promise.
"It's not only intact and 'pristine' habitats that are important," Beilke said. "Urban areas can be important too. What species are able to thrive in less than high-quality environments?"
Chicago's banding station, at which ID bands are attached to birds' legs, joins more than 1,200 others in the U.S. and Canada that are collecting data for The Institute for Bird Populations' (IBS) Monitoring Avian Productivity and Survivorship Program, knowns as MAPS.
Since setting up the station in June, the Chicago team has captured, banded and released at least 150 birds, Beilke estimated. Weather permitting, the final banding session of the season is scheduled for this week.
The focus is specifically on small land birds, known as songbirds or passerines, with yellow warblers and gray catbirds the most commonly banded in Calumet so far.
Data is collected on each bird's age, sex and condition, the latter including things like weight and feather condition, according to Beilke.
Researchers can make preliminary observations based on what they catch: What's the ratio of adults to young birds? Are some expected species scarcely present? But the real value of a banding station comes in the repetition of the process year after year. (Stations are asked to make at least a five-year commitment to MAPS.)
What if, in successive years, no banded birds are recaptured? That might mean that new birds move into the area every year, fooled by what appears to be favorable habitat, but don't return, having learned their lesson, Beilke explained.
On the flip side, if the same birds, identifiable by their unique bands, are captured year after year, that speaks to survivorship and a supportive environment, she said. If significantly more adults are routinely captured, that could indicate young birds are struggling to reach maturity, or it could point to breeding issues. 
The Institute for Bird Populations collates the stations' data, which the organization says, "helps scientists understand which life-stages may be most important in limiting population growth or causing declines ... so that limited conservation dollars can be directed to the times and places in the annual cycle where they are most needed."
MAPS' data has been used, for example, to detect declines in the Wilson's warbler population, attributed to drought brought on by climate change in the bird's wintering home in Mexico. MAPS' conclusion: "Drought-resilient habitat in this region should be prioritized for conservation."
When it comes to climate change, birds are very much the proverbial canary in a coal mine.
"The interesting thing about the loss of birds is how it's connected to habitat. We tend to think of that in terms of forests being cut down, which is huge — we've lost our forests and prairies to agriculture and development," Beilke said. "But climate change is making those effects even worse. Habitats aren't only being lost to humans but also climate. What are the birds telling us?" 
Contact Patty Wetli: @pattywetli | (773) 509-5623 |  [email protected]
---