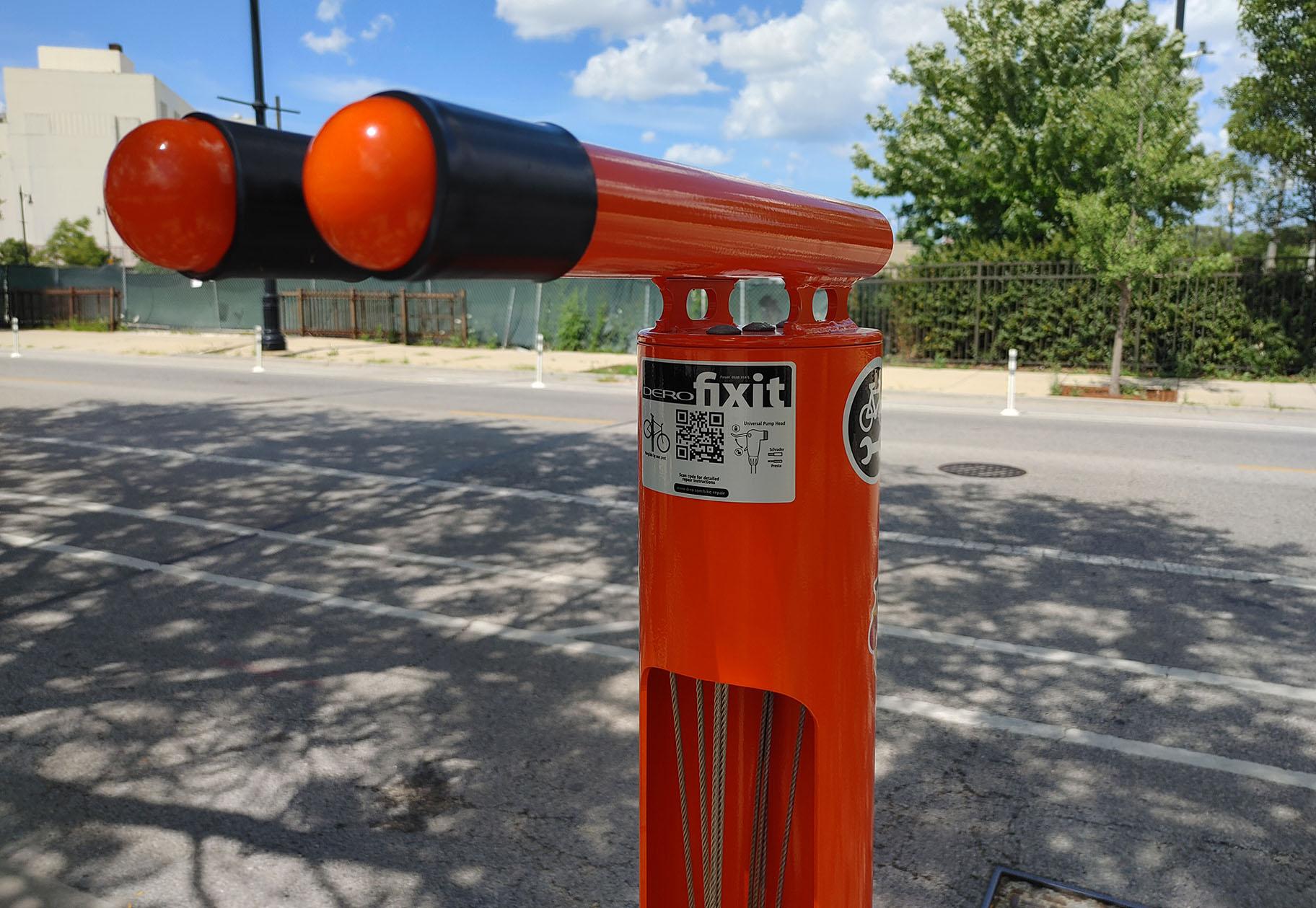 A Dero Fixit bike repair station near Milwaukee and Kilpatrick avenues in Portage Park. (Erica Gunderson / WTTW News)
For cyclists, there's never a good time for a slipped chain or flat tire, but there might be a good neighborhood for running into those hiccups: Portage Park, where there are now two 24-hour, freely accessible DIY bike repair stations near the famed Six Corners intersection of Irving Park Road and Milwaukee and Cicero avenues.  
In early July, the Six Corners Association installed the neighborhood's second Dero Fixit bike repair station near Milwaukee and Kilpatrick avenues. (The first, installed in 2017, is about a half-mile away at Milwaukee and Cuyler avenues.) The stations include all the tools necessary to perform basic repairs – from changing a flat tire to tightening a loose seat – attached to the stand with cables, as well as an air pump. A horizontal hanger arm allows the rider to elevate their bike while making repairs.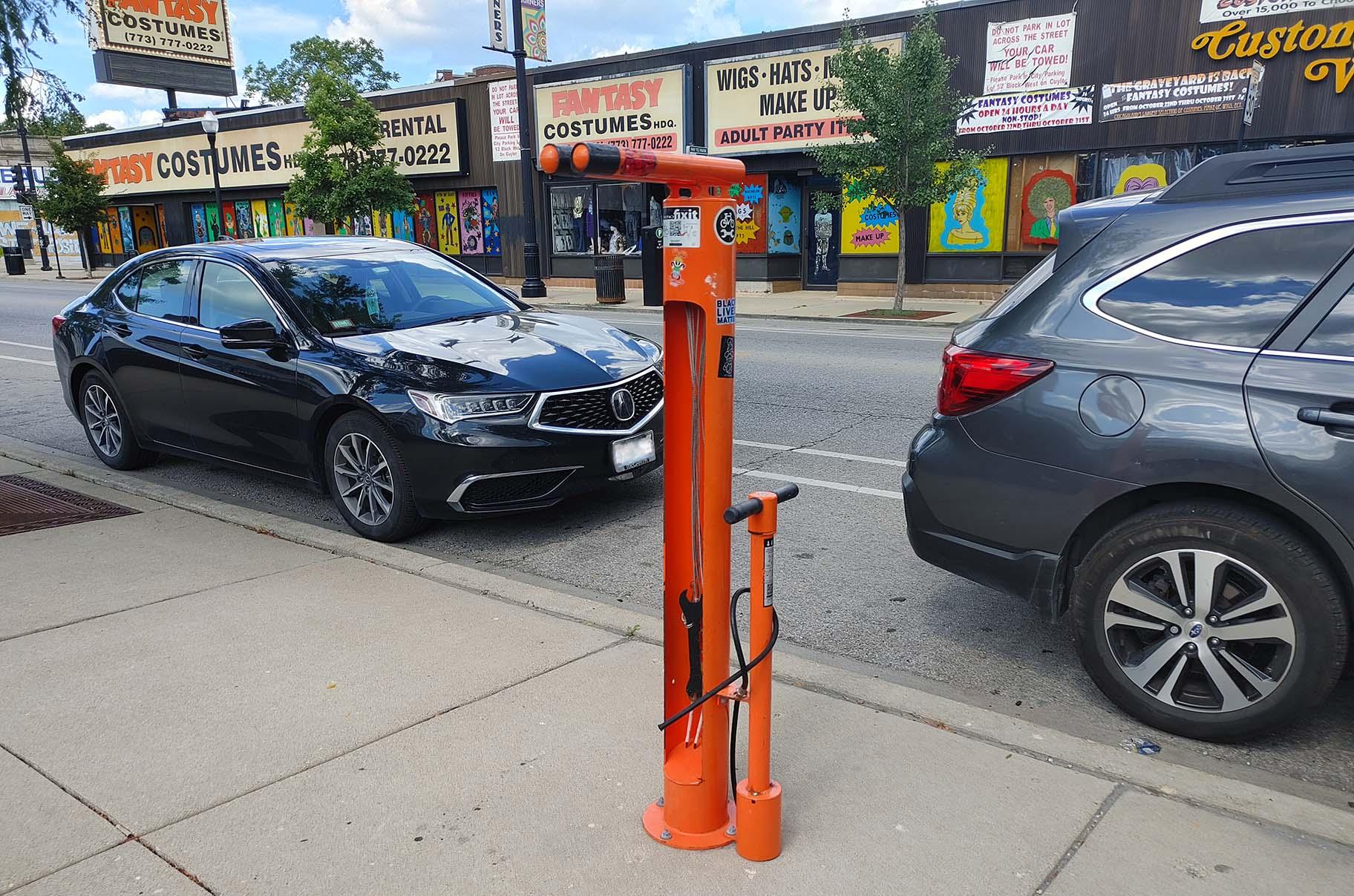 The first Fixit bike repair station to arrive in Portage Park is located at Milwaukee and Cuyler avenues. (Erica Gunderson / WTTW News)
SCA Managing Director Amie Zander says that the second station was purchased in 2019 along with several other pieces of street furniture including bike racks, benches and trash cans. Zander said the items were purchased with a TIF rebate that the Six Corners Special Service Area was owed from when the Special Service Area was reconstituted several years ago. Special Service Areas are local tax districts that fund expanded services and programs via an extra tax levy on property owners for services that benefit all businesses within the boundaries, such as public way maintenance and beautification, transit amenities and special events. 
Zander said the original plan was to install the second station this spring, but installation was delayed due to COVID-19. 
The Fixit station is just one more spoke in the bike-friendly district's wheel, said Zander. "We believe that biking in the city has become increasingly important," she said.
Zander said the SCA worked with Active Transportation Alliance in 2019 to study traffic in the Six Corners area. As part of the study, the organization ran an experimental race between a cyclist, driver, Uber rider, bus user and a walker from the SCA office at 4041 N. Milwaukee Ave. to the Irving Park Blue Line station – a race the cyclist won. "It really showed us how congested our community is," Zander said. "With the additional bike lanes that have been added on a Milwaukee Avenue it just makes sense to be more bike friendly. With COVID, we also are going to assume more people will be riding and less people will be taking public transportation."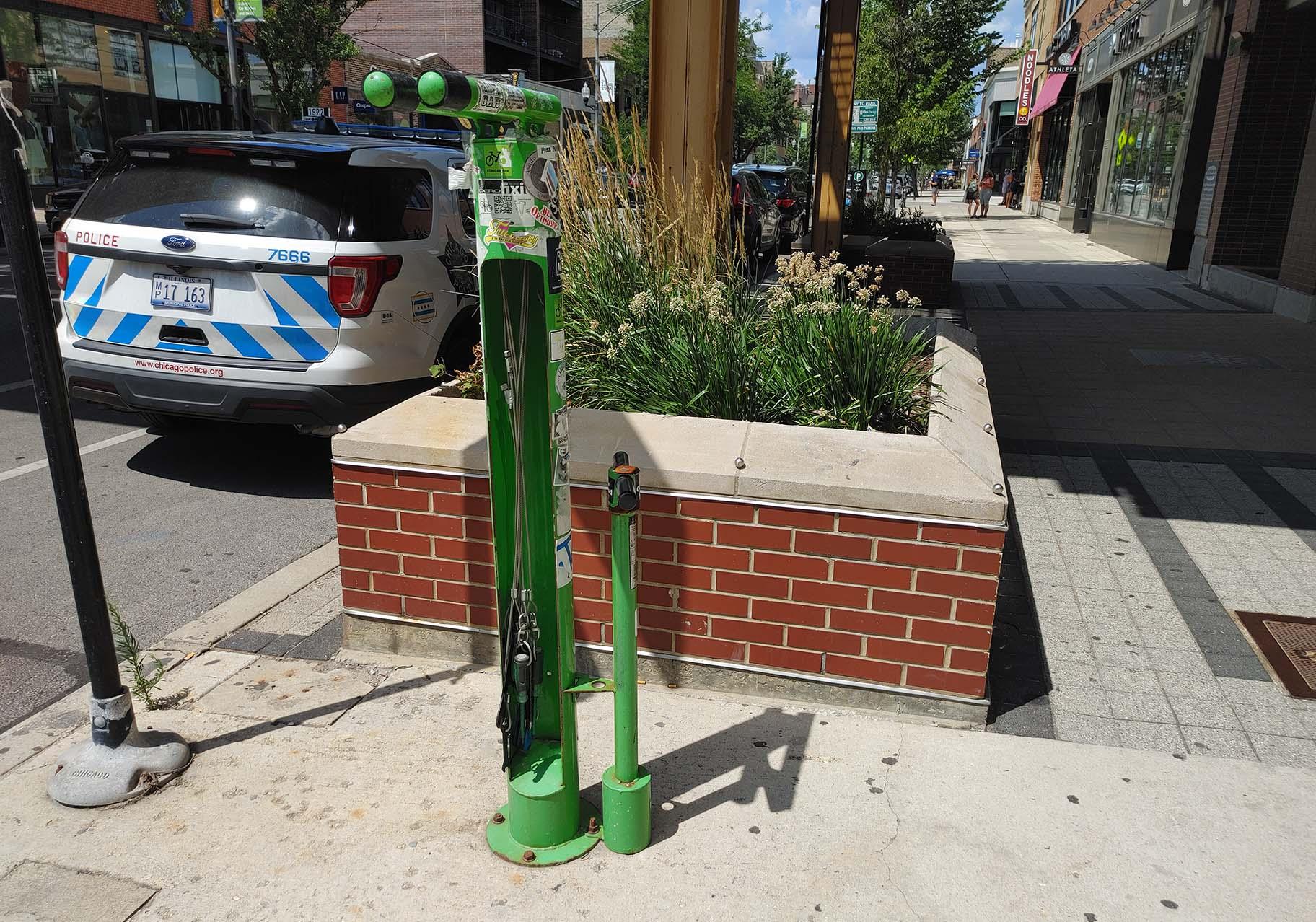 A Fixit bike repair station outside the Southport Brown Line CTA L stop. (Erica Gunderson / WTTW News)
A Dero representative said that while there are some Fixit stations on public property elsewhere in Chicago, including a few near L stations, most of their Fixit stations are on private property such as stores and university campuses. The company released a world map of the station locations in 2015. 
The stretch of Milwaukee Avenue in the adjoining Portage Park, Irving Park and Avondale neighborhoods has also seen city-made improvements to biking infrastructure in the wake of a string of cyclist crashes and deaths. Lane markings along Milwaukee Avenue have been refreshed, bike lane barriers have been installed, and a "bump-out" to slow down right-turning drivers has been established at Kilbourn and Milwaukee avenues.
Below, the SCA shares how to use the Fixit station.
---