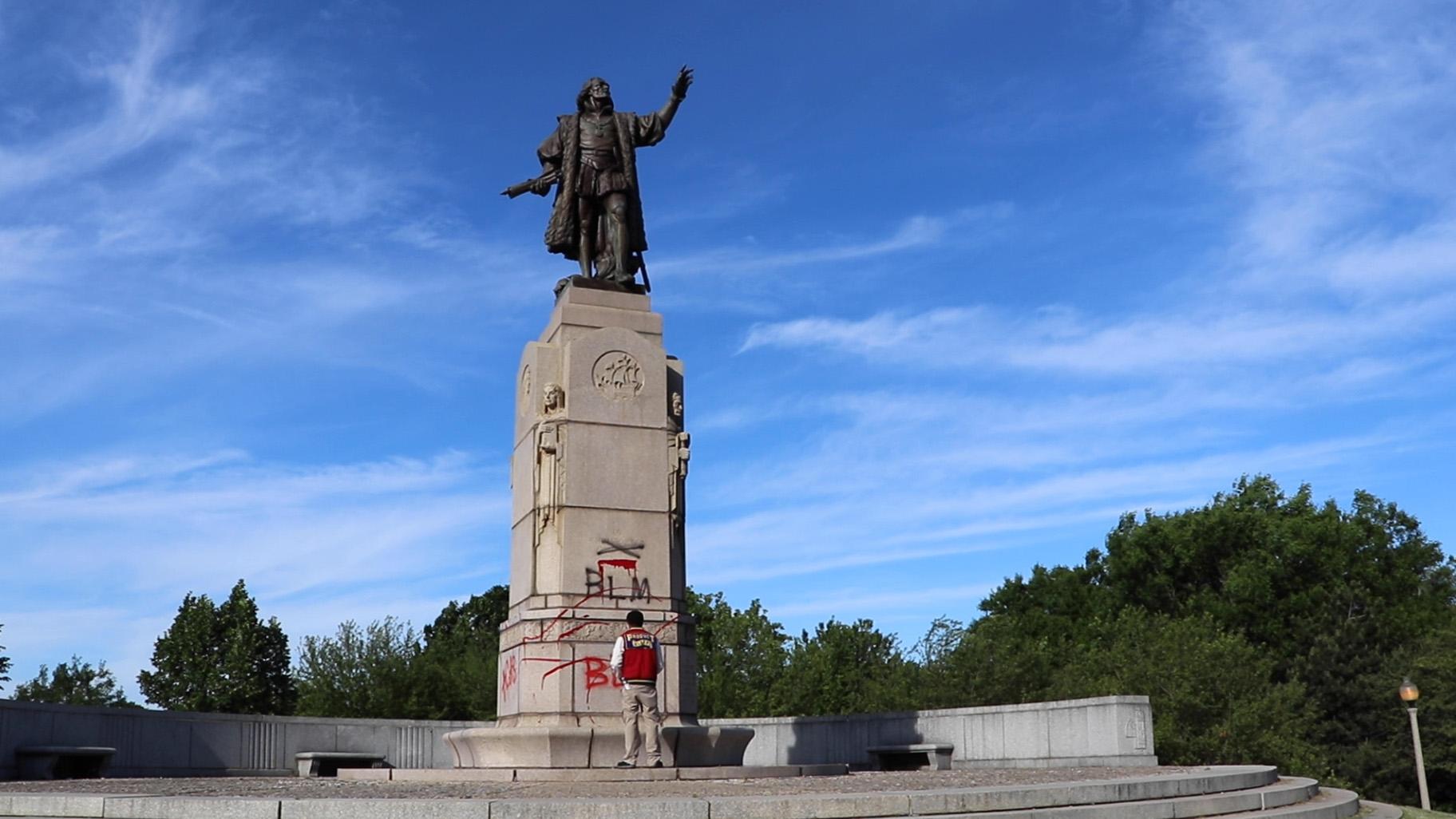 Courtney Johnson, a South Side resident, stands in front of a vandalized statue of Christopher Columbus in Grant Park on Saturday, June 15, 2020. (Evan Garcia / WTTW News)
A towering likeness of Christopher Columbus no longer stands in Chicago's Grant Park.  
It, as well as another Columbus statue that had long been a fixture of Arrigo Park in the Little Italy neighborhood, were taken down overnight at Chicago Mayor Lori Lightfoot's direction.  
Related: Lightfoot's Decision to Take Down Columbus Statues Splits Aldermen
Their removal is "temporary," Lightfoot's office said in a statement Friday morning. 
"This action was taken after consultation with various stakeholders. It comes in response to demonstrations that became unsafe for both protesters and police, as well as efforts by individuals to independently pull the Grant Park statue down in an extremely dangerous manner," the statement reads. "This step is about an effort to protect public safety and to preserve a safe space for an inclusive and democratic public dialogue about our city's symbols. In addition, our public safety resources must be concentrated where they are most needed throughout the city, and particularly in our South and West Side communities." 
Grant Park in particular has been host to demonstrations in recent days that at times have turned violent, including a clash last Friday in which 18-year-old Miracle Boyd lost a tooth after she said she was punched by a Chicago police officer.  
Lightfoot did not say where the statues were taken.  
She said in coming days she will announce a process to review all statues, memorials and murals.  
"This is not about a single statue or mural, but how we create a platform to channel our city's dynamic civic energy to collaboratively, purposefully and peacefully reflect our values as Chicagoans and uplift the stories of all of our diverse city's residents, particularly when it comes to the permanent memorialization of our shared heritage," Lightfoot said in a statement.
Earlier in the week, the mayor bemoaned the lack of statues in Chicago commemorating women and African Americans.   
The Grant Park statue was erected in 1933 when Chicago hosted the world's fair for the second time, while Little Italy's 9-foot-tall bronze of Columbus was originally displayed in the Italian Pavilion of Chicago's first world's fair in 1893.  
Both statues were vandalized earlier this summer.  
"It's coming down because of the activism that has led to this moment. Indigenous, Black and Brown people have been fighting for so long to see this happen," Ald. Rossana Rodriguez Sanchez, 33rd Ward, wrote on twitter. "Bye Columbus." 
But critics say by removing the statues, the mayor is giving in to rioters. Some Italian cultural group leaders have also bemoaned what they view as attempts to erase celebrations of their heritage. 
Protesters on Thursday night also crowded the streets in Logan Square near Lightfoot's home.  
Follow Amanda Vinicky on Twitter: @AmandaVinicky
---