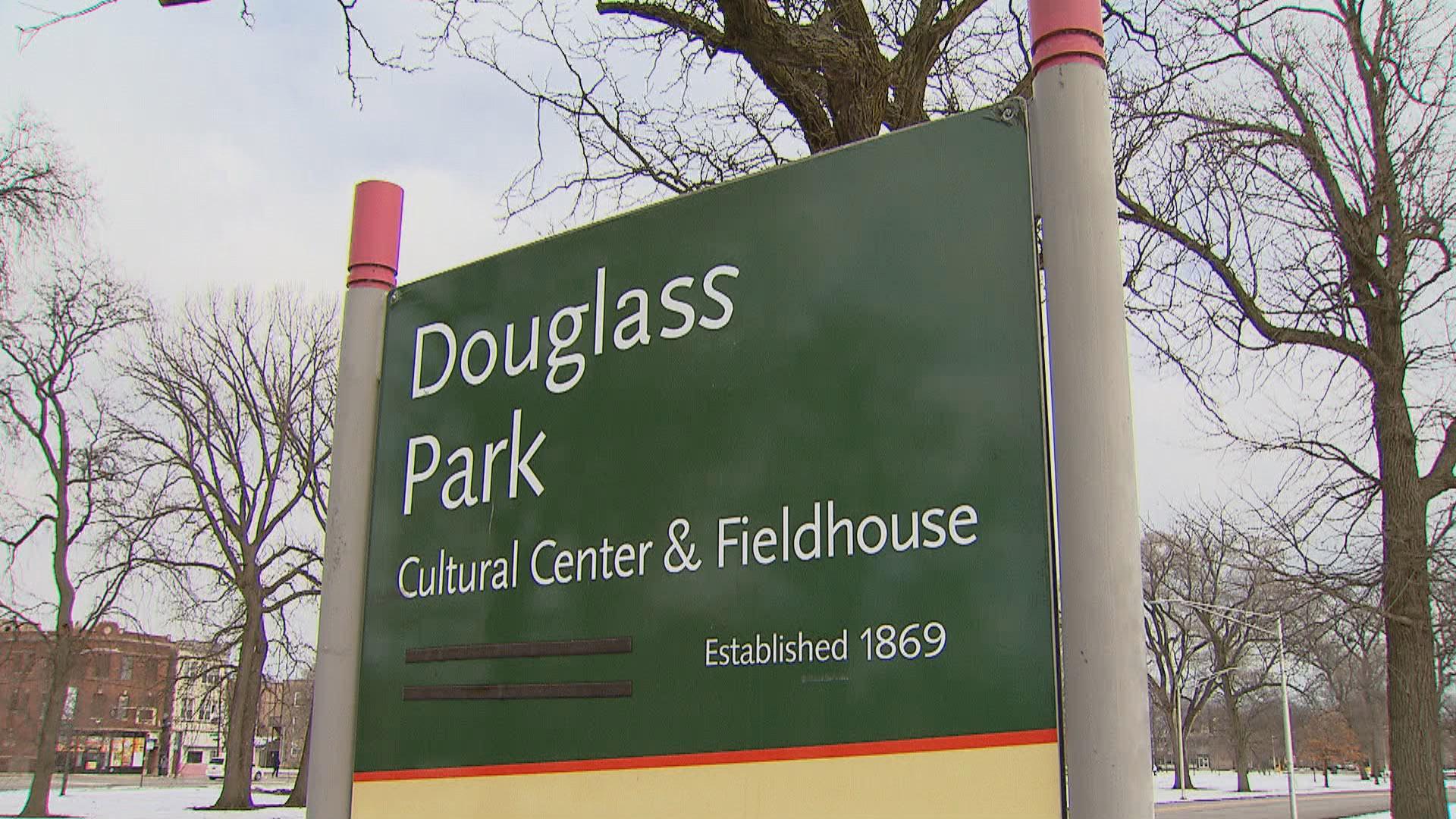 Someone took matters into their own hands and unofficially changed the name of Douglas Park on signage earlier in 2020. (WTTW News)
For the first time in memory, the Chicago Park District Board of Commissioners is preparing to strip the name of a historical figure from a park.
At a hastily scheduled emergency meeting Wednesday morning, the board unanimously agreed to initiate the process of removing Stephen Douglas from Douglas Park, and to rename the 165 acres of green space Douglass Park in honor of abolitionist and statesman Frederick Douglass.
Following a 45-day period for public comment, the board is likely to vote on finalizing the name change at its September meeting.
"We have not done this before," said Avis LaVelle, board president. "We need to be deliberative how we approach this and how we go forward."
The Park District is grappling with a number of requests for name changes and the removal of landmarks and monuments deemed racist or symbols of white supremacy. Wednesday's decision regarding Douglas Park not only sets a precedent but establishes a clearer two-step process, LaVelle said.
The first step will be a request to remove an objectionable name, with demonstrated community support. If that request is approved, the second step will be to put forth a new name that reflects the will of the community.
In the case of Douglas Park, both the removal of Stephen Douglas and the replacement name of Frederick Douglass are being considered in a single step, LaVelle explained, because members of the North Lawndale community have been advocating for the change for three years, led by students at Village Leadership Academy.
The thrust of the students' argument, which they formally presented as recently as the February 2020 meeting of the Park District Board, is that it's insulting to have a park in the predominantly Black community of North Lawndale named for Stephen Douglas, who profited from the labor of people enslaved on a plantation inherited by his wife.
"This community has made its voice heard loud and clear," LaVelle said. "Their time has come. It will be done."
Though the proposed name change still has to clear a few bureaucratic hurdles, LaVelle assured proponents of the switch: "We will get to where it is you want to go."
Students and staff at Village Leadership Academy responded to the news with a mixture of excitement and disappointment.
The board meeting was called with little notice, meaning that no one from the school was able to participate in the virtual hearing, arguably the culmination of years of advocacy.  
"At first I was overjoyed to be the first to change the name of a park," said eighth-grader Raniya Thomas. "Then I got a little frustrated. We weren't able to speak."
Her classmate, Jazzmin Johnson, said that while she was thrilled the board finally considered the name change, she would have liked to have had the chance to ask why it took so long for the board to respond to students' multiple requests.
Indeed, what should have felt like a victory seemed like an intentional snub, said Jennifer Pagan, one of the teachers who helped organize VLA students around the name-change cause. 
"After three-plus years, they called an emergency meeting without notifying us," said Pagan. "We tried to get folks to sign on, but the process was so bureaucratic, we couldn't speak. We were just watching."
If she had been able to participate, student Aryn Peterson said she would have asked the board to respond to VLA's much broader campaign, which they relaunched last Saturday. What may have started with the renaming of Douglas Park has since grown to become part of a larger fight to take down all public monuments, statues and landmarks with oppressive histories — a stance that places these middle schoolers in solidarity with activists who clashed with police last weekend over the removal of a Christopher Columbus statue in Grant Park.
Their tactics may be different, Pagan said, but the cause is the same, and the students' absence from the virtual hearing was a missed opportunity for them to pose challenging questions.
Without the students' presence or voice, it also got lost that their request for a name change to Douglass Park has been revised to honor both Frederick and Anna Murray-Douglass, his wife.
"We do want Anna included, to acknowledge and center the labor of Black women in the movement," said Pagan.
Between now and September, Pagan said students are planning to canvas North Lawndale weekly to engage community members and generate even greater support for the name change. A teach-in, resource fair and community event are also in the works.
Once Douglass Park becomes a reality, the campaign will continue and only stop when, as the VLA "Change the Name" team messaged its followers, it reaches a "liberatory future where we don't have to fight for  3+ years to change the name of a park named after a slaveholder."
Mayor Lori Lightfoot called the board's decision "an important step." Her administration, the mayor said, is in the midst of crafting a plan "to address our racial history" and "memorialize our past but also account for what's missing."
"This is now headed in the right direction," Lightfoot said, praising the students for their efforts.
---
Contact Patty Wetli: @pattywetli | (773) 509-5623 |  [email protected]