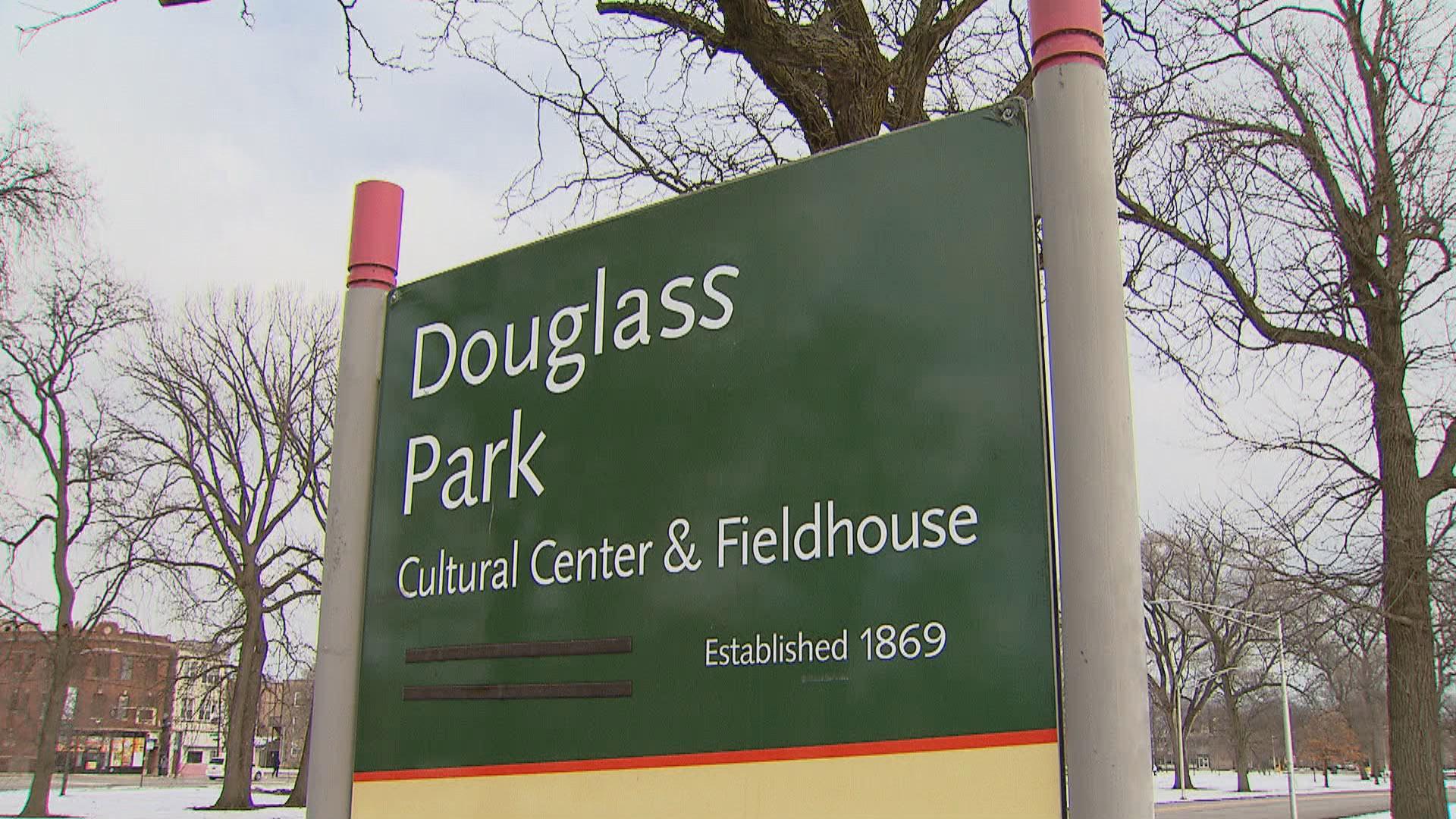 Someone took matters into their own hands and unofficially changed the name of Douglas Park on signage earlier in 2020. (WTTW News)
"Add an 's,' it's for the best."
For three years, that's been the rallying cry of students at Chicago's Village Leadership Academy (VLA), who initiated a push in 2017 to change the name of Douglas Park, which honors 19th century statesman Stephen Douglas, to Douglass Park, after Frederick Douglass, famed abolitionist, orator and intellectual.
The youths' grassroots movement hit a bureaucratic brick wall but in light of the summer's Black Lives Matter protests and the subsequent nationwide reconsideration of monuments and symbols, students are now redoubling their efforts on behalf of Douglas(s) Park. They're relaunching their campaign Saturday with a kick-off celebration, rally and student-run learning circles in the park.
"We see the political and social landscape changing," said Dayo Harris, VLA principal. "At this point, where people are speaking up, this is a prime opportunity." 
The thrust of the students' argument, which they reiterated as recently as the February 2020 meeting of the Chicago Park District Board of Commissioners, is that it's insulting to have a park in the predominantly Black community of North Lawndale named for Stephen Douglas, who profited from the labor of people enslaved on a plantation inherited by his wife.
"Honoring Stephen Douglas means honoring a legacy of slavery and racism," VLA students said at the February meeting.
In recent months, the students' cause — too often easily dismissed because of their age, Harris said — has been validated by additional calls from state representatives to remove tributes to Douglas (though not, specifically, Douglas Park).
To date, the Park District has failed to acknowledge the students' submission of a proposal to change the name of Douglas Park, and officials told the Chicago Tribune earlier this year that there was no precedent for renaming a park already identified with a historic figure. (The Park District did not respond to WTTW's request for comment.)
"I think it's kind of a false argument," said Harris. "History is something that continues to evolve and change and we continue to make it. I think we are able to evolve. We are not static, and our culture is not static and history isn't static. You have to provide room for change. We have the advantage of looking back, and you get to revise that, and reeducate people."
Indeed, the VLA students have revised the intentions and goals of their own campaign to broaden its scope and correct previous gender bias. 
Should the Park District approve the change to Douglass Park, VLA students have stated that the name will honor not just Frederick Douglass, but also his first wife, Anna Murray-Douglass, whose own accomplishments were overshadowed by her husband's. Murray-Douglass is the one who helped Frederick escape slavery, supported their family financially and set up their home as a station on the Underground Railroad.
"History kind of has rendered her silent and invisible," said Harris.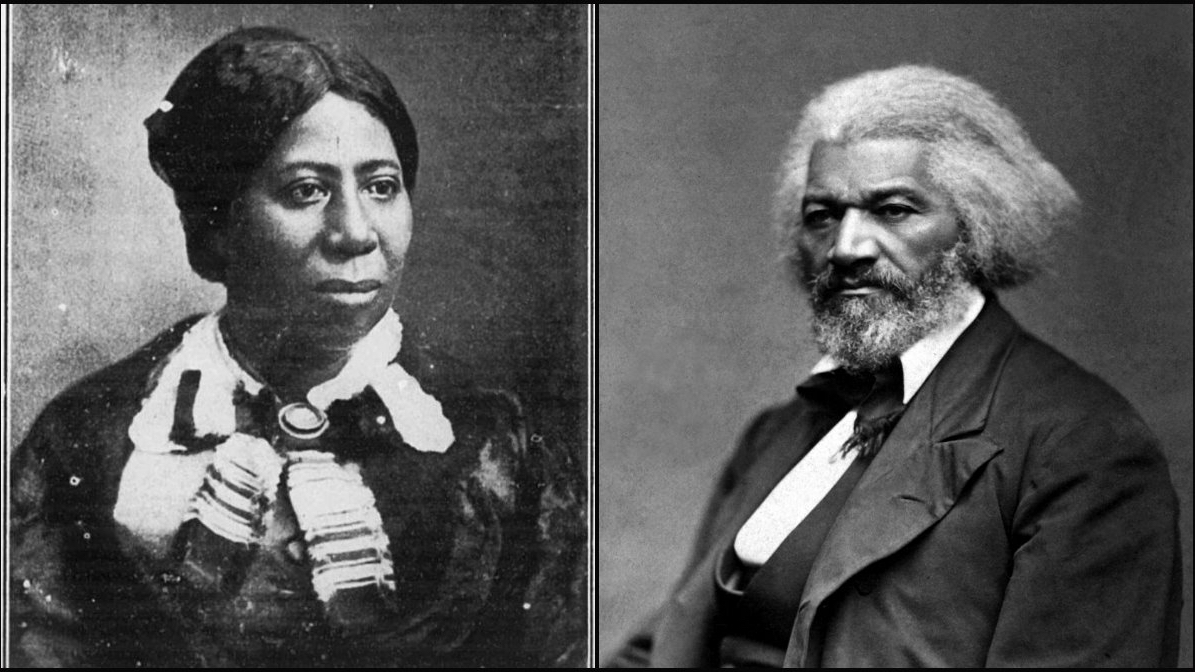 Anna Murray-Douglass and Frederick Douglass. (Wikimedia Commons)
And while renaming Douglas(s) Park remains students' top priority, it's no longer the end goal but rather the beginning. They've also set their sights on Douglas Boulevard, the Stephen Douglas tomb and memorial in Bronzeville, and removal of all public statues, portraits, landmarks, monuments and symbols of white supremacy in Chicago. They also continue to press for the creation of a Rekia Boyd playground within Douglas(s) Park, as a memorial to Boyd, who was killed in 2012 by police officer Dante Servin.
Harris said her students and staff are up for the challenge, and that includes alumni who started on the campaign three years ago, as well as their former teachers Bianca Jones and Jennifer Pagan, who helped the youth organize. A GoFundMe has raised more than $13,000 to sustain the movement.
"They're invested," Harris said of the VLA community and its allies. "We've been doing this work, not just in the moment, but they've been in this long term. It's been a valuable learning lesson — change takes time." 
Saturday's gathering will be from 2-5 p.m. at Rekia's Tree in Douglas Park (15th Street and Albany Avenue), and will observe all public health guidelines put in place during the coronavirus pandemic, Harris said.
Masks are required, plenty of hand sanitizer will be provided, and social distancing will be observed. With the heat index forecast to top 100 degrees, Harris added that water will be provided, along with food. 
"Bring a positive attitude and a willingness to learn and contribute," said Harris. "What I mean by contribute is, have these conversations with people about why it's important to have the name change, about why it's important to remove symbols of oppressive histories. We want them to become part of this campaign. And celebrate with us, it's fellowship also."
And then what?
"We don't want to do another whole yearlong campaign," Harris said. She's hoping for guidance from the Park District about the name change process, and whether students inadvertently overlooked any key steps. Barring that, if any savvy member of the public knows how that works, the VLA team would welcome the expertise.
"We at least want a response from the commissioners," she said. "Honestly, when you're looking at what's happening nationally and internationally, I'm really surprised that they haven't made a statement. Because how hard could it be, it only seems right."  
For more information about the campaign, visit the group's Instagram page.
The next meeting of the Chicago Park District Board of Commissioners is scheduled for Aug. 12 at 11:30 a.m.
---
Contact Patty Wetli: @pattywetli | (773) 509-5623 |  [email protected]