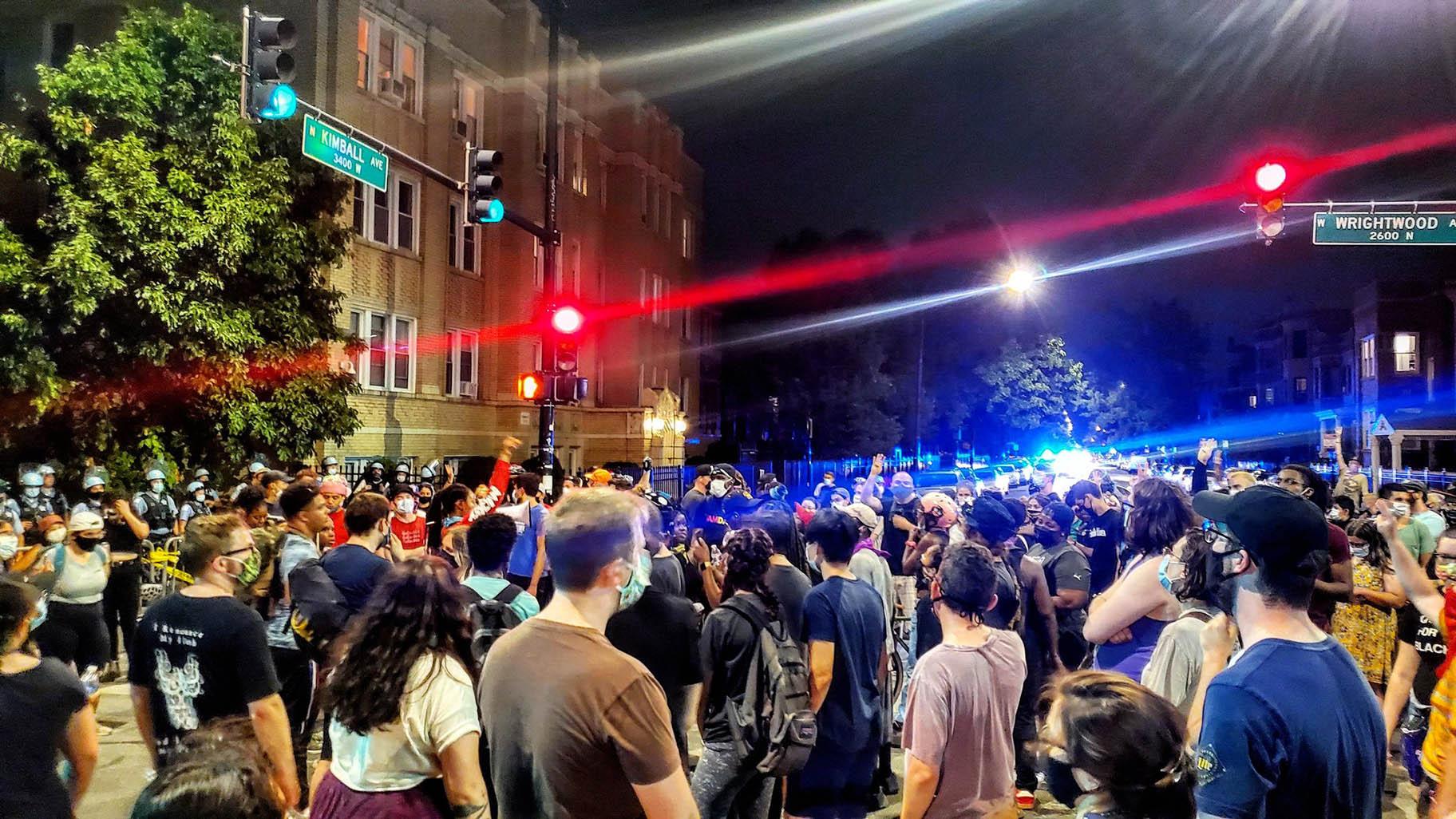 Protesters and police gather in the Logan Square neighborhood on Saturday, July 18, 2020. (@soit_goes / Twitter)
Hundreds of protesters gathered near Mayor Lori Lightfoot's Logan Square home late Saturday, continuing calls to defund the Chicago Police Department, end police presence in Chicago Public Schools and demand the district reverse stated plans to reopen schools in the fall amid the COVID-19 pandemic and instead implement fully remote learning.
Alycia Kamil, an activist with the organization GoodKids MadCity, said with CPS' current plan to reopen schools, "Lightfoot is putting children's health at risk, and not taking into consideration the lack of access most Black and Brown students have when it comes to tools at home such as laptops or even internet access."
Police in riot gear barricaded the mayor's block and a CPD armored vehicle was present as activists marched, chanted, sang and danced in the blocks surrounding the mayor's home.
"They come with war ready tactics for some unarmed teenagers," Kamil said. "It's ridiculous. I've become desensitized to war and scare tactics which is so worrisome to me because I know it can only really get worse."
In what has become a signature tactic at recent protests, activists looked up badge numbers of officers present at the scene and read aloud from an online database allegations of abuse and misconduct against those officers.
Saturday night's demonstration marked a comparatively peaceful follow-up to the events of Friday night, when an attempt by protesters to tear down the Christopher Columbus statue in Grant Park took a violent turn. Activists say police used tear gas on the crowd and beat some participants; according to a statement from CPD, some protesters threw frozen water bottles, cans and rocks at police officers, who were clad in riot gear.
The Civilian Office of Police Accountability announced Saturday afternoon it had opened investigations into "the most egregious complaints" alleging police misconduct during Friday's protests.
"Residents of this City have a right to exercise their First Amendment rights," COPA Chief Administrator Sydney Roberts said in a statement. "As the civilian led oversight body of the Chicago Police Department we take every complaint seriously, conduct our investigations with the utmost integrity and remain accountable to the residents of this City."
Mayor Lori Lightfoot addressed Friday night's protests in a statement, saying her administration had been in the process of developing a plan for public monuments as well as condemning violence on the part of both activists and police officers.
"It is my sincere hope that we can strike the right balance to ensure people can rightfully express themselves and their First Amendment rights, but to do so in a way that does not put anyone's physical safety at risk," Lightfoot said.
Among those making allegations of police brutality is 18-year-old Miracle Boyd, who was captured on cellphone video getting hit in the face by a CPD officer, which knocked out and broke Boyd's front teeth.
Boyd and other members of GoodKids MadCity announced they will hold a press conference on Monday to discuss the clash with police in Grant Park.
Chicago Police have brought a tank to the #BlackLivesMatter demonstration down the block from Mayor Lightfoot's house. pic.twitter.com/9B2fvhbr8s

— agitator in chief (@soit_goes) July 19, 2020
---
Dozens of riot cops on foot with pepper spray and batons out threatening to arrest #BlackLivesMatter demonstrators marching inaylr Lightfoot's neighborhood. pic.twitter.com/Iwcl7cQdeu

— agitator in chief (@soit_goes) July 19, 2020
---