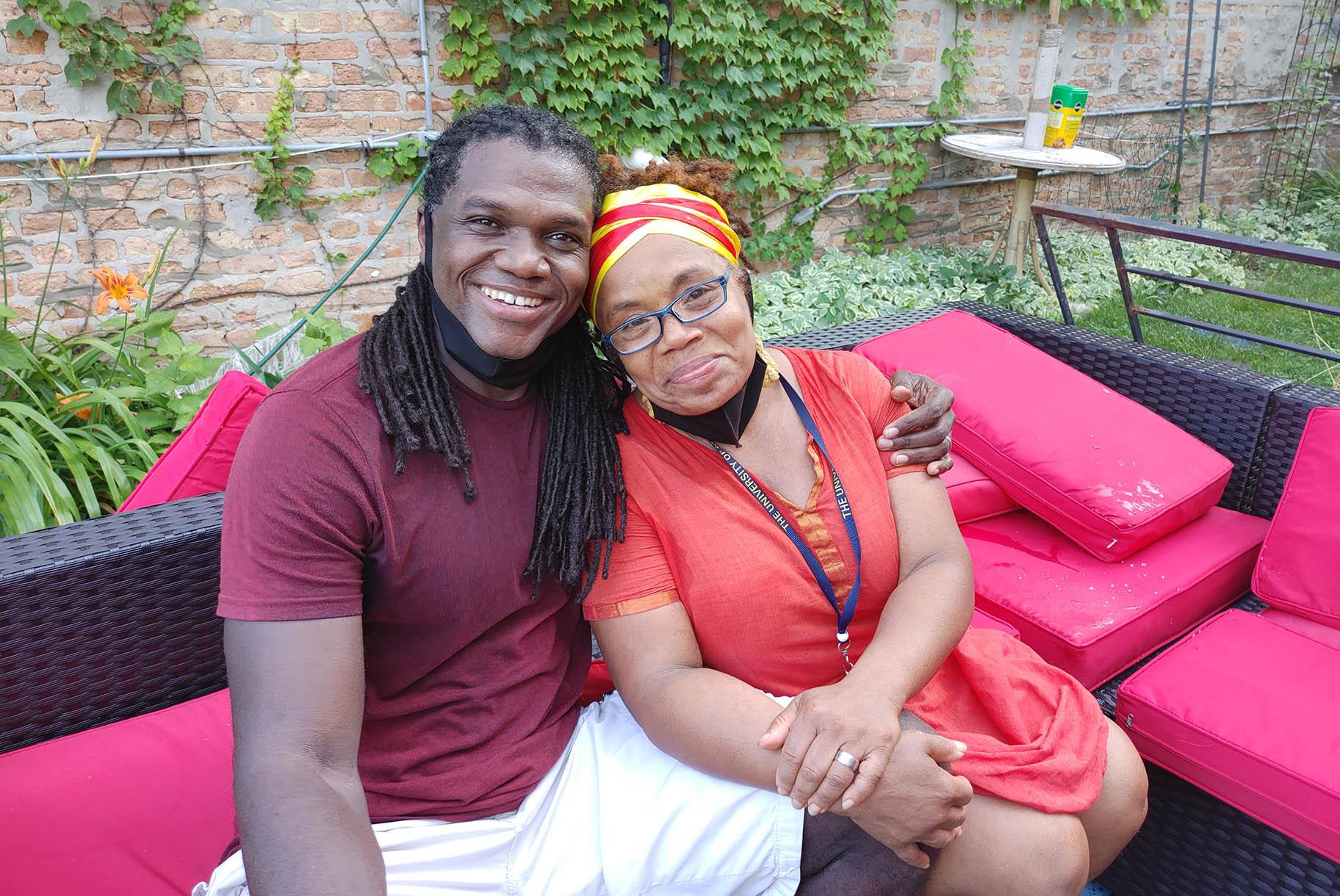 Jean-Paul Coffy and Yakini Ajanaku (Erica Gunderson / WTTW News)
Every day for 105 days, married musicians and educators Yakini Ajanaku and Jean-Paul Coffy made their front porch a stage for musical communion with their neighbors. 
Starting on a chilly March 22 — the day after Gov. J.B. Pritzker's initial stay-at-home order took effect — the musical marathon ran all the way through to a sticky-hot July 4, as the couple played and performed world beats, house music, R&B and gospel in front of their Kenwood home.
Ajanaku and Coffy say they kicked off the daily concerts in the spring as a way to help their block stay connected through the long days of quarantine due to COVID-19.
"For us, music became our calling, our tool that we can contribute throughout this. The mic is our social-distance tool. This has been our way to commune and give back to our community. And we're honored!" said Ajanaku.
The streak ended in an hourslong celebration centered on the couple's brick three-flat on Lake Park Avenue. Ajanaku held court on the microphone over thumping house music rhythms, singing out affirmations and thanks to neighbors while Coffy amplified the beat on a snare drum. Socially distanced line dances broke out on the sidewalk and in the street among families who had gathered in front of their homes to spend the day barbecuing and listening to the music.
Though the Coffys led the effort, it was their neighbor and friend Ricky Jackson who lit the spark. Inspired by videos of Italians playing homespun music during their coronavirus pandemic-induced shutdown, Jackson began banging pots and pans in front of his own home to celebrate health care workers.
"I was banging on a skillet with a wooden spoon, and my neighbor, Ghian [Foreman] came out and brought his drums. The next day, he mentioned that to Yakini and Coffy, and … bam. They brought out the speakers, the drums, the music and just took it to an entire other level," said Jackson.
Ajanaku and Coffy said the infectious energy they brought to the porch performances just comes naturally for them.
"Because the rhythms are inside of me, the energy, this isn't work. My son created a word when he was five, F-U-R-K-I-N-G. It means 'fun at work.' So that's what we're doing, we're furking," said Ajanaku.
Jackson said he was as impressed by the couple's dedication to daily performances as much as their enthusiasm.
"The commitment to me is just unbelievable. The energy that you see there? It's every day. It might be raining, but they'll be out there. It's just uplifting. They're just a fantastic couple," said Jackson.
At their final performance, Jackson presented the Coffys with a banner from the neighborhood thanking them, a gesture that brought Ajanaku to tears as she thanked him from her porch.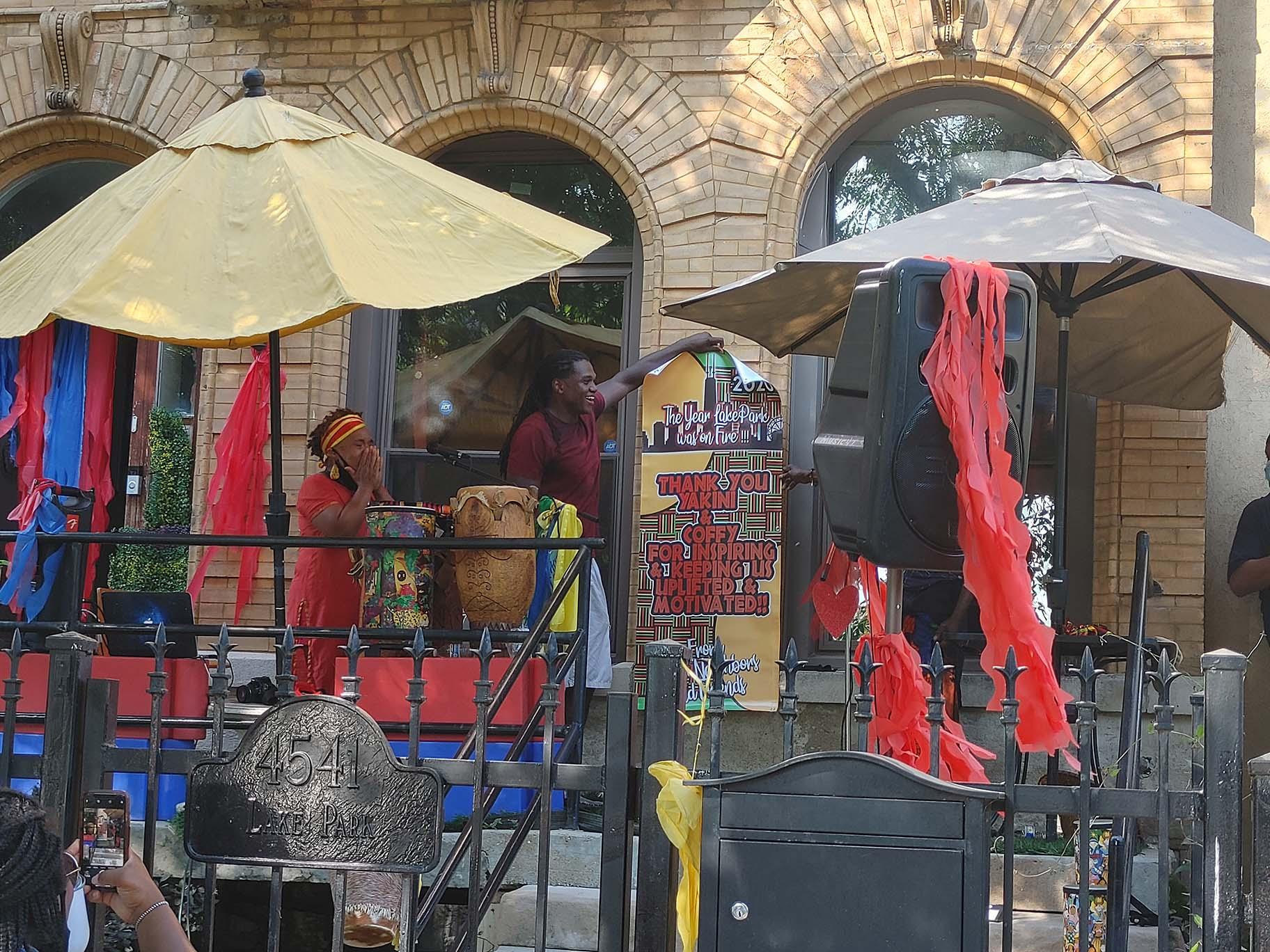 (Erica Gunderson / WTTW News)
As she enjoyed the music from her front lawn two doors down from Ajanaku and Coffy, Dr. Iva Carruthers said the performances were something the whole block came to rely on and look forward to. 
"It's a way to communicate to people in ways that are very healing. To be able to see how this has been such an anticipated moment every day for 100-plus days for all the people on the block has been such a privilege and pleasure. The global music that they are so gifted at playing has made it a kind of a model for how to get through these tough times as a community."
Haitian-born Coffy said that Carruthers isn't alone in her appreciation of the world beats he sprinkles among pop and R&B hits.
"To me, music is truly universal," he said. "I play music from Nigeria, Kenya, Germany, France, India, Egypt, because I've been to all those places and those artists are my friends. And I announce it when we play the music, like hey, we're going to Brazil now! We're traveling to Trinidad! And then people text me and ask, 'Where is that song from? I don't know what they're saying but man, that rhythm is awesome!'"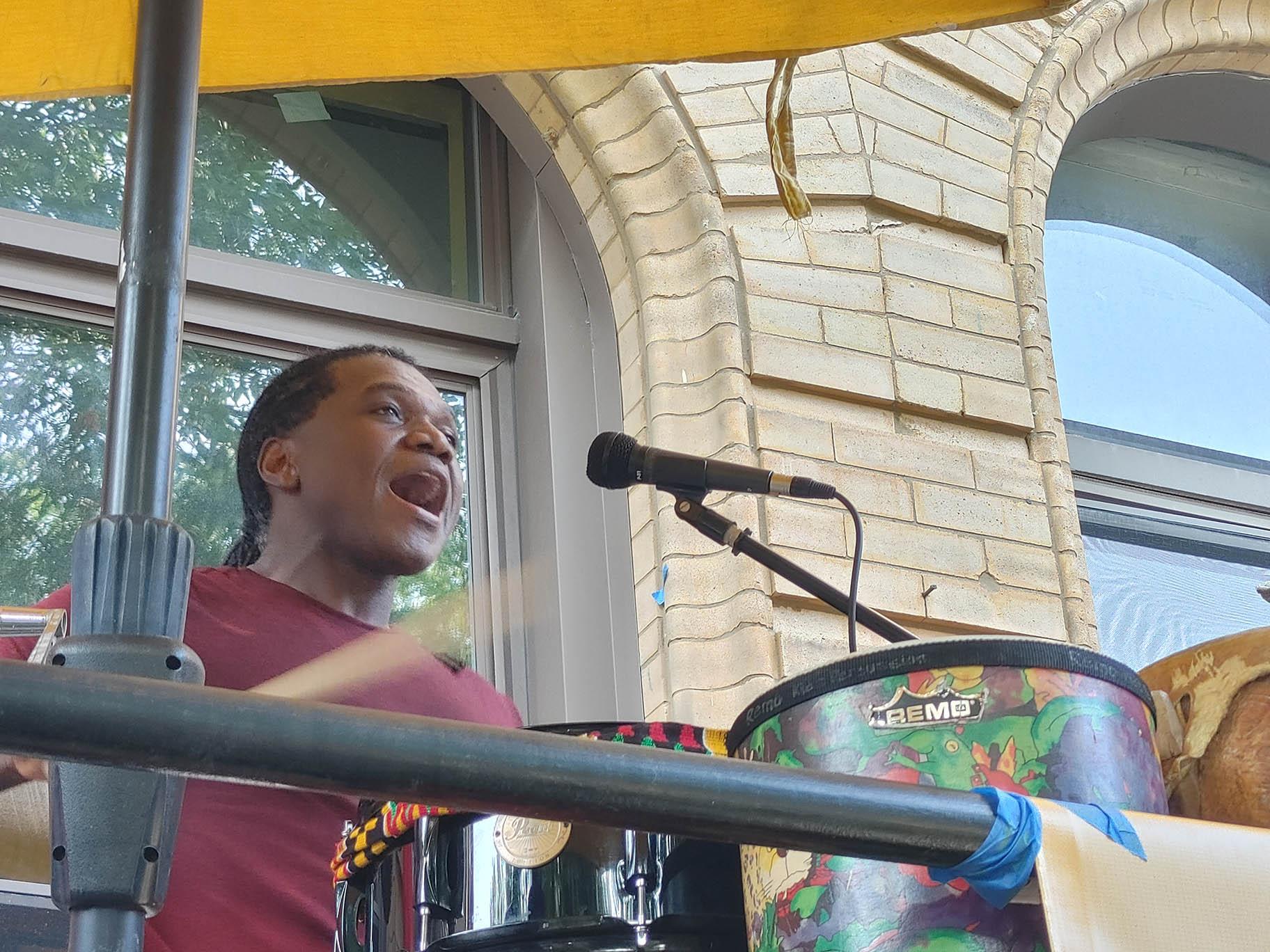 Jean-Paul Coffy (Erica Gunderson / WTTW News)
Though most of the people at the July 4 celebration were from the neighborhood, visitors from elsewhere in the city set up on the parkway in front of the couple's home to listen to their performance and join the dancing too.
"It's brought all the neighbors out, and I just think that's a great way to be together," said Nicole, a visitor from the nearby Bronzeville neighborhood. 
Her friend Naomi, who joined her from Uptown, added, "I am so sad I didn't know about this before!"
Prior to the stay-at-home order, the Coffys ran a child care center, La Grande Famille, out of their home. For now, they're continuing to teach children and seniors through virtual music classes, but they say that the pandemic has made the future of their business uncertain. 
"We really don't want to reopen because we want to see how this wave of infection is going to play out. My wife has preexisting conditions, I have preexisting conditions," said Coffy. "So a reopening is really dependent on how the second and third waves of the virus go."
Though Ajanaku and Coffy planned to end their July 4 concert at 6 p.m., neighbors clamored for them to continue the music into the night and beyond, a request they happily obliged. 
With the daily performances at an end, Coffy said he was unexpectedly sad for his wife, who he describes as a "people person," to lose the daily connection with the neighbors she's come to see as her new family. "I love to see the way she lights up out there," he said.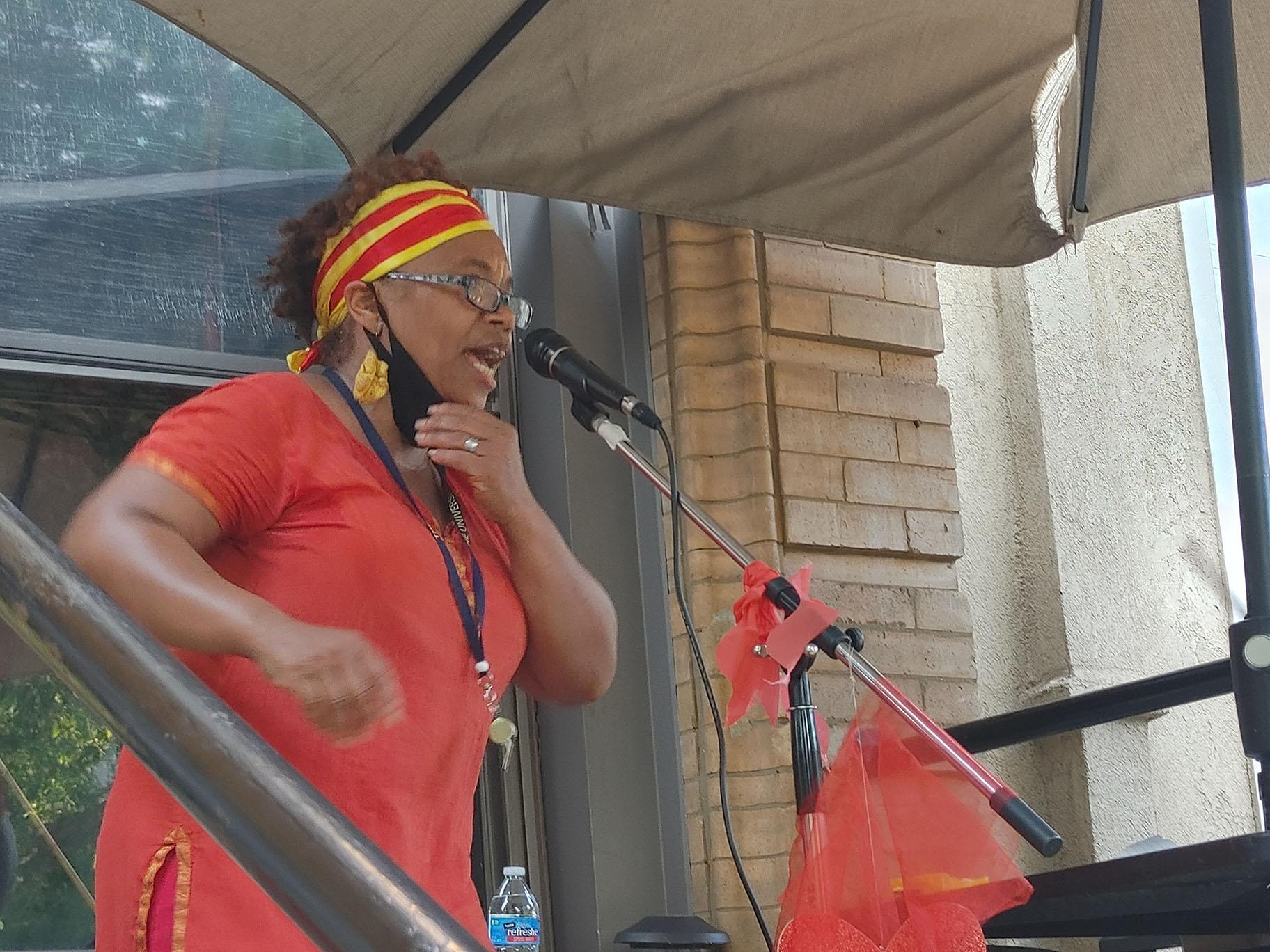 Yakini Ajanaku (Erica Gunderson / WTTW News)
But Ajanaku is optimistic about how the energy they created on their block could be duplicated in other communities. 
"I'm hoping it opens other avenues and doors so we can reach other people through music, especially in the communities where there's violence," said Ajanaku. "I believe that when you hear the music and come out to listen, we create a different portal to connect with people, to their higher self. We know you change a city by one individual, one house, one block, one community. For us we want to call out to the city and different officials who can make change and say, how can you take this model and spread it? It's the consistency and continuity that allows people to trust."
But no matter what comes next for Ajanaku and Coffy, Ricky Jackson says the three months of daily music fundamentally shifted the feel of their community. "I no longer just say hi to the neighbors – now I know who they are, I know their name," he said. "It's brought about that feeling of neighborhood, of community, of belonging. It's changed this block."
---