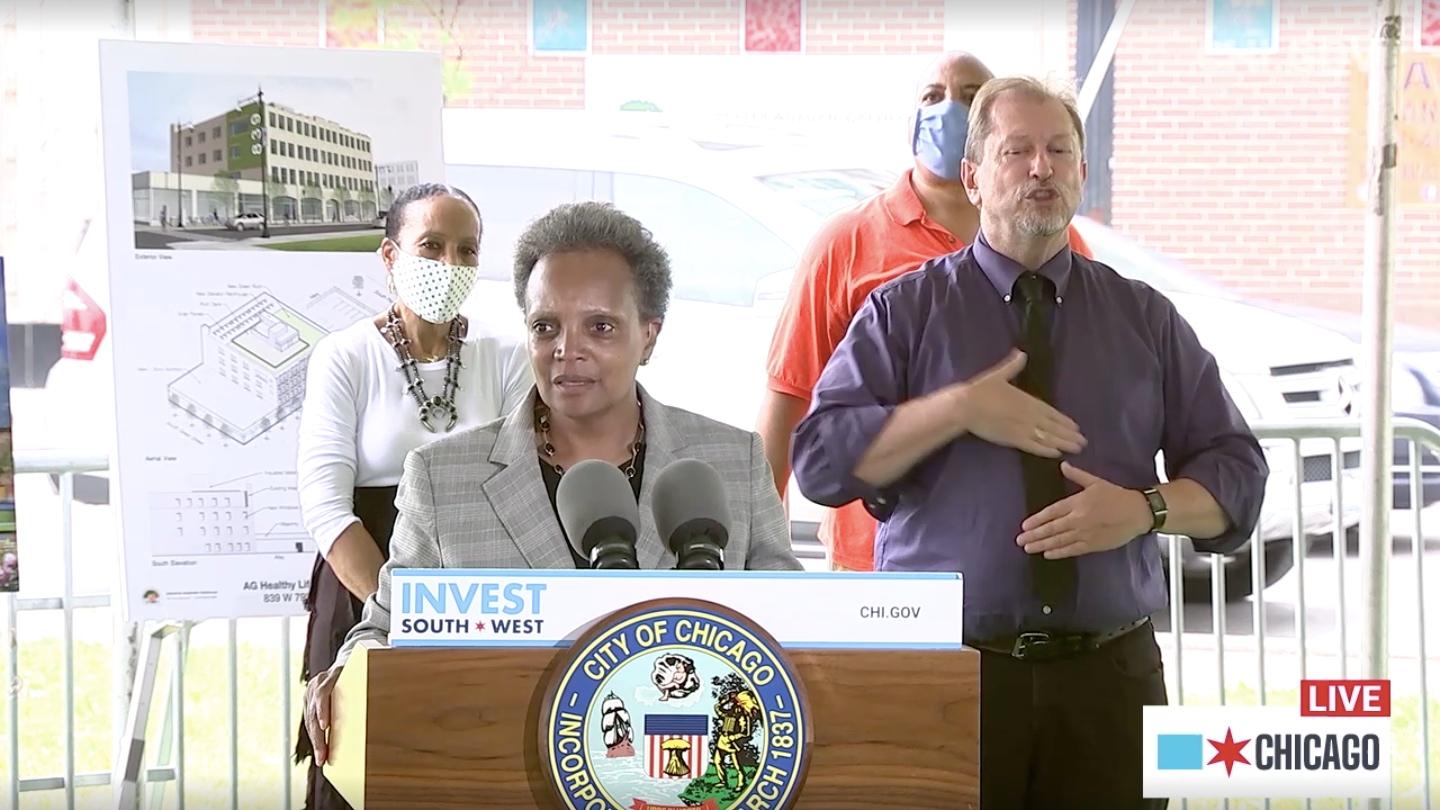 Mayor Lori Lightfoot announces 1 million in investments in the South and West Sides on Monday, June 29, 2020. (Screenshot via Chicago Mayor's Office / Facebook)
On Monday, Mayor Lori Lightfoot announced $11 million in grant funds to be split between a pair of projects that will address health care deserts in the Auburn Gresham and North Lawndale communities, as part of the city's INVEST South/West initiative.
The dollars are coming from federal monies received via the CARES Act.
The announcement, made in the wake of another weekend of fatal shootings, demonstrated the holistic approach being taken to stem violence in the city, Lightfoot said, by tackling disparities that have created a "chasm of opportunity and hope" in Chicago. 
"This can't be solved by CPD (the Chicago Police Department) alone," Lightfoot said. "We need to commit to each other. We've got to change our actions and our attitudes. We've got to give everyone a sense of hope." 
The funds will close capital gaps for two long-gestating developments.
The $12.4 million Auburn Gresham Healthy Lifestyle Hub will receive $4 million from the city "to get them across the finish line," said Maurice Cox, commissioner of the Department of Planning and Development. 
The Greater Auburn Gresham Development Corporation (GAGDC) is developing the Healthy Lifestyle Hub, renovating a vacant four-story building on 79th Street. 
For too long, vacant lots and vacant buildings have formed the backdrop to existence in Auburn Gresham, a once thriving community that was decimated by white flight and decades of disinvestment, said Carlos Nelson, CEO of the GAGDC.
"We're standing on the representation of systemic, structural racism," said Nelson.
The Healthy Lifestyle Hub will provide a range of health services covering physical, emotional and mental well-being, and will double as a digital community center to promote lifelong learning. The hub will also house restaurants, with menus that will incorporate healthier vegan and vegetarian options, Neslon said.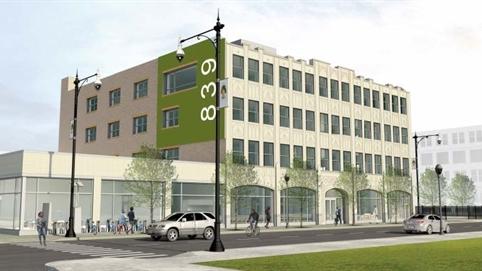 A rendering of the planned Auburn Gresham Healthy Lifestyle Hub. (Courtesy of Greater Auburn Gresham Development Corporation)
The second project is Mt. Sinai Hospital's $12.3 million North Lawndale Surgical and Ambulatory Care Center, which will receive $7 million from the city. 
The care center is part of the larger $200 million Ogden Commons development, rising up on a 10-acre site in the footprint of the Chicago Housing Authority's former Ogden Courts and Lawndale Complex. The mixed-use, mixed-income development, located on Ogden Avenue between Western and California avenues, is currently in the first phase of construction.
"We're at a pivotal moment and this sort of financial commitment means much more than bricks and mortar; it's about ensuring vitality, employment, safety and good health in a part of Chicago plagued with disparities," said Karen Teitelbaum, president and CEO of Sinai Health System.
The care center will include a renal dialysis center running four shifts, reflecting the community's needs, Teitelbaum said.
Both Nelson and Teitelbaum pointed to the way COVID-19 highlighted and exacerbated inequities that led to African Americans dying from the virus at disproportionately higher rates.
The fatality rate at Mt. Sinai was 18.8% compared with 4.5% citywide, Teitelbaum said, in large part because so many of the hospital's patients had underlying conditions such as diabetes. 
Nelson noted that an Auburn Gresham resident was Chicago's first recorded death attributed to the coronavirus. 
"The toll COVID-19 has taken in our community has been pretty dramatic," Nelson told WTTW News back in April.
INVEST South/West was announced in fall 2019 as the Lightfoot administration's signature program to jump-start transformation in neighborhoods that had suffered from longstanding neglect.
Auburn Gresham and North Lawndale are two of the 10 communities targeted by the city for investment, and the $11 million announced Monday is "tangible evidence" that INVEST South/West is a priority, said Cox.
When COVID-19 hit, Cox said his team began looking at projects already in the pipeline that had an emphasis on community health.
The health hub and care center "came into very, very sharp focus" as projects that spoke not only to the crisis at hand but had the potential to play a "foundational role" in delivering sustainable change, Cox said.
Contact Patty Wetli: @pattywetli | (773) 509-5623 |  [email protected]