Home to many seniors and essential workers, Chicago's Auburn Gresham neighborhood on the South Side has seen a disproportionately high rate of COVID-19 infections, with 664 confirmed cases reported in the area's zip code as of Tuesday. 
The community has become "the epicenter of this crisis in the black community here," said Carlos Nelson, CEO of the Greater Auburn Gresham Development Corporation (GAGDC). "The toll COVID-19 has taken in our community has been pretty dramatic." 
Nelson says the pandemic has exacerbated longtime disparities in the community. One of the biggest, he says, is access to health care. 
"We're not only a food desert, [where] access to fresh food is slim to none, but we are a health desert … we don't have a health center that is accessible in the community," he said. 
Before the pandemic, the GAGDC operated economic development programs and social services in the neighborhood, ranging from youth development to small business grants to housing aid for seniors. 
But once COVID-19 arrived in the neighborhood, Nelson says his group has "to pivot entirely as an organization."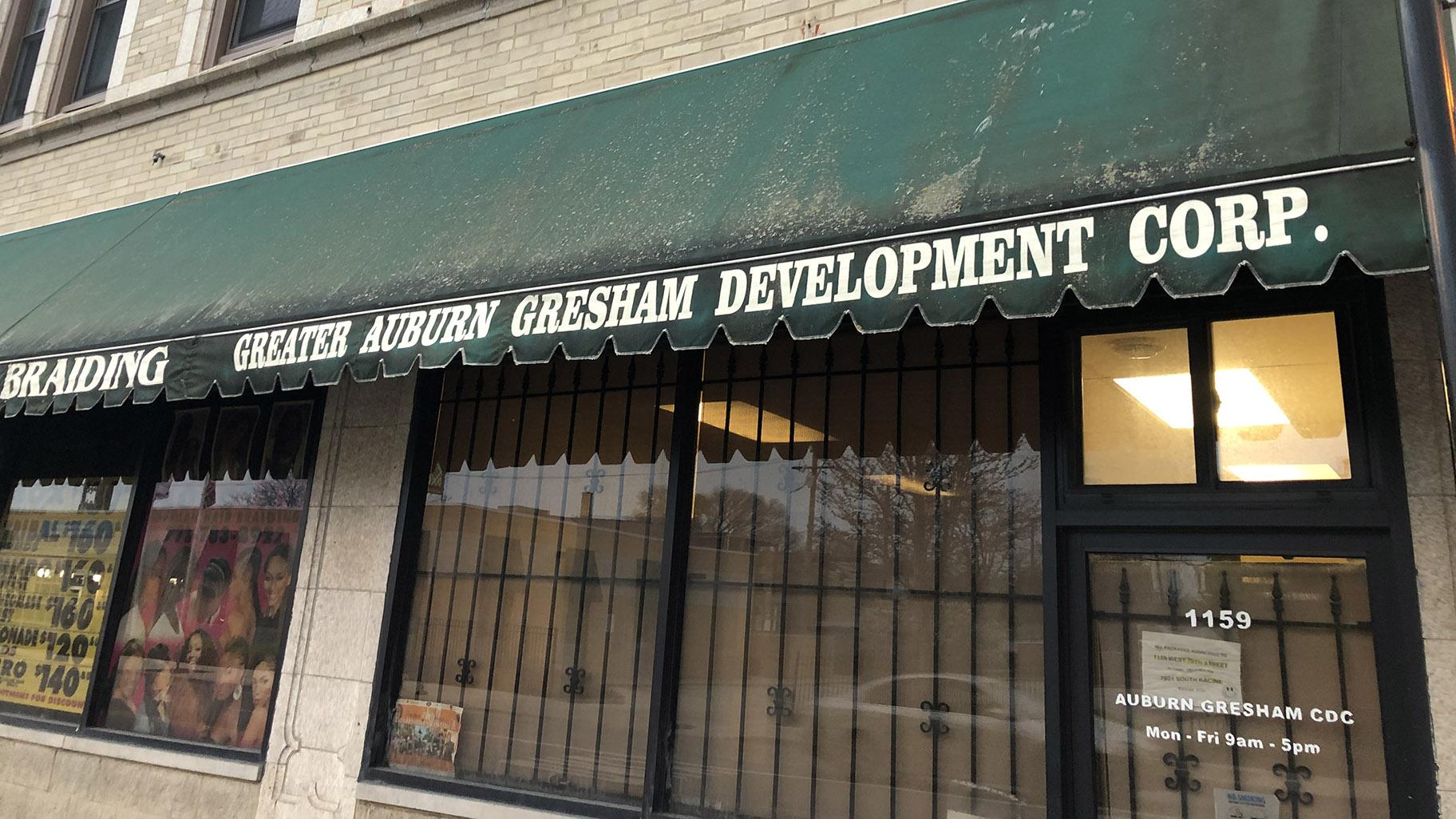 The Greater Auburn Gresham Development Corporation (Quinn Myers / WTTW News)
That's meant delivering food to seniors and vulnerable populations, passing out masks several times a week, and offering rental and mortgage assistance to residents.  
The group is also coordinating what they're calling "street activations" in neighborhood spots where residents continue to gather, in an effort to provide information about the dangers of the coronavirus. 
"So the message … is really to these folks that are disconnected, 'Hey, please, protect yourself, and if you're not interested in protecting yourself, protect your family members, protect your grandparents, your aunts, uncles or whomever else you live with,'" Nelson said. 
And like in many communities across Chicago, Auburn Gresham's small businesses are being hit particularly hard by the pandemic. Nelson says many have been unable to access federal stimulus measures. 
"We already have too many vacant storefronts and vacant buildings … and not enough commerce," Nelson says. "Locally owned businesses are certainly struggling and many do not have the acumen to go after some of these [Small Business Administration] loans, and some are fearful because the term 'loan' is in there."
---
Community Reporting Series
"Chicago Tonight" is expanding its community reporting. We're hitting the streets to speak with your neighbors, local businesses, agencies and leaders about COVID-19, the economy, racial justice, education and more. See where we've been and what we've learned by using the map below. Or select a community using the drop-down menu. Points in red represent our series COVID-19 Across Chicago; blue marks our series "Chicago Tonight" in Your Neighborhood.