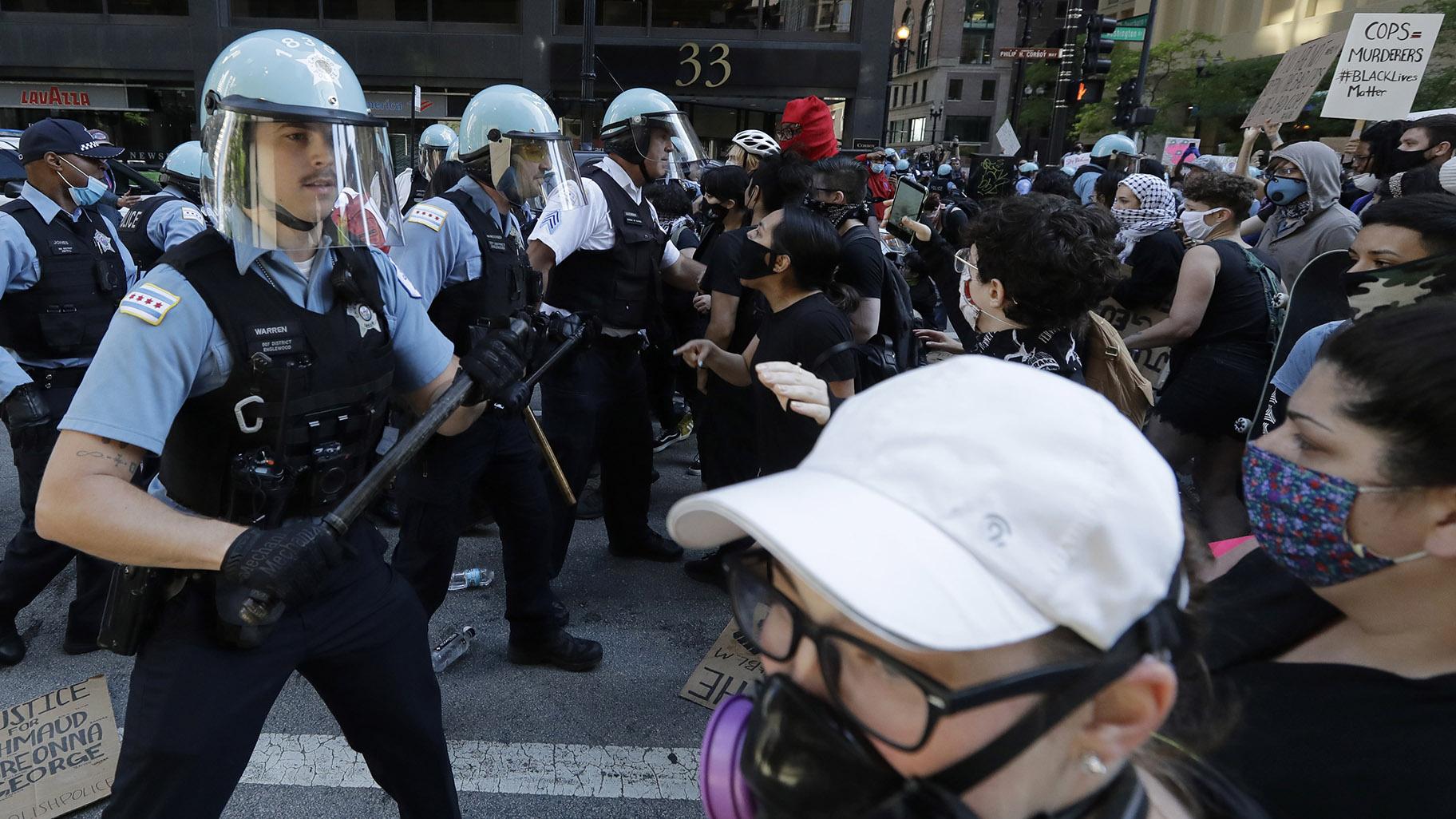 Chicago Police officers and protesters clash during a protest over the death of George Floyd in Chicago, Saturday, May 30, 2020. Floyd died after being taken into custody and restrained by Minneapolis police on Memorial Day in Minnesota. (AP Photo / Nam Y. Huh)
The Chicago Police Department's Bureau of Internal Affairs and the Civilian Office of Police Accountability are investigating 371 complaints filed against officers for their response to protests sparked by the death of George Floyd in the custody of Minneapolis police, records show.
A majority of complaints — 56% — alleged that officers used excessive force during the protests, according to the data released by COPA. Another 25% of complaints alleged that officers violated the 4th Amendment by improperly searching them, according to the data that detailed protest-related complaints from May 29 to June 11.
The number of complaints peaked on June 4, according to the data. However, that was after the violence and looting touched off by the protests had stopped and massive, peaceful protests swept the city.
COPA officials designated a complaint as related to the protests based on information provided by the complainant.
Sixty percent of the complaints came from six North Side and downtown police districts, where the majority of the protests, but not the unrest, took place, according to data that identified the location of 196 complaints.
COPA has 139 open protest-related complaints, and referred another 232 complaints to the Bureau of Internal Affairs, according to the data.
One of the complaints of excessive force was filed by Chicago Police Board President Ghian Foreman, who says he was struck by police five times on his legs with their batons on May 31, as first reported by WTTW News.
"As with all investigations within our jurisdiction we will conduct an integrity based and thorough investigation based on facts and evidence," said COPA spokesperson Ephraim Eaddy.
COPA leaders recommended that six Chicago police officers be restricted in their duties or stripped of their police powers in response to protest-related complaints.
Two of those requests have been granted while four cases are "pending officer identification," according to COPA.
One of the officers stripped of his police powers was allegedly captured on video on May 30 near Grand Avenue and State Street using a gay slur during a confrontation with protesters.
The other officer to be relieved of his police powers was photographed extending his middle fingers toward peaceful protesters in Lincoln Park on June 6.
Mayor Lori Lightfoot called for the officer who made the vulgar gesture to be fired.
Lightfoot has repeatedly said that officers who violate departmental rules do not "share our values" and will be removed from the police department. However, she also praised the conduct of most officers during the protests and the unrest.
"If any officer is found to have participated in excessive force, they will be held accountable," according to a statement from the Chicago Police Department.
It is exceedingly difficult to fire a police officer in Chicago. Any recommendation by the superintendent to do so must be upheld by the Chicago Police Board. That decision can be challenged in court.
The Chicago Police Department is under the oversight of U.S. District Court Judge Robert Dow after a 2017 investigation by the Department of Justice found Chicago officers routinely violated the rights of Black and Latino Chicagoans. The investigation was ordered after a white Chicago police officer shot Laquan McDonald, a Black teenager, 16 times, causing an outcry.
Independent monitor Maggie Hickey is investigating the conduct of Chicago police officers during the protests and violence that began May 30 and continued for several days.
The mayor's office said in a statement Lightfoot welcomed the oversight.
Contact Heather Cherone: @HeatherCherone | (773) 569-1863 | [email protected]
---