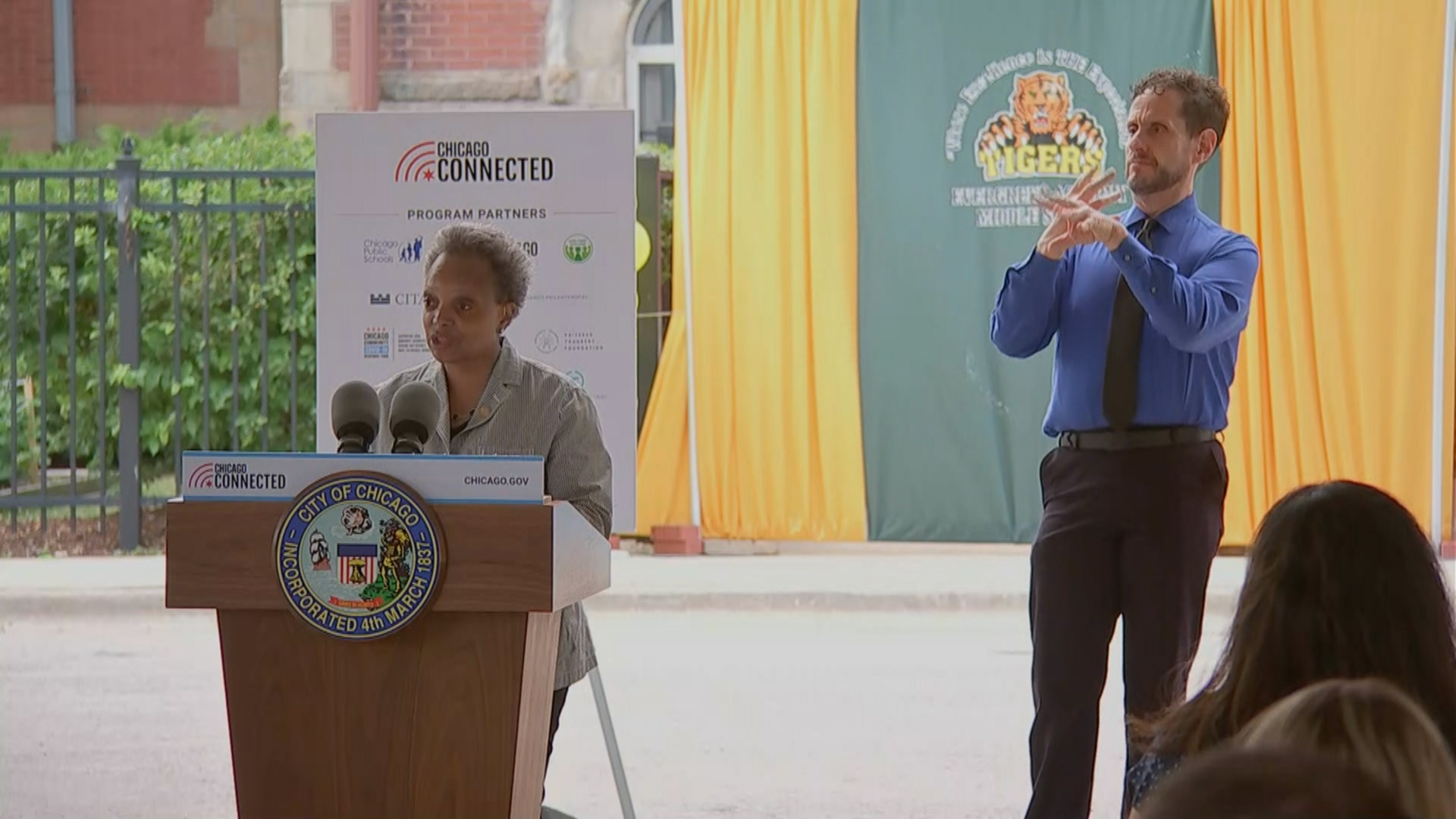 Mayor Lori Lightfoot announces the launch of "Chicago Connected" on Thursday at Evergreen Middle School. (City of Chicago)
More than 100,000 Chicago Public Schools students will soon have free access to broadband internet through a first-of-its-kind initiative aimed at helping the kids and families who are most in need in the city.
With the possibility of remote learning returning this fall, Mayor Lori Lightfoot on Thursday announced the launch of "Chicago Connected," a $50 million program that will provide free high-speed internet to students over the next four years.
"We have to do everything that we can to close the digital divide and I am grateful and happy that we are starting with our CPS students," she said during a press conference at Evergreen Middle School on the South Side. "We as a city can simply not afford to wait any longer to provide our residents the basics they need to be successful, to be part of a city and the opportunities that this amazing city provides to all."
The program will provide high-speed internet to households by directly paying for that service for the families who are "most in need" based on several criteria, including those suffering from homelessness, those eligible for free lunch and those with special needs.
CPS said it will begin reaching out to families as early as next week in the hopes of connecting with as many of those 100,000 students as possible before the 2020-21 school year begins in September.
Free high-speed internet.
100,000 @chipubschools students. https://t.co/9lWwFIZtwG pic.twitter.com/txcZSjKDnN

— Mayor Lori Lightfoot (@chicagosmayor) June 25, 2020
---
The bulk of the funding for this program is coming from philanthropic donors, including billionaire Ken Griffin, Crown Family Philanthropies, and Barack and Michelle Obama. The city will also use $5 million in CARES Act dollars to fund the first two years of "Chicago Connected," while CPS will fund the third and fourth years.
The announcement comes after CPS already distributed more than 125,000 digital devices and thousands of internet hot spots to students, according to district CEO Janice Jackson, when the COVID-19 pandemic shut down school buildings and made remote learning necessary.
Engagement data from the district showed that while more kids did regularly take part in digital classes as remote learning went on, some minority and high-need populations had fallen behind. CPS was also unable to contact more than 2,000 students during this period.
Jackson said "Chicago Connected" will help solve that problem by giving the district more avenues to try and reach families.
"If we don't have good contact information as people move around, that makes it more difficult for the schools to stay in touch," she said. "This access, I think, is a game-changer because it will allow us to have other modes of communication with families."
Gov. J.B. Pritzker this week announced that schools statewide will reopen for in-person instruction this fall, but with requirements for social distancing and personal protective equipment, as well as a 50-person cap on the number of people who can be in a single area.
Jackson said CPS has been working on its reopening plan for two months and will release a draft version of that plan in the coming weeks before opening it up to public comment. But whether they're at home or in the classroom, Lightfoot said the improvements promised through "Chicago Connected" will help students learn in the fall.
"It's not just about in-school (or) remote learning, it's about giving power and access to our families," she said. "This is something that's been needed for a very long time."
The district said that expanding internet access is just the first phase of a larger effort by the city, which is evaluating other ways to improve its internet infrastructure in other communities in need beyond CPS families.
Similar investments are being made statewide, as Pritzker on Wednesday announced what he called the state's largest-ever broadband expansion initiative – a $115 million program that's aiming to expand internet access for more than 26,000 homes, businesses, farms, and community institutions across Illinois.
Kids First Chicago, a local education nonprofit, and the Metropolitan Planning Council released a report which found that about one in five Black or Latino children under the age of 18 lack access to broadband in their homes.
Daniel Anello, CEO of Kids First Chicago, said the pandemic has revealed just how necessary reliable internet access has always been for students and families.
"Increased internet access will provide a plethora of telehealth, economic and other ancillary benefits," he said in a statement, "in addition to closing the digital divide which contributes to a significant racial equity gap in our city."
Contact Matt Masterson: @ByMattMasterson | [email protected] | (773) 509-5431
---