Chicago will move into phase four of its reopening plan on Friday, along with the rest of the state.
During an annoucement of that plan earlier this week, Dr. Allison Arwady, commissioner of the Chicago Department of Public Health, said the city had "blown right past the benchmarks" set for entry into phase four. 
Among those requirements: a citywide positivity rate – the percentage of people who test positive for the virus – below 7%. On Monday, the positivity rate was 4.9%, and by Thursday it was 4.4%.
An analysis of the city's COVID Daily Dashboard shows the majority of ZIP codes have positivity rates at or below those needed to move into phase four, according to data for the week ending June 13 – the most recent data available. However, a handful of ZIP codes had positivity rates at the higher end of the threshold to move forward, ranging from 10% to 13%.
But one ZIP code – 60639 – had a positivity rate of 15.3% as recently as the week ending June 13, which, according to the city's initial reopening plan, would be considered a phase two rate.
"We know that there are always going to be different parts of the city that are going to be at different points in terms of percent positivity," Arwady said Thursday in an interview with "Chicago Tonight." "And because percent positivity is really the number of positive tests divided by the total tests (completed) in that ZIP code, where we have ZIP codes with higher percent positivity, it tells us we need to do more testing in that area because there are more people in that area compared to the number of tests being done."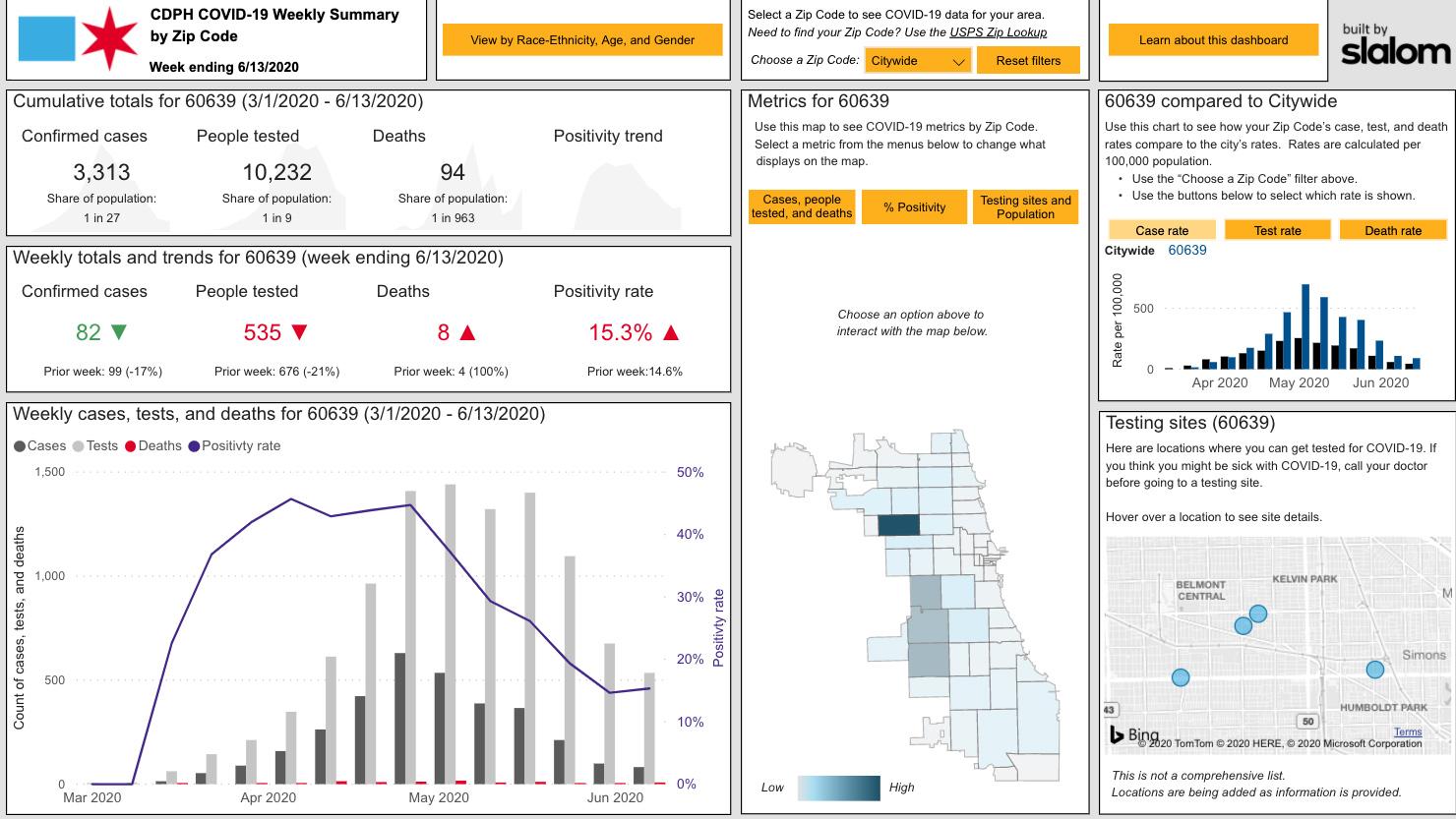 Screenshot from city of Chicago COVID Daily Dashboard. (City of Chicago)
According to the city's COVID dashboard, there are four COVID-19 testing sites in the 60639 ZIP code, where more than 90,500 live in the Austin, Avondale, Belmont Cragin, Hermosa, Humboldt Park and Logan Square communities.
While the 60639 ZIP code has a 15% positivity rate, Arwady says less than a month ago, most of the city was at that rate when Chicago entered phase three of its reopening plan, which required a citywide positivity rate of 15% or less.
"If we see there are parts of (the city) where we're seeing positivity increase or not decrease in line with the rest of the city, we get really aggressive in putting additional testing resources there, additional contact tracing," Arwady said.
According to city data, the 60639 ZIP code has a case rate of 90.6 per 100,000 – double the citywide rate of 45.1 per 100,000.
"The whole city has been making progress and continue to push resources to the ZIP (codes) where that is most need to make sure we don't make progress at the expense of some neighborhoods," Arwady said. "The 60639 ZIP code is on the list of getting extra attention."
Contact Kristen Thometz: @kristenthometz | (773) 509-5452 |  [email protected]
---