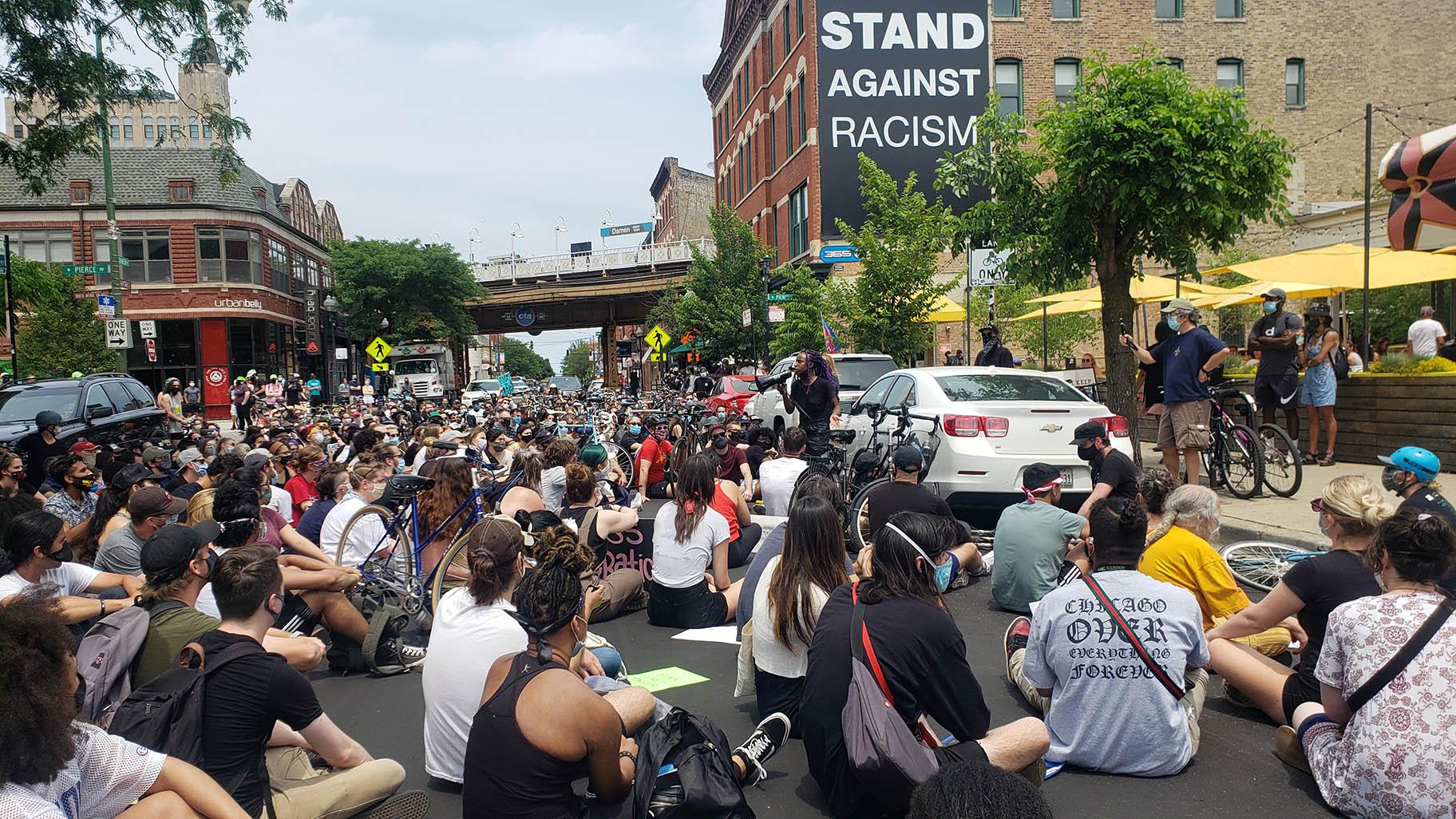 A crowd gathers on Damen Avenue in Wicker Park on Sunday, June 21, 2020. (Amanda Vinicky / WTTW News)
Want to go to a nightclub in Chicago? Maybe hit up an area like River North that has ample spots for dancing and bottle service?
It will likely require abiding by a dress code that calls for no gym shoes and no baggy pants.
"Some won't even let you wear jeans. Some will say no graphic T-shirts, which is what a lot of people – it's Black culture. When you look at your favorite rappers — look at like Drake, look at Roddy Ricch — what do you see them in? Ripped jeans, some Jordan's or some gym shoes of some sort," said CaSera Heining, who goes by DJ Cash Era when she spins.
Those dress codes often block stylish Black clubbers from entering, let alone leading the party from the decks.
"When White girls wear microbraids and whatever else, it's trendy. When a Black person does it, it's seen as ghetto, or unacceptable," she said. "And that's the bul***t right there. And then on top of it, even when Black people will dress up, oftentimes we'll see White people dressed how they say we can't dress. So basically, we have to just go to a different standard."
It's a burn made more intense considering how difficult a time Heining said Black artists like herself have getting booked at hot spots.
"You can dress the way we want to dress. You can party to our music, but you don't want to book our people to play the music for you," she said. "That's not right."
Heining said it's an indicator of the racism that exists in Chicago's music scene.
"Go to prevalently White neighborhoods, and they have a White DJ playing Black music, but it's hell to even get into the club, they want us to wear like our Sunday's best," she said. "They don't want to book Black people to play Black music to a White crowd."
She said it's particularly true for Black trans and queer women; she identifies as the latter.
"I never take for granted anywhere that I spin," she said. "But it's also – certain clubs, I know I'll never get booked. And that's a problem; that shouldn't be a thing."
Last August, Chicago rapper Matt Muse headlined his first show at a converted old Schlitz brewery in Lakeview: Schubas.
"I love Schubas and I have no problem doing my show there," he said. "My peoples had to trek from all the way out south and out west to this venue that's so far up north, and one of my fears was that we weren't going to sell it out because of the location."
Muse helped lead a march Sunday that began at Julia Porter Park in Lincoln Park – near the Tonic Room and Lincoln Hall – and wound "along residential streets, as well as bigger streets" before ending under the Damen Avenue Blue Line stop in Wicker Park, in the service of bringing attention to the role of black musicians and creators in the city's entertainment and music spaces.
"Artists, musicians, whatever, whoever – let's come together. Let's march on, and let's disrupt this rich-a**, White-a** neighborhood. I think the intent was to walk through Lincoln Park and walk through an area that's extremely affluent, that the city of Chicago clearly values over the neighborhoods where most Black and Brown folk live," he said. "The goal is just like, 'Yo, like, you all need to hear this too, you all need to be out here on the street too, and y'all need to understand that you are privileged beyond measure in comparison to the folks who are doing this marching every day."
In particular, the event was meant to call attention to how the music industry can better recognize that, as Muse put it: "Black art is a fuel."
Muse said he'd like music venues to work in support of a new music space in a predominately Black neighborhood — thought most are struggling to survive in an era of coronavirus restrictions that have kept them closed for months without any shows in their future.
"It's a weird time; it's difficult because nothing's open, so it's just like the opportunities to do anything are few and far between," he said. Still, "it would be dope if everybody came together, and helped a group of Black entrepreneurs create a music venue on the South Side," he said.
For Heining, who participated in the event Sunday, the best support White allies can provide is to "put on a Black DJ. If you're a male, put on a female DJ. Or, if you're male or female, put on a DJ that's non-binary. The best way to help somebody is, if you're already in a position of leadership, is to bring somebody else up with you. It won't hurt you."
Naira B., who spoke at the event but did not want to share her last name "because protesters go missing all the time," focused the crowd on some of the demands at the forefront of the Black Lives Matter movement, including a gradual but steady defunding and abolition of police departments, with the savings invested into majority-minority neighborhoods.
"The police does not need to show up every time we call 911," she said. "There's no reason that the police should show up to answer a call about a counterfeit $20 bill with pepper spray and a gun and a baton and a Taser."
She's also calling for Chicago to remove police officers from Chicago Public Schools, like the one in Mount Greenwood she graduated from.
"Black and Brown students see cops and it sparks fear in them," she said. "There's no reason why kids at a young age even need to be taught how to tiptoe around the police, when really, like, escalation of situations that lead to violence, and a lot of times lead to death, are the police officers' fault 100% of the time. Doctors can't just throw their hands up and be like 'Whoops, sorry, I killed him, I panicked.' So why can police officers do that?"
Sunday afternoon's event kept a block of Damen Avenue closed as customers of the popular Big Star taco restaurant dined alfresco; some carried on with their meals while others listened, clapped and cheered along.
Still, the hundreds of participants were a fraction of those who've participated in other rallies and actions in recent weeks.
Naira called on participants to keep up their efforts, and said she's maintaining the energy for the cause "by remembering that if I don't do this, I could die. And I don't want my kids to inherit this country like this, so it's literally – like, it's my actual life. So I can't, like, stop being Black. It's not like something I can take off."
Follow Amanda Vinicky on Twitter: @AmandaVinicky
---